---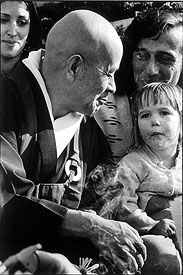 Index

Brief Memories of Shunryu Suzuki, Zen Center back then, etc.

photo by Lisa Law

Also see Suzuki Stories

Zen is Right Here, Shambhala, fall 2007 - vignettes on Suzuki by DC
---
Tozen Akiyama - almost met
Anonymous, sent by Jane Hirshfield
Sheridan Adams (Ericson) - You know nothing!
Beverly Armstrong (Horowitz) - Shhhhh
Eric Arnow - Don't move!
Tony Artino - Suzuki lecture brief notes
Barbara Bash - only as a presence
Edward Brown - on his shaking and Suzuki
Tim Buckley - in Suzuki's garden
Edward Brown - more instruction?
Joanne Bull - the nature of mind
Wolf BŁntig - friendly attention
David Chadwick - various
Kobun Chino - a few comments
Dan Chesluk - you'll always be part of the sangha
David Cohn - Shunryu with Alan Watts
Eijun Linda Cutts - bow
Mike Daft - Flowers
Donnie Deangelo - the birthday photo, a curious tale
Daniel Eggink - Kindness
Jack Elias - with Maggie Kress
From Charlie Guilford
Silas Hoadley - Suzuki's wedding ceremony message
Ned Hoke - Visiting the grave site
Tony Johansen - a driving story
Laura Shinko Kwong - Suzuki and Trungpa
Stuart Lachs - Don't forget
Fil Lewitt writes from Japan
Peter Malakoff - hiking through Tassajara
Jeri Marlowe - sister-in-law of Alan
Diana J. Mukpo (Chogyam Trungpa's widow)
James Murphy - a teenager arrives
Loring Palmer - excerpts from his cuke interview
Loring Palmer on Suzuki and LSD
Loring Palmer remembers a doctor who treated Suzuki
Pat Phelan - the early wakeup bell incident
Nicolas Pierotti - running for president
Brit Pyland - don't worry so much
Audrey Robinson (Walter) - Eliot's Blowout Encounter
Nanao Sakaki - Hi!
Sue Satermo - Laughing and crying in Emptiness and What is War?
Ken Schnell - How do I express my gratitude?
John Steiner - a link to his cuke interview
Taisan (Larry) Sheridan - swallowed whole
Elson B, Snow - Jodo Shin editor
Gary Snyder - too serious
Gary Snyder - from Matt J interview
Fred Stoeber in Hawaii - thought he should ask a question
Katherine Thanas - Follow the yes.
Al Tribe - two memories and a poem
Elizabeth Tuomi - his eyes
Jack Van Allen - on making a bell
Bob Walter - on a pacifist question
Sydney Walter averts disaster
Judyth Weaver - from Japan and Rinzai to SFZC
Joel Weishaus - misty
Dana Gaskin Wenig - met as a kid
Dennis White - On not trying to be perfect
Jack Williamson - his posture
Patrick Woodworth shares a few memories
Judith Yamamoto on a chance meeting with Suzuki
from Barbara Young
Unknown - When's meditation?
---
---
Yours? Please send to dchad[at]cuke.com.
---