Shunryu Suzuki on Film
See all Suzuki film in the film department of shunryusuzuki.com and Youtube Cuke Video
cuke film and video section (very little there - not Suzuki)   
Shunryu audio dept-lectures on tape - almost nothing there - 
it's all on shunryusuzuki.com
---
There are five films extant with Shunryu Suzuki
Zen Mt. Center - - - transcript - a 16 mm film made for KQED, San Francisco
Shunryu Suzuki and students at Tassajara - - - transcript - a 35 mm commercial color film on gurus
San Do Kai - a black and white 16 mm film with no sound made in the zendo of Tassajara while Suzuki was giving the [lecture details to come by Jan. 20, 2013] lecture on the San Do Kai. Synching with the sound from the audio tape has been done and can be seen .
68 Tassajara - Larry Cooper'sbrief film made by a guest first posted late 2013
Nona Ransom's Japan footage has some brief images of what maybe is Suzuki in the 30s. Should ask his son, Hoitsu what he thinks.
---
To see videos go to the recently improved (9-15) video section of shunryusuzuki.com where There are some other videos made from this source material. All the information is there fairly up to date. Below are posts from the last ten years.
---
9-26-15 - Video section of shunryusuzuki.com being redone and expanded.
9-23-14 - Larry Cooper's film Tassajara 1968 now at shunryusuzuki.com in low resolution (thanks Peter Ford) for easier loading in addition to the bigger file that was there. Check it out at this link or at the site's video page.
 And here's the note that Larry sent when he first contacted me:
 Hello David,
Larry Cooper here.  I found your Suzuki Roshi blog and thought you might be interested in the short film I made in 1968 of Tassajara Zen Center. It's possible you have even seen the film at the SFZC, but I doubt it.  I tried to send them the only complete print of the film around 30 years ago, and I'm not sure whether they ever received it.   The orginal 4 1/2 minute color with sound film was shot with permission from Dick Baker et al in March (I think) of 1968, and when you see it, I'm sure there will be several recognizable folks including, of course, a few seconds of Suzuki Roshi.  I just got around to digitizing the original 8mm film and 16mm sound to create a DVD of the film which I would be happy to send to you.  I just need an address.  I live in Ashland, Oregon. I visit Berkeley several times a year and would be happy to share my story of being a 20 year old film student dropping in on the Zen Center for a few days 45 years ago. Still crystal clear memories of a magical time.
---
12-23-13 - On yesterday's posting of the film Tassajara 68, I first became aware of that film a few months ago. I'd just had the film in the SFZC safe redigitized. I didn't know what some of it was like this film from Larry Cooper which I hadn't digitized back around the turn of the century, didn't know it existed.
Reviewing the results of the new digitizing of the films, I was surprised to see and read in the report from the technician what poor condition it was all in. A lot of color loss. I was also pleased to see footage I'd never seen before - outtakes from the Sunseed film and the four and a half minute film that I figured had been made in 1968 - looking at the people and work that was going on. I was getting ready to go to Asia so I decided to deal with it from there after Katrinka and I had gotten settled. How surprised I was to get an email from Larry Cooper saying he'd been looking at my blog (cuke.com, not a blog), telling me about the film, and offering to send it. I wrote back How serendipitous. More later about him and his version of the film which is what is posted.
---
12-22-13 - A NEW film release - Tassajara 68 - A 4.5 minute film by Larry Cooper made in the spring of 1968 at Tassajara with Suzuki Roshi, students working, bells, han, and creek. So far just a big file: almost half a Gigabyte. More on this film tomorrow. - dc
To see videos from the films go to shunryusuzuki.com.
---
9-08-14 - Updating the Shunryu Suzuki film page
---
3-14-14 - A nice clip of Shunryu Suzuki on YouTube from his San Do Kai talk that was filmed at Tassajara. (The kanji on the blackboard are by yours truly. - DC)
You can find all Shunryu Suzuki video at shunryusuzuki.com. And this clip is also in the video below put together by Mel Van Dusen 1-26-09
---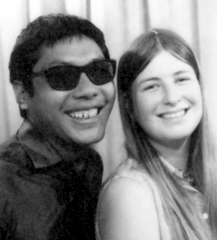 5-06-11 - There's a fantastic new documentary out about Chogyam Trungpa,Crazy Wisdom. We got to see an early screening of it this weekend and it is really wonderful. They have a short section in there about Trungpa and Suzuki Roshi,and I was wondering if there were recordings made of Trungpa's lectures at Tassajara and City Center? Obviously, those would be really important recordings to copy and preserve! - Joe Galewsky of the Desert Mirror Zendo and Guest House in Albuquerque, NM>
Review of Crazy Wisdom [See more at What's New 5-05-11] from the Chronicles Project - The Boulder Premiere of "Crazy Wisdom"
---
1-26-09 - A very good film with Shunryu Suzuki Roshi footage synched with tape of lecture he was giving, recent Tassajara footage with Suzuki lecture voice over. Put together by Mel Van Dussen. Thanks for the tip to Howie Klein
---
3-29-08 - I see the SFZC Bookstore has got a listing for the DVD One Particle of Dust - over one hour of film clips of Suzuki Roshi and of Tassajara in the early days. $20 (includes postage). Details on the Video page of shunryusuzuki.com.
---
See b&w video footage of Shunryu Suzuki. 

It's all the same.
Most recent and easiest to access - YouTube of Shunryu Suzuki - the same as below. Wenger at ZC asked me what I thought of this and I said I thought it was good to leave it. This is the YouTube sharing era. - 2-01-08
SFZC website -  video of Shunryu Suzuki giving a talk on the San Do Kai at Tassajara in 1970. This is a different cut from the same footage as the note below - and more easily accessible. But it may or may not be working. Isn't today for me. - dc - 2-01-08
6-10-07 - Just go to 12:25 on the video interview with DC mentioned four days ago. To see this footage go to Welcome to Present, with your host, Mel Van Dusen.  The Suzuki footage, taken at Tassajara, Zen Mountain Center, in the summer of 1970, while Suzuki was giving a lecture on the Sandokai. It was 16 millimeter, I believe, with no sound. A skilled video-savvy SFZC student named Timothy O'Conner Fraser under the sage guidance of Michael Wenger synched the audio tape with the lecture. We should get the story on that cause he did a great job. That image of Suzuki up to the left is one I took off other footage of Suzuki.
Need to do a better report on the history of this film. Like who did it. I had always thought that Jack Weller took it but I think that was wrong. The film was of a June 3rd, 1970, talk and the talk to Jack's class was June 6th.