cuke.com - an archival site on the life and world of Shunryu Suzuki and those who knew him.
home what's new bibliography interviews stories and more if you look around
Zen Is Right Here (home page link) was once called
---

To Shine One Corner of the World:
Moments with Shunryu Suzuki
by students of Shunryu Suzuki
edited by David Chadwick
144 pages ISBN: 0767906519.
Broadway Books - is out of print
To be republished by Shambhala in the fall of 2007 as Zen Is Right Here, Teaching Stories and Anecdotes of Shunryu Suzuki, Author of Zen Mind, Beginner's Mind. See below
---
---
ZEN IS RIGHT HERE: SUZUKI ROSHI'S TEACHINGS IN ACTION.
By Shunryu Suzuki
Edited by David Chadwick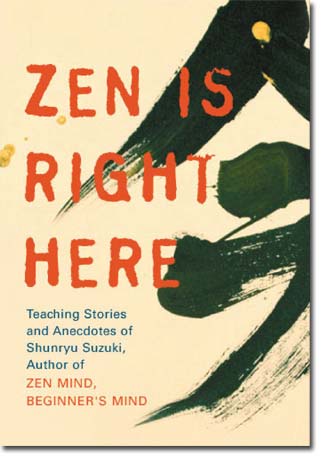 Paperback / Shambhala Publications / 160 pages / 4 7/8 x 7
ISBN 978-1-59030-491-4 / October 2007

Zen Is Right Here (Shambhala link) List Price: $12.95 Shambhala Price: $10.36, you save $2.59 (20%)
Not yet printed. Now accepting pre-orders! Expected publication date, October 2007.
---