Books by Edward Espe Brown
go to the bottom to read about Edward's latest book
By All Means
---
Check out Edward's web site at www.peacefulseasangha.com/
And now, the movie - How to Cook Your Life.
---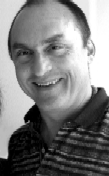 The Tassajara Bread Book - Amazon link
Read March 2003 article on this book in NY Times Magazine
Tassajara Cooking: a Vegetarian Cooking Book - Amazon link
The Tassajara Recipe Book - Amazon link
Tomato Blessings and Radish Teachings: Recipes and Reflections.
Excerpts - Read Ed's stories about Tassajara and Shunryu Suzuki from this book
Not Always So: Practicing the True Spirit of Zen - Editor
The Greens Cook Book by Deborah Madison with Edward Espe Brown - Amazon link
Edward's Amazon book link page
---
2-20-14 - By All Means by Edward Espe Brown, illustrated by Margot Koch, with a painting by John Simpkins --Missing Links Press, San Francisco (112 pages)
Review by Catherine Gammon on SFZC.org
To order, send a check for $20 plus $6 shipping/handling (California residents please add $1.80 sales tax) to Edward Espe Brown, 75 Sequoia Road, Fairfax, CA 94930. Please include a note that it is for the book. Alternatively, you may pay using the PayPal button on the Audio Dharma page.
---