A comment in Readers' Comments
---
3-22-07 - A note received a few days ago from Gary Gach.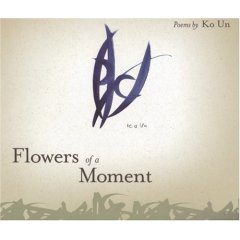 Good seeing you at Myogen's Mtn Seat Ceremony

What's new? I've just launched a new book, 185 brief poems by Ko Un, Flowers of a Moment. The inaugural reading (app. 20 minutes) at Moe's Books is online.
Here's the book's web page.
[Here's the Amazon.com link - DC]

Flowers of a Moment has been nominated for a Northern California Book Award in translation (as was previous Ko Un title I'd worked on, Ten Thousand Lives, from the magnum opus he's been working, devoted to one poem for every person he's ever known).

The awards ceremony will be the same date and time as a haiku workshop I'll be leading one block away:

The Spring Wind in the Bamboo
Sunday April 1
Sunday April 15
1:30 - 4:45 pm
Asian Art Museum www.asianart.org
$10 members; $22 general

That's in conjunction with Masters of Bamboo exhibition, which I'm really enjoying.

Well, I'm off to facilitate mindfulness meditation at the Church for the Fellowship of All Peoples (did you know? it's America's first inter-racial, interfaith church). http://www.fellowshipsf.org (I do so the 3rd Saturday of every month at 11 a.m., and 3rd Wednesdays at 7pm). All are welcome. (Anyone can email me to get on the monthly calendar reminder).

Please keep me posted as to your doings, and keep well.

sitting quietly ... doing nothing ... spring comes, of itself

gassho,
gary
--

Here's Gary's web site.
---
As an Amazon Associate Cuke Archives earns from qualifying purchases.