---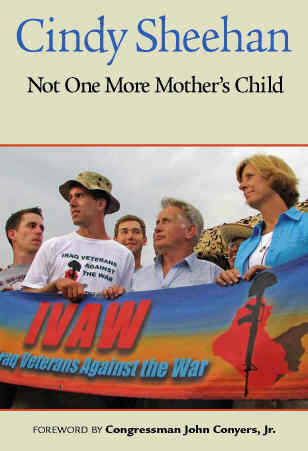 Press Release -
November 4, 2005
Koa Books, Start-up Publisher on Maui, to Release New Book by Cindy Sheehan, "Not One More Mother's Child"
Cindy Sheehan lost her son, Army Specialist Casey Austin Sheehan, in an ambush in Sadr City, Baghdad, on April 4, 2004. As information became available that the war in Iraq was based on lies and "cooked intelligence," she began speaking out and testifying in the halls of Congress. In August 2005, she went to Crawford, Texas, to confront President Bush, and the floodgates of a renewed American peace movement were opened.
Cindy Sheehan is a moving writer and vibrant storyteller. During her first year of activism, she chronicled her thoughts and actions, and now she shares them for the first time in book form. Reflecting on war and peace, truth and accountability, she takes the Bush administration to task for its corruption and incompetence and tells the story of her own journey from grieving mom to activist. Cindy Sheehan continues to speak out against the war, continuing her efforts to bring the troops home.
Koa Books was founded on Maui by Arnie Kotler, former editor-in-chief of Parallax Press in Berkeley, where he published works by Thich Nhat Hanh, the Dalai Lama, Joanna Macy, Petra Kelly, Maha Ghosananda, Sulak Sivaraksa, Stephen Batchelor, and other spiritual teachers and social activists. Koa Books will publish books on personal transformation, progressive politics, and native cultures. Future authors include Maxine Hong Kingston and her veterans' writing and meditation group, psychologist Robert A. Johnson, Hawaiian educator and activist Manu Aluli Meyer, and Lama Surya Das.
Not One More Mother's Child, by Cindy Sheehan, Foreword by Congressman John Conyers, Jr., Publication Date: November 23, 2005, 224 pps, including 8 pages color photos, Trade Paperback Original, $15, ISBN 0-9773338-0-9 www.koabooks.com Distributed to the trade by Publishers Group West . For further information, contact Arnie Kotler, P.O. Box 822, Kihei, Hawai'i 96753, arnie@koabooks.com. Toll Free number for orders: 866-620-6943
Praise for Cindy Sheehan
"What Cindy Sheehan has done for our country is just miraculous and a mighty blessing. A thaw is felt throughout the land. People have started to speak, and their voices are being heard." --Martin Sheen
"Cindy speaks with a freshness, an intelligence, and a heart that brings us back to what we love best about ourselves and about America." --Jodie Evans, cofounder CODEPINK: Women for Peace
"Cindy's is the final tear for the overflow and you can't stop running water." --Joan Baez
"It is time for true patriots to stand in solidarity with Cindy Sheehan." --The Capital Times
"Cindy Sheehan is a witness in the great tradition of Rosa Parks, Fannie Lou Hamer, and Harriet Tubman." --Reverend Jesse Jackson, quoted in The Village Voice
"We saw many sparks from the protests leading up to the Iraqi war and more efforts after the war began, but when Cindy came to Texas, she was the spark that lit the flame." --Russell Means, Oglala/Lakota, actor and activist, American Indian Movement
"Cindy speaks with a combination of utter determination, unassailable integrity, fearlessness, and the peace of someone who knows that their cause is just." --Arianna Huffington
"This is not about left or right or center. It's about truth and accountability. We need to acknowledge Cindy Sheehan as a true American hero who ignited a peaceful democratic insurgency." --Ahmed Amr, editor NileMedia.com
"Cindy is every soldier's mother. If my mom was doing what Cindy Sheehan is doing, I would want someone like me to support her." --Sean O'Neill, Iraq Veterans Against the War
"You're more informed than most U.S. Congresspeople." --Chris Matthews to Cindy Sheehan, on Hardball
"The most important job citizens have is to bring democracy alive by organizing, protesting, engaging in acts of civil disobedience. Cindy Sheehan's dramatic stand is crucial to the future of American democracy." --Howard Zinn, writing in The Progressive
"It started with one mother. And now we can't be contained." --Nina Utne, editor, Utne
---