---
The Dying of U.G. Krishnamurti,
an example of Santhara
---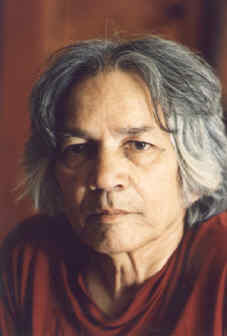 U.G. Krishnamurti, not to be confused with J. Krishnamurti though they were both from India with early roots in Theosophy and were sort of anti-guru gurus. U.G. passed away on March 22, 2007 in Vallecrosia, Italy.
Previous mention of U.G. on cuke
U.G. Obituary - Here's where you'll find the part about how he decided to stop eating then drinking.
Seven weeks before [he died], UG had a fall and injured himself. This was the second such occurrence in two years. He did not want such an incident to occur once again which would make him further dependent on his friends for his daily maintenance. So he refused medical or other external intervention. He decided to let his body take its own natural course. He was confined to bed and his consumption of food and water became infrequent and then ceased altogether. 'It's time to go,' he declared, joined his palms in namaste, thanked his friends and advised them to return to their places. Only his longtime friends, the filmmaker, Mahesh Bhatt, Larry and Susan Morris, and few other friends stayed back to guard his body and do whatever was necessary when the end came. UG did not die of any disease, although he suffered from 'cardio-spasm' for many years, which became quite severe in the last days of his life.
And there's more on his passing in the Comments linked from the Obituary page.
---