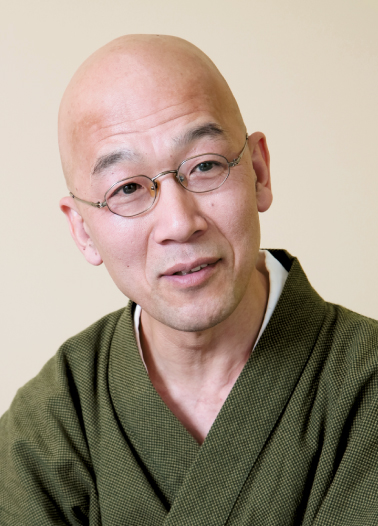 Issho Fujita

photo to the left from this Japanese language column with other good photos of him.
---
4-15-14 - Yesterday posted about Zen Is Right Here now available in Japanese. I only learned about this because Issho Fujita got hold of me a few months ago with some questions concerning the translation. I thought he was the translator but he wrote me that the translator is "Toru Shimakage, the president of Sangha, a Buddhist publishing company, maybe the most active in publishing books on Buddhism in Japan now. I just did proof reading and editing. And I wrote a commentary on the significance of Suzuki Roshi in Zen in America."
Fujita was the teacher at Pioneer Valley Zendo in MA for 17.5 years.
He is now working at Soto Zen International Center located at Sokoji in San Francisco as Director, a position that requires him to travel a lot. He's in Buenas Aires today. He spends part time with his wife and daughters in Hayama Japan near Kamakura in a beautiful estate with a zendo and traditional buildings in a natural setting bordered by a stream. Katrinka and I went there for a delightful get-together last week.
Here's a two year old article on Issho Fujita from the Japan Times.
The books Issho Fujita has translated are:
Zen Keys by Thich Naht Hanh
Buddhism without beliefs by Stephen Batchelor
Feeling Buddha by David Brazier
Buddhist Psychology by Caroline Brazier
Emptiness and Brightness by Don Cupitt
Peaceful Action, Open Heart by Thich Naht Hanh
Issho Fujita suggested Crooked Cucumber to the publisher he works with but was told it's too long. A number of people have tried and failed to get it published. Fujita pointed out that Hoitsu Suzuki said it had been translated. I said yes, by an old student of Suzuki's who'd been asked by the family not to publish it after everyone who looked at the translation including translators Kazuaki Tanahashi and Shin Yoshifuku said it was not anywhere near publishable quality. It was useful for the family though who were grateful to be able to read it in that translation.
---
Issho Fujita: "Zazen is not Shuzen"
A talk by Issho Fujita at Tree Leaf Zendo
---