If you don't mind a little self-indulgence and are a lover of Rainer Maria Rilke, read on.
I grew up knowing my great grandmother Nanny was close to Rilke during the last ten years of his life, but I didn't know how close they were until I met Stephen Mitchell. He contacted a small publisher in Germany and had them send me two volumes of letters from Rilke to Nanny. This is how I discovered Rilke was more than a dusty ornament on my ancestors' bookshelves.
In his letters to Nanny, Rilke often mentioned the Stübli, a small living room in Nanny's home. Nanny was a humble, sensitive woman who knew some of the interesting artists of her time, well regarded by society, married with one son. The letters she wrote to Rilke were returned to her after his death, and she edited them before releasing them to the Swiss Rilke Foundation. No telling who she really was, except for the deep knowing I feel.
I am attaching some examples of Rilke's letters to her, translated by me with help from my friend Doris Schröder.
Two summers ago I went on a kind of pilgrimage with my mother. We traveled three hours by train from Nanny's house on the lake of Zürich to Muzot in the Vallaise valley in Switzerland. This is where Rilke spent the last seven years of his life. The house was called the tower, surrounded by vineyards and exposed to the southern Mistral winds, carrying fine grains of sand all the way from the Sahara desert, lightly coating the stacks of letters Rilke received daily, sometimes two from my great grandmother. The Vallaise still has the remote feeling that appealed to Rilke's longing for solitude. Now, an elderly distant relative of mine inhabits this place that has been left as if Rilke just stepped out minutes ago. My mother and I were invited to tea with plum tart made from fruit grown behind the house. The air was exquisite, with a light breeze that touched our hearts and brought tears. While my mother and I often feel some strain in our connection, the moments we shared wandering Rilke's grounds created new history for us.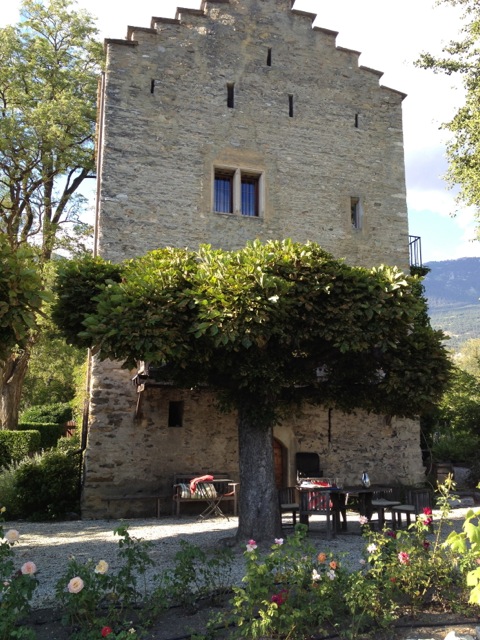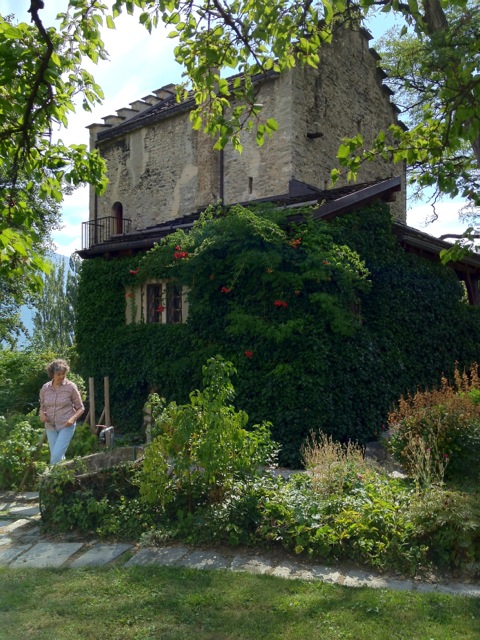 My mum above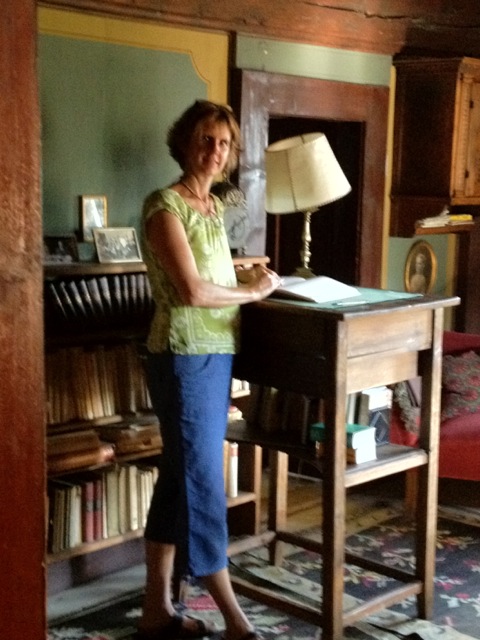 He preferred writing standing up.
[Jenny above]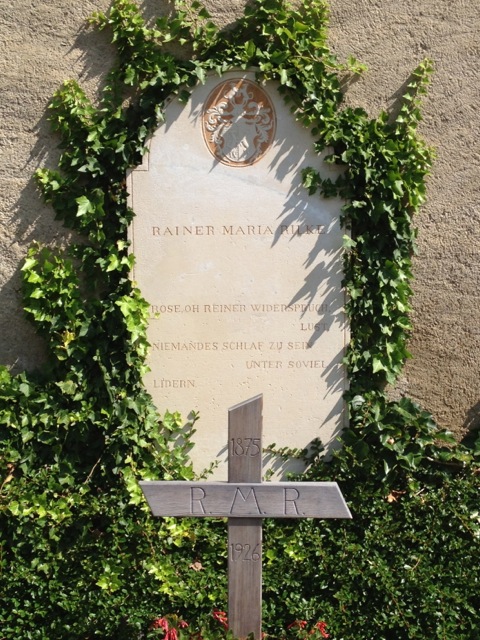 Rilke wrote this poem to be inscribed on his own tomb:
Rose, oh pure contradiction, delight
of being no one's sleep under so
many lids.
Nanny shared his love of roses. It was supposedly infection from a thorn prick that led to the discovery of the Leukemia which caused his subsequent swift death in 1926.
On my early trips back to Switzerland after emigrating to California, I cut stems from Nanny's roses to bring with me. I laid them at the bottom in my suitcase, wrapped in wet cloth. After Nanny's passing my grandmother Madeleine took over tending her garden. I propagated these cuttings and found I was given Nanny's green thumb. Each time I moved, I dug the roses out and took them with me. I look out on one of those rose bushes through my kitchen window. It is my favorite measure of the progress of the seasons through the year. This morning I saw the rose shooting enthusiastic new growth, ignoring the likelihood of more frost to come.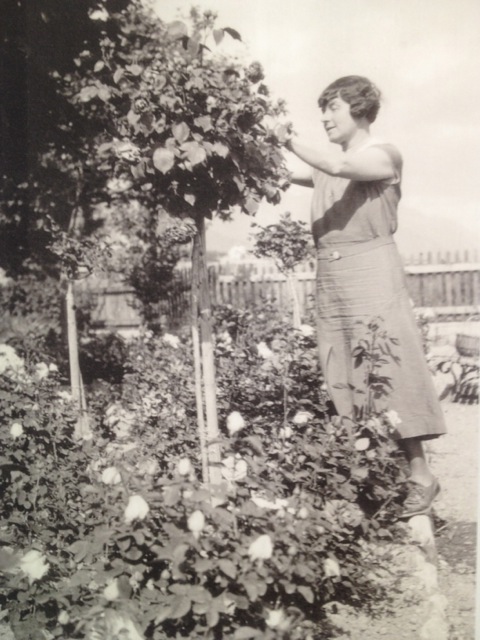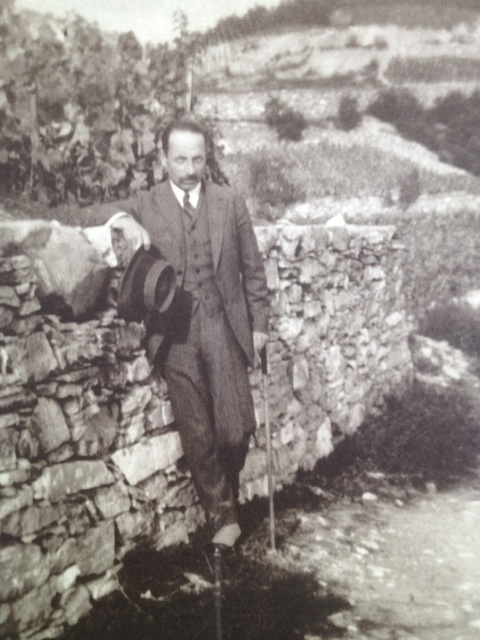 In Rilke's letters, excerpted here, he called Nanny Wunderly-Volkart a tenderly made up name, Niké.

…...

As far as I can see, my view from here has expanded to join yours from the Stübli. I detect the same faint lights across the lake. I sometimes call out to have you join me here. How much is lost. After all, how can I write what I felt today, Saturday, as the church bells rang at Orselina at noon. Some of it rests in the name, Orselina. But that is not mine; the ringing was mine with all of heaven in which it resounded. That is how I would have liked to give it to you.

…..

The roses, dear little Niké, they don't leap like you over the Gotthardt pass; they have to travel. The roses noticed the snow in their basket. They were still scared when they arrived. I had to comfort them, and would have loved to hold them to my chest for hours, mais notre pauvre chaleur humaine, cela ne dit rien aux roses (but our poor human warmth says nothing to roses). I cut them carefully, following an intuition, and put them in warm water because they looked frost-bitten and cold. Most of them understood, and by evening they felt better. In the freshness of the morning they looked beautiful and cheerful. Thank you. That lifted my Sunday and, encouraged, I went to St. Quirico. The church was open; bright, sunny, nobody inside other than ceremony and warm simplicity. The silence was so enormous, I went on my knees.

You know, love, I can always repeat this, in both your letters (which, in my foolishness, I only found today because I didn't come here yesterday), I come to realize how deeply you know the intimacy I feel, like a breath ahead of me, but lighter, as if gliding in my infinite direction. At each parting, I know that you understand, that there is no need of explanation or convincing. To know someone who also sees the arrow piercing the heart, because this is the only thing he is able to do anymore

Remember the written drafts that I called experience? I published them reluctantly last year in a small paperback dated 1912. I found there was nothing else I could do. Now I understand that everything led up to it. Shortly before my travels to Spain, I realized that, in my increased loneliness of the previous winter, I had been given a new opening. You remember the few pages in the Insel-Almanach? Now I am almost jealous of the hour when you read it. I should have brought it to you, or told you about how it came about and how its parts relate to each other. I don't like to write it; it's more complete when I tell you. Also, my letter writing to you shouldn't confuse you. I want to be clear that nothing that belongs to work becomes a letter to you. Also, it is slow and difficult to write while distracted by uncertainty and worry. And then, only then, the Stübli has to be there too. You won't believe, my dear one, how much comfort I find in you and me; how important and necessary the "Stübli is to me. I draw you to me in need of these moments, dear awaited one! In my thoughts I return you over and over again back to where you belong. I am happy and I don't want it any other way.

......

My dear Nike,

How we have to manage without each other! Didn't you know it would be difficult? In the evening, while coming back here, I felt abandoned for miles. It was so big that I couldn't believe it could be any bigger. Now I see the path is leveling out somewhat. I never tire of imagining how much in my calling for you there is also a desire for home, protection, and friendly closeness. And I still don't know how much, through your knowing this, and through the things I have of yours, this longing will be satisfied. I've renouncing it, my warmest clothing, old and unused. Yet, I know that nothing is more reassuring than the four lighted candles you gave me. Oh, my dear love, let our secrets resonate with each other undisturbed by distance. That which remains intact in spite of everything, this pure survival in both you and me, is of one mind. With it, I feel secure in our boundless union. Longing! Longing! And what does life know of it? It drifts and urges and has its imposing nature into which we stare with waiting eyes.

Nike, love, don't be sad. I feel it. I called you too far over to me, with not enough restraint. If only I could become a little more settled and disciplined, and not keep calling and tugging on you. Instead I would come to you in the Stübli to be close to you, tenderly.

R.
---
posted 2-19-14