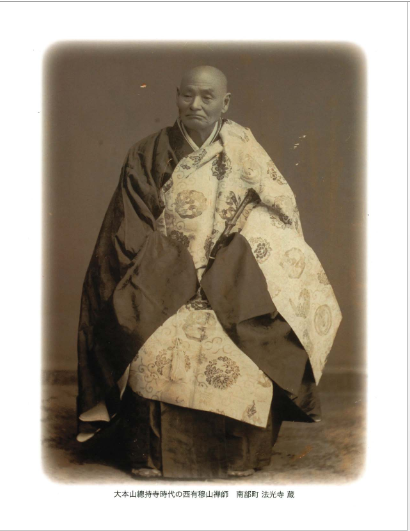 西有 (瑾英) 穆山Nishiari (Kin'ei) Bokusan (1821-1910), the most prominent Meiji scholar of the Shobogenzo. He was a teacher of both Oka Sōtan and Kishizawa Ian, eventually becoming abbot of Sōji-ji.
Terebess link
See page for Ian Kishizawa
Richard Jaffe has info on Bokusan on this PDF
Mentioned in a quote from Masao Abe and Norman Waddell near the beginning of DC Genjo Koan study
From interview with Kazuaki Tanahashi - Mel and I have been translating Bokusan's commentary. [influential late 19thcentury Soto Zen master/scholar]. Bokusan's commentary is so great. Kishizawa's understanding must have come from him. The Soto scholarship from Dogen is centered around, in my understanding, on Bokusan's understanding. And then Kishizawa refined it, put it in context.
Jiryu Mark Rutschman-Byler's.thesis on Nishiari Bokusan - at his Shores of Zen website - and here on cuke - where the photo came from. Here's the page for it on Mark's site and here's what it says there:
Sōtō Zen in Meiji Japan: The Life and Times of Nishiari Bokusan
Meiji Japan (1868-1912), a period of radical transformation -and Westernization - of Buddhism, and the era of the birth of what is known today as the Soto Sect.
Nishiari Bokusan 西有穆山 (1821-1910) —the teacher of Shunryu Suzuki Roshi's teacher Kishizawa Ian, the most influential commentator on Dogen in the twentieth century, and the scholar-priest sometimes called the "father of the modern Soto Sect"— is largely ignored in English language writings on Zen despite his tremendous importance.
In this paper, an edition of Jiryu's MA thesis written under the guidance of the Group in Buddhist Studies at UC Berkeley, Nishiari Bokusan's life story is presented for the first time in English. It is told in the context of the persecution and transformation of Buddhism in the Meiji Period, and against the backdrop of the history of the institutional birth of Soto Zen. This edition includes a preface for the American Sangha.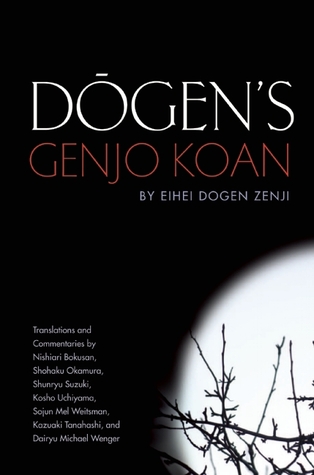 Dogen's Genjo Koan: Three Commentaries by Eihei Dogen, Nishiari Bokusan, Shohaku Okamura and Shunryu Suzuki (Aug 1, 2011) Published by Counterpoint.- Also credited with translation and commentary are Kosho Uchiyama, Kazuaki Tanahashi, Sojun Mel Weitsman, Dairyu Michael Wenger