Click here for Shunryu Suzuki Photo Archive images and links to all cuke.com pages on .
Article in fall 1986 Wind Bell on Anagarika Govinda by Yvonne Rand
from the winter 1970 Wind Bell on Govinda's visit to Tassajara
from summer 1983 Wind Bell on the Wheelwright Press publishing Govinda's book on the I-Ching
Siddhas and Zen Buddhism - by Govinda in th winter 1970 Wind Bell
Masters of the Mystic Path - from the spring 1984 Wind Bell
On the Right Translation of Buddhist Terms - from the summer 1985 Wind Bell
Letter from Govinda to Richard Baker - August 22, 1971
Letter from Li Gotami to Shunryu Suzuki - January 31, 1970
---
from Shunryu Suzuki interview by Peter Schneider
S: So my idea is to continue to exchange students between Japan and America and if possible to study Chinese or southern ? [maybe Southeast Asian Buddhism-dc] or India. To learn the Indian Buddhist way if possible to have some more good teachers.
P: From India?
S: Yes, if possible. I found Govinda. ... I cannot agree, but I liked his attitude.
---
Richard Baker from a KQED interview: Govinda, in his autobiography, says that he had to choose between the inner world and the outer world.
---
from interview with Louise Pryor (Welch)
LP: When Lama Govinda came with his wife, Li Gotami, they had a little art show downstairs in the dinning room and she showed her paintings and I went with Suzuki Roshi to meet Lama Govinda in the first stone room and they greeted each other and sat down together and Suzuki Roshi formally asked Lama Govinda, "Could you please tell me what is the cause of suffering?" And I don't remember what the answer was.
DC - You've read The Way of the White Clouds by Lama Govinda? In it he describes him and Li being in the most extreme cold winters where they'd boil water to wash their faces in and when they put their hands in it it already had ice on it and there was so much snow. He came to Tassajara in December and he said it was the coldest and most uncomfortable place he'd ever been. And it was only twenty or so - cold for Tassajara but not for Tibet and it was wet. And I remember that he and his wife ate in the zendo and she's from India and we had to put Tabasco sauce on her trey so she could cover all her food with it. And he gave a talk. Bob Halpern used to call him Mr. Govinda after Bob studied with Trungpa.
---
from a piece by Ken O'Neill on Ananda Claude Dalenberg
In our bosatsugan or bosatsu vows, one line commits us to mastering all Dharmas or principles, regardless of how inexhaustibly fathomless their number be. In practical terms, Ananda was out learning Reiki, out supporting the California Institute of Integral Studies, reverencing and supporting the work of Dr. Chaudri, and many another cause. When Lama Govinda and Li Gotami needed patronage in advanced age, our Cloud Hidden friend worked in the background, attracting no attention to himself, ensuring their care and well being. He later secured the Govinda and Alan Watts libraries at Zen Center, in time moving them to the more appropriate CIIS campus. Claude's vision held to the big picture rather than getting lost in petty details of sectarian affiliations.
---
from a June 1999 DC interview with Margo Wilkie
Two months later someone from the zendo called me up and said, "I have this Tibetan monk here. This nice Tibetan monk's coming over, so why don't you come over and meet him." So I did. And it was the same Rimpoche. We smiled and nodded and he said he was going to India. I said, "Me, too. Can I visit you?" He said, "I'll be in Kampong above Darjeeling." I wasn't planning to go to India, I was just being sneaky. So I went. Les Hixon and his wife helped him buy 600 acres in the Catskills near Livingston Manor next to Daibosatsu adjoining it. Earlier, in 1976, Edo got Kapleau there and others from Japan. There was this big dedication of the Daibosatsu. So Sheila Hixon and I went to India and spent 10 days with this Rinpoche. He gave no directions, but he seemed like Suzuki Roshi – trying to figure out what to do. A woman named Gail Wearson who helped him came to America and said, "You have to ask him to take refuge." I went to him and asked him, "What does that mean?" And he said, "You can leave me but I can't leave you." His name is Domo Geshe Rinpoche. He was Lama Govinda's teacher in a prior incarnation in The Way of the White Clouds. He was 35. That was 1976. He's 60 now.
---
from Emma Bragdon
One of the other gifts I received during my time at Tassajara was the opportunity to make the acquaintance of a wise old man. When Lama Govinda arrived for a visit, I had no doubt that he personified wisdom and compassion; he had the regal quality of someone who had attained those human virtues and carried them gracefully. When he stepped out of the car, he put on his maroon mitred Lama's hat. He wore a matching long maroon robe. His white beard gently fell to the top of his chest. His face was lined with the deep marks of age. His eyes bestowed a depth I had never seen in a human being. In them were the worlds I longed for and identified with. In them were his travels to Tibet, his training as a Lama, his research as a scholar, his isolated hours as a writer. I was lucky enough to be chosen to attend him and his wife during their stay.
Through Lama Govinda, Suzuki Roshi, and the other teachers who came to stay at Tassajara, I realized that wisdom and compassion could be manifest in the world today, in this technological wasteland where people hardly meet, much less commune with each other. I no longer tried to think of questions to ask my teachers to show I was not crazy or to demonstrate how smart I was. I knew that my task now was to sit, to focus, and to do my work, and I could trust my own inner process to enlighten me.
---
from a summer 1970 Wind Bell article on the circumambulation of Mt. Tamalpais

---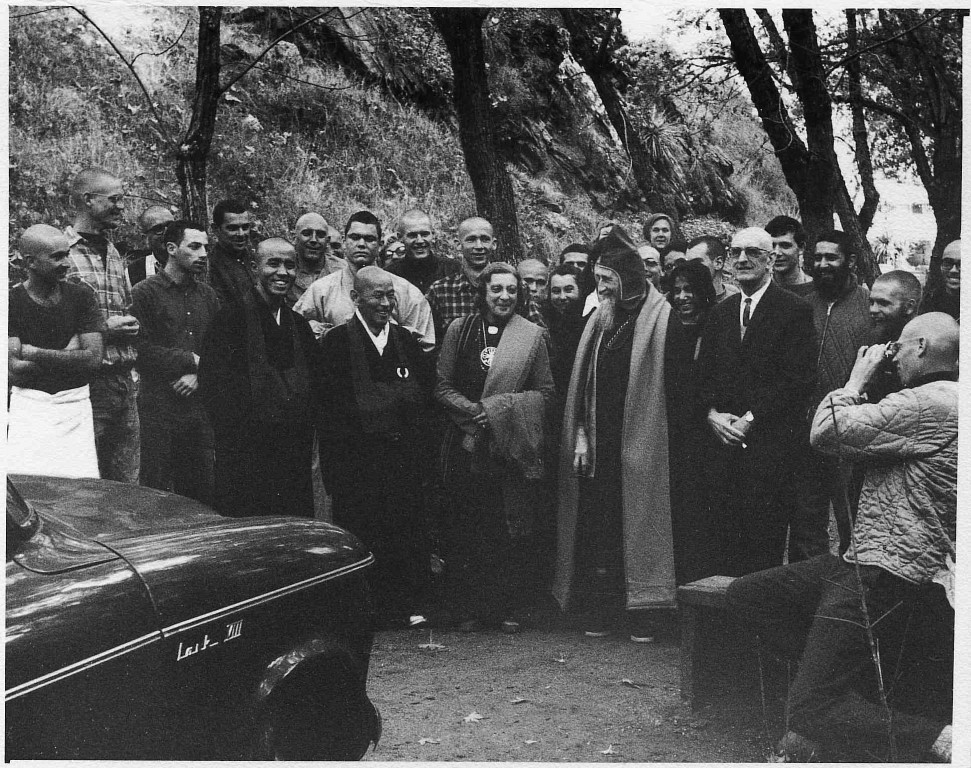 Li Gotami and Anagarika Govinda with Shunryu Suzuki and others at Tassajara, For all names see SR0019 in SFZC photo archive.
---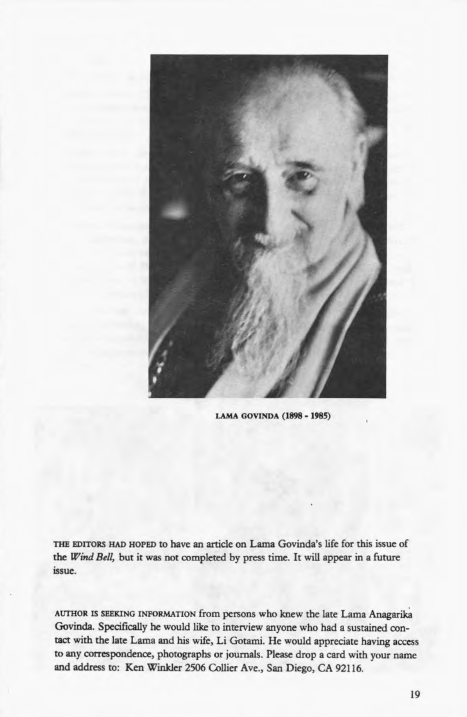 from the fall 1985 Wind Bell
---
Photos with Anagarika Govinda and Li Gotami from the Shunryu Suzuki Photo Archive on shunryusuzuki.com.
File names are links to the photos

SR0015 with Lama Anagarika Govinda Tassajara - Govinda said it was the coldest place he'd ever been, a joke from the man who'd lived years in Tibet. - dc

SR0016 with Anagarika Govinda Tassajara

SR0017 with Anagarika Govinda Tassajara

SR0018 with Anagarika Govinda Tassajara

SR0019 Group photo for Lama Anagarika Govinda's visit to Tassajara Front row L to R: Kobun Chino, Shunryu Suzuki, Li Gotami (wife of), Anagarika Govinda, Iru Price?,?, Jerry Fuller arms crossed,Bob Shuman to R of Jerry, Angie Runyan, Tim Aston to L of Jerry then ?, Rick Morton, Ken Sawyer?, Bonnie Miller?, Mary Quagliata?, Ed Brown, Louise Welch, Jack Elias, Sally Block, Craig Boyan, Bill Shurtleff, Dan Welch, Niels Holm, Katharine Thanas,David Chadwick behind Suzuki, ?, Jeff Sherman, Michael Gelfond?, Jeff Broadbent, Tim Buckley on right with camera. - dc

SR0020 Group photo for Lama Anagarika Govinda's visit to Tassajara Tassajara - Alan Winter on far left. See SR0019 for other names. - dc

SR0029 Shunryu Suzuki with Lama Govinda and Li Gotami at Tassajar Front L to R: Kobun Chino, Shunryu Suzuki, Li Gotami, Anagarika Govinda. Back L to R: Jeff Broadbent, Michael Gelfond, Paul Discoe, Jeff Sherman, David Chadwick, Ed Brown, Katharine Thanas - There is no hi res version of this photo in this archive but could probably get it from the SFZC. retouched close-up of SR is SR0283

SR0065 Shunryu Suzuki+ Lama Govinda at Tassajara; 'by Li Gotami on back; by Tim Buckley

SR0066 Shunryu Suzuki+ Lama Govinda at Tassajara; 'by Li Gotami on back; by Tim Buckley

SR0222 Shunryu Suzuki + Lama Govinda at Tassajara by Tim Buckley [by Li Gotami' on back]

SR0283 Shunryu Suzuki at Tassajara - close-up from SR0029 with Lama Govinda. L to R behind: Michael Gelfond, Paul Discoe, Jeff Sherman
---