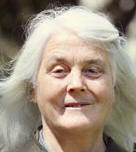 Everybody loves Wendy.
Wendy's
Gardening at Dragon's Gate site
Page for the book
Gardening at the Dragon's Gate
SFZC page for Wendy
Upaya ZC page for Wendy
Wendy's Mesa Refuge page
(a place for writing at the edge)
Dharma in the Dirt
- NY Times
1-19-20 - from an email from Wendy
I began my zen practice at Tassajara Zen Mountain Center in the Autumn of 1972, just a few months after Suzuki Roshi's passing. I vividly remember reading Zen Mind, Beginner's Mind during study hall at Tassajara as Zentatsu Richard Baker roshi led our practice period and Edward Brown served as shuso, followed by David Chadwick, during our next Spring Ango in early 1973.
My Zen life is made of gratitude for the original teachings i received from Suzuki Roshi and his team of original students who continue his teaching to this day.
I confess that I only recently read Crooked Cucumber in preparation for joining the teaching team at Upaya Zen Center for their month-long Winter Ango in January, 2020. Roshi Joan Halifax and her students dedicated this practice period to investigating the heart of Zen Mind, Beginner's Mind and the ancestral teachings of Soto Zen found in Zen Master KeIzan's Denkoroku.
The delight and emotional joy that I experienced studying Crooked Cucumber alongside Zen Mind, Beginner's Mind, cannot be measured. Although these two texts stand alone in their genuine authority, they are particularly satisfying to read in tandem.
I offer heartfelt gratitude to David Chadwick not only for his stunning scholarship but also for his clean and intimate skill as a writer. Thank you for your unflagging zen practice!
In the dharma,
Wendy Johnson