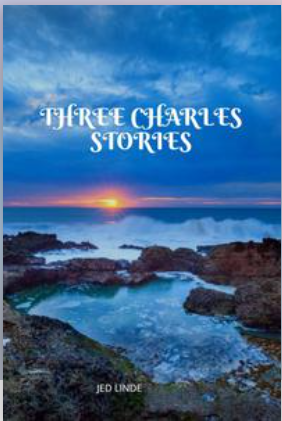 Three Charles Stories - Fiction, short stories, adventure, psychological, family issues, and relationship with Nature.
Three short stories that describe a lifetime of challenges, danger, heartbreak, relationships, adventure, and getting in touch with our fundamental identity.
by Jed Linde
Amazon Customer Review
Anne L Whitaker
5.0 out of 5 stars
Life in three parts
Reviewed in the United States on September 10, 2021
Verified Purchase

What a delightful walk into Charles' life. From his early memories of a chaotic childhood, through his developing years into manhood, and finally into a few highlights and "earth quaking" experiences in his adult life. You are drawn into the next paragraph wanting to read more of his life experiences and challenges . Jed Linde is a marvelous storyteller!
DC comment: It's a good read. I knew Jed pretty well way back then and I know him better now. My wife Katrinka reads a lot of books and she just started it and said, "He's an excellent writer. It pulls me in. I'll read it quick." I said, "I told you so."
Jed's bio from the back of the book
Having retired after a forty-year counseling and psychotherapy career in Salinas, California, Jed returned to writing in 2015.
Fifty years ago, he edited and published a quarterly, English-Spanish literary journal, Maguey (mah-gay), subtitled, A Bridge Between Worlds. Around that time, he had articles, short stories, and poems published in various journals, magazines, and anthologies.
Before that, he worked as the film and theater critic (with the nom de plume of Eric Lang) for The News, the English-language newspaper in Mexico City, besides having a TV column, and doing feature articles, deskwork, and reporting for the paper. He also worked as a foreign correspondent for a wire service and for Time magazine.
Returning to the US in 1967, he and his wife practiced with the Zen master Shunryu Suzuki Roshi until his passing in December 1971. They stayed on with the organization until 1976, when they left and he began his mental health professional career.
He lives with his wife of 61 years, Maria Esther, in Salinas.