Robert Lytle
RIP
January 20, 2020 our dear friend and dharma brother Robert Lytle died. Meg Alexander sent this message.

Dear Friends,
I got word from Sara that Robert died around 3:30 am this morning. Marc and I were there yesterday for several hours, sitting with Brenda and Sara. He was peaceful slipping away.

Robert was devoted to Amida Buddha, and Sara was able to arrange a reassuring phone call with his Tibetan teacher Chokyi Nyima Rinpoche about a week ago.

Robert and Sara were particularly close, and she was by his side these last weeks. Brenda has cared for him these last difficult years with enormous patience and skill and deep practice.

With tears and with gratitude for buddha dharma and sangha,

Meg
***
Photo - November 1980 at the Wedding of Linda Hess and Kaz Tananhashi. That's Mel Weitsman with glasses and Ed Sattizahn in the background.
Robert with daughter Sara 2017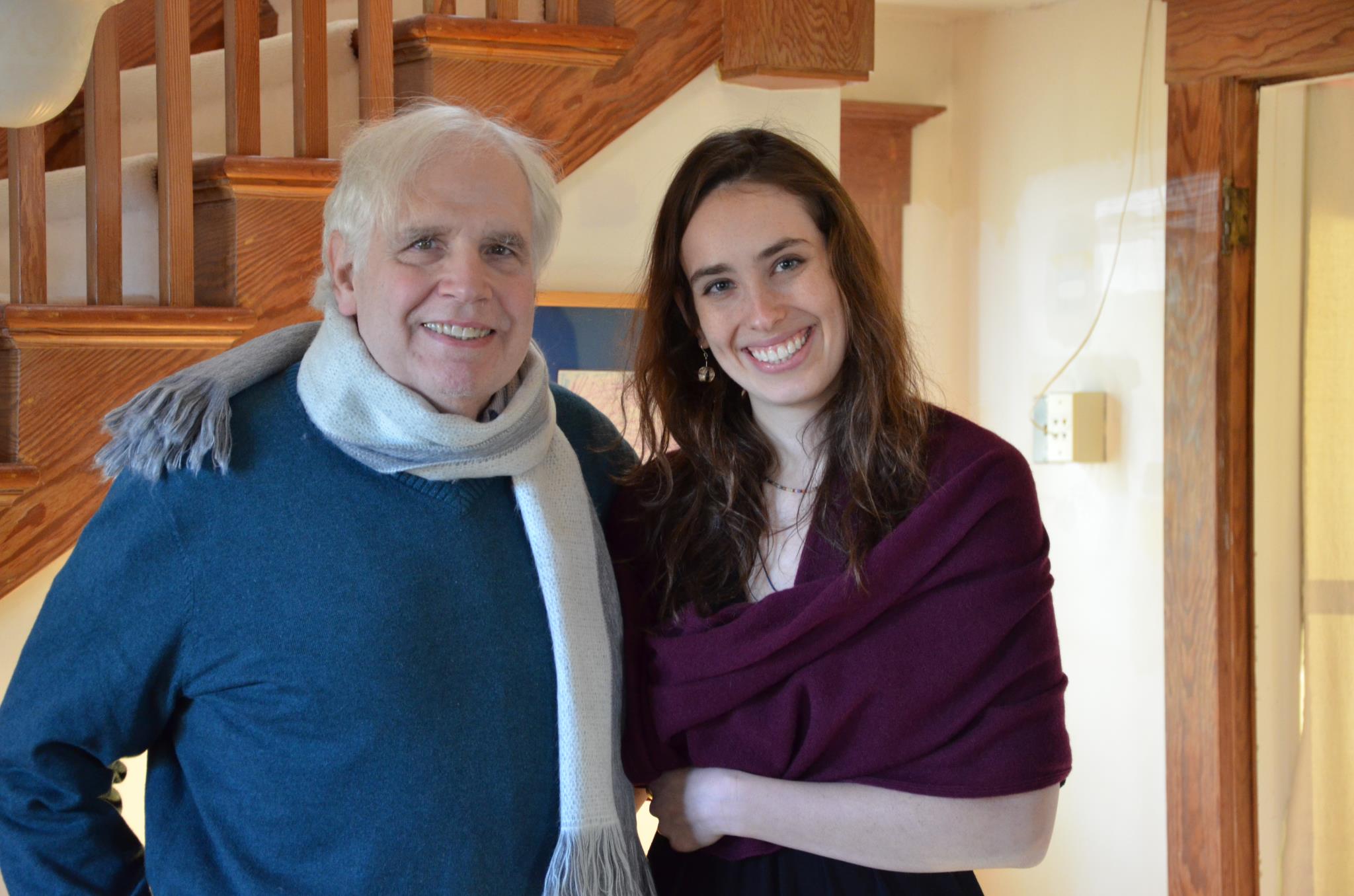 1-20-20 - My dad, Robert Lytle, died early this morning around 3:10am. I will miss him so, so much. His love, his humor, his wisdom, his compassion, his brilliance all lit up my life and I feel extremely lucky to have been born his daughter. Right now, I am filled with feeling and tears, not so much with eloquence; just to say that, dying is hard work and he did a really good job. I love you very, very, very much, Dad.

May all beings be happy.
May all beings be safe.
May all beings be free from suffering.
May all beings awaken to the light of their true nature.

See Barbara Wenger photos of Robert, Brenda, Sara through the years
3 photos of Robert from Sara's Facebook
Looking through the Tassajara 25 Year Book which has incomplete, but a lot of information, on who was at Tassajara practice periods for the first 25 years, we find Robert first mentioned as a student in the fall of 1973. Spring '74 in the kitchen, fall '75 he's back as a doan, fall '83 on grounds, spring '84 general labor, spring '85 through spring '86 he's the director. I was shuso spring '74 and we got close then. - DC
The Abbot, Katherine Thanas and Robert Lytle went to Jamesburg to meet with Ed Brown, Mel and Yvonne to talk about the question of the next Abbot. - 10,000 YEAR BOOK, SPRING 1985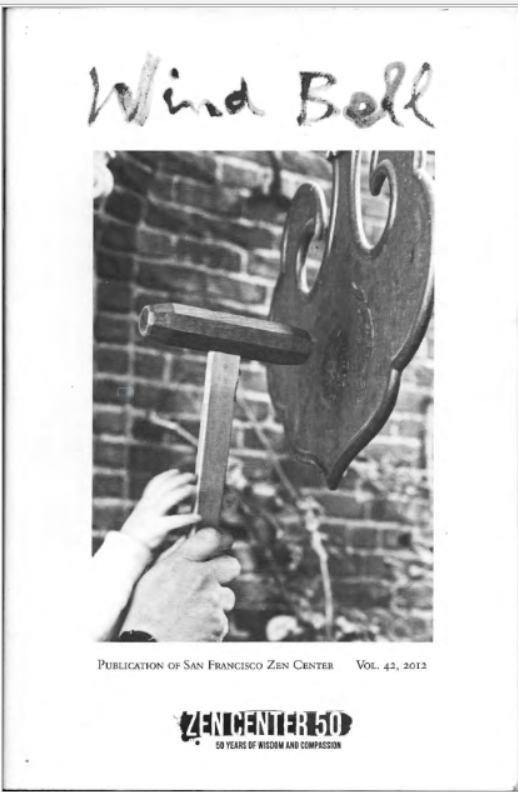 The cover of the last Wind Bell in 2012 feature's Robert's big hand and Nathan Wenger's small hand. - photo by Barbara Wenger
****

Robert was a sweet, thoughtful, and dear friend at the Zen Center. remember when I first met him back in 1972 I learned what a Bob Dylan fan he was. He'd taught a course on Dylan at a university in Minnesota maybe it was. Saw him a lot when I was head cook at the City Center in '85. We'd meet in the courtyard. I'd bum a Camel non filter from him and we'd smoke and talk and joke about ZC politics. He had a keen eye. And he'd tease me. He naturally gravitated toward helping the sick. Sometimes we'd go out together - took me to an Al-Anon meeting in San Francisco. That was the heaviest twelve step meeting I ever went to - what horrendous stories people told. He would visit sick and dying children in a UC Medican Center, a program that Meg Alexander was running. I sat with him one night with a young man, maybe late teens, as a doctor went over an agreement with him that they would not resuscitate him anymore so that he'd probably died during the night. The young guy agreed, the doctor left, and then it was Robert and I with him. That's the sort of service that Robert gravitated toward. He became a nurse, like his wife Brenda, and eventually a nurse practitioner in Ukiah where they lived in later years.
Robert had a painful nerve disease for decades which struck first in the hands and feet. He was on medication for years - strong stuff like morphone. It didn't seem to effect him though like people who take opiates for non medical reasons. He forgot it once when he went to the city for a meeting and said it was so painful that he'd kill himself if that happened again. But then years later a doctor got him to quit those painkillers and he said it was better that way. For a good deal of this time Robert was a nurse practitioner, mainly pediatric I think, taking care of the pain of others. Eventually he ended up in a wheelchair then bed.
I'd visit Robert in Ukiah at his office when passing through, or visit with Brenda and him at their home. I remember Sara when she was a little girl but not as she got bigger. Robert was so proud of her and how accomplished she was in her studies and music. I sent a note to Brenda and Sara that included: I'm so sad to hear of Robert's passing. He was a dear friend, such a thoughtful person. Robert extended himself to my son Clay and was helpful when Clay was in trouble and very difficult to communicate with. There's a note in my Now list that reads "Call Robert Lytle." Didn't get to that this last time. I'm happy I knew him as long and as much as I did, and sorry I wasn't in contact more. - DC
***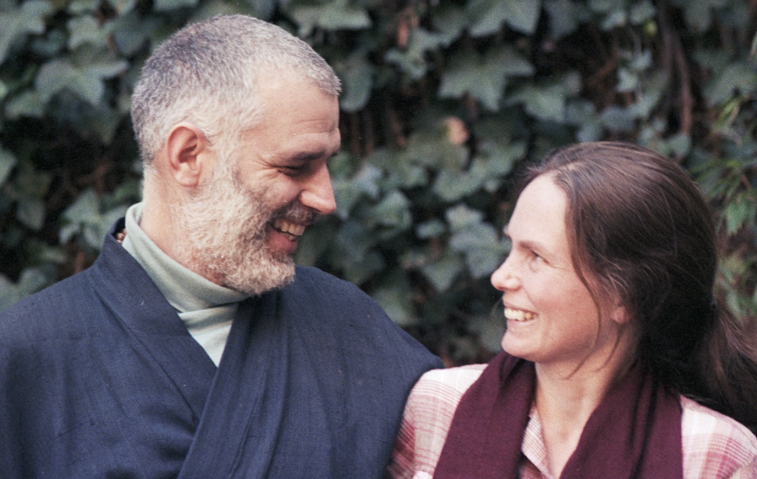 Robert and wife Brenda Grosz - photo by Barbara Wenger
On Robert from Facebook and emails - About sixty people just posted emojis.
Michael Katz - I can visualize Robert at Tass sitting on the outside steps up the dorm with some kind of rig for making holes in manzanita seeds for malas. Warm, friendly guy.
Meiya Wender - Robert, thank you for your many kindnesses and friendship, many years ago. I pray for your peaceful crossing over.
Alan Senauke - So sorry to hear this. Peace.
And Sara, - warmest greetings to Avner, whom I have not seen for 30 years! We were touring on the festival circuit in the early 80s. An amazing performer and a deeply kind man.

Mystie Brackett - Dear Robert💗 Your gentle laughing kindness will always be remembered 🙏🏼💗
Elizabeth Burgess Sawyer - Thank you for telling us.
DC – I learned right after we hung up.
Elizabeth Burgess Sawyer - we drove up with Claire last year. Spent an hour with Robert and then went out to lunch with Brenda. She took us to the City of 10,000 Buddha's diner. She told us that the Chineese Buddhists bought the whole campus from the City of Ukiah for $1. We had a good time.
Carlos Ponce Cabido - So sorry.
Baika Andrea Pratt - Thank you for posting. 🙏🏽💖
Frank Ostaseski - Thanks for sharing David. May he be free of all suffering.
Arlene Lueck - Thank you for sharing David, May his journey continue with peaceful ease
Neil J. Rubenking - Robert was the real deal.
Flora Taylor - A great Ino. I still remember him telling me that I really should make more of an effort to be on time for zazen; I think it hadn't really occurred to me that more of an effort was what was required.
Kai Harper Leah - Oh Robert, some interesting times working at the guesthouse with you. I have a big smile on my face thinking of those times. Yes, rest in peace my friend...💜🙏
Robert Anderson Love, love...I'll miss you Robert.
Britton Pyland - So very sorry to hear of Robert's passing. He was a friend and dedicated practitioner.
Rest In Peace, Robert.
My heartfelt condolences to Brenda and his friends.
🙏🏼🙏🏼🙏🏼
Gene Desmidt - This truly makes me sad....We became very close at Tassajara in 1986-1987 and I used to call him the "Robert" Cat....and "Mr. nickel and Dimer"...He called me up and asked me to come up to Ukiah and give him a physical inspection of a "log Cabin" residence he was thinking of buying....I told him my fee was $100 (1/2 price) and he grumbled a little and when I was done he said lets go to the bank so I can pay you ! He paid me alright ... $100....in Nickels....I will miss his cynical and sarcastic sense of humor !💖💖💖
Elin Powers - Robert was such a friend when I lived at 300 Page street. Farewell to a gentle, kind, giant.
Gail Carpenter - I am so sorry for your loss
Sara Lytle - Thank you so much, David, for sharing this ❤️❤️❤️ And for all of you for sharing your memories. I will miss him so much.
Chris Fortin - Thank you David . 💛🙏🏽
Michael Gelfond - Nancy and I are so sad to hear about Robert's passing.
Chris Fortin - I was a new student at Green Gulch taking care of the children and babies. Robert, an older student , would come out of the treasury office and get down on the floor on his hands and knees and play with us. A total delight and the sweetest memory.
Michael Gelfond - He was love-filled, the real deal as Neil said. When our daughter Rachel was two, we lived down the hall from Robert at 340 Page. Rachel used to like to pretend that she was a kitty cat, and Robert would put out a bowl of milk for her, say "Here kitty, kitty." He was the sweetest person! We were lucky to know him.

Elizabeth Burgess Sawyer - Robert and Darlene used to play this sort of subtle S&M game in the front office of Zan Francisco Zen Center. She worked there and he would come in and scotch tape her finger to the glass topped desk. She would pretend to struggle and not be able to get out of it. It was very funny.
Michael Gelfond - I never witnessed this, but I can see him doing it; so funny and sweet.
Elizabeth Burgess Sawyer - Sometimes Darlene taped his finger down after he begged her to do it. She would refuse. Then finally give in.
Basya Petnick - Sad to hear this news. Condolences to Brenda and their daughter.
Lulu Grant - wow another one gone

Meg Gawler - Sweet soul. May he rest in peace. 💕

Kelly Casey - Deep bows. Incense rising.🙏📿🕯♥

Katherine Haimson - I will never forget Robert at my first sesshin at City Center. I had excruciating headaches probably from caffeine withdrawal. As Ino he kept gently guiding me back to the zendo. After several days of this, i had such a powerful experience it has kept me sitting these 40 years. Thank you so much Robert. I will never forget you.

Taiyo Lipscomb - Oh, i woke thinking about Robert this morning ... he was Shuso when i was living at Tass. He got me into reading Jim Harris's writings - thank you Robert and may the next part of your journey be fulfilling. And thank you David for posting.

Jeanne DiPrima - Yes, thank you David Reich Chadwick for posting about Robert. RIP

Jeff Bickner - Robert was a real bodhisattva. RIP Robert.

Lichen Brown – Aaw.

Myo Denis Lahey - Oh, my...
Wayne Pickrell - I really enjoyed my conversations with him at ZC. A very sweet man.
Barrie Mason – Robert Lytle!
John Grimes - Robert was still ZMC director summer of '86, my first of 7 summers. Brenda was tenzo, Katherine Thanas tanto, Jim Bockhorst ino, Eleanor Edwards shika. Robert invited me to stay for the summer as a spouse (gay) not a Zen student. I was impressed. They really really needed workers haha. It was a fabulous summer!
***
This is a little weird for me to post. I searched for "Robert Lytle Ukiah obituary" and came up with another Robert Lytle who died on the same day in Illinois a few hours earlier.