Marilyn (Doyle) McDonald
---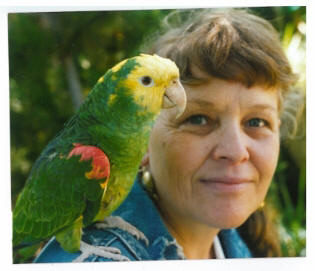 I remember Marilyn as Marilyn Doyle. She came to Tassajara a lot when I was head monk and director in 74 and 75 and she had good energy, totally into the history as the piece by her son and daughter below illustrates. A great deal of the history section on Tassajara is info from her back then or recently or corroberates what I'd hear from others. She did a whole book that's in the library there, not something bound, full of photos, newspaper clippings, and her summaries. Maybe we'll see that made available some day before long. Anyway, it's in cuke archives so it won't be lost. We know a lot of interesting stuff about that place because of her. - dc
Introduction to Marilyn's History of Tassajara Hot Springs - below
---
Marilyn McDonald
November 26, 1940 – January 3, 2017
by Marilyn's daughter Lee Doyle and son, Larry Burns, and edited by her close friend Rose Martinez
***
Books have a power that can change your life.   Lift you when you most need it, give joy and touch your most personal essence of being human. For everyone who knew Marilyn McDonald, books guided her life, and served as a compass.  Her joy of reading came from the presence necessary to fully engage and immerse completely in the moment while she read.  
Marilyn loved four key books:   The Secret Garden, by Frances Hodgson Burnett, a story about the secret to happiness being tied to thinking less about yourself and more about the other people (and plants) around you.  The Boxcar Children, by Gertrude Chandler Warner, the uplifting story of four orphaned children who take responsibility for their lives and create a home for themselves in an abandoned boxcar in the forest.  Shogun, byJames Clavell about an English ship pilot, whose vessel wrecked upon the Japanese coast in the early 16th century, finds love and adventure in the midst of a war, and Zen Mind, Beginner's Mind by Shunryu Suzuki who said, "If your mind is empty, it is always ready for anything; it is open to everything."
Each book taught her a powerful lesson: To think less about yourself and more about the other people (and nature) around you; Take responsibility for your life and create a home, a safe place in the world; Life can be an adventure and if your mind is empty, it is always ready for anything; it is open to everything, including creativity and expansiveness.
These favorite books were a reminder to her that she was never alone and, instead, part of a larger sense of belonging.  She felt that books were an invitation to let the imagination roam, explore and take life in.  Each book opened a window to the universe.  Each of these authors perfectly described pieces of her world.  Reminded her of key moments in her life and spoke to her core beliefs. These formed, and informed, the tapestry that was her life.
She was, in many respects, while quite outgoing, a very private person. She was a maverick in all things, refusing normalcy, distrustful of the status quo. She loved gardens, but more so the notion of a hidden courtyard with thick overgrown ivy on high walls separating, as well as protecting her from the world at large. She was an intensely loyal family-centric person who raised five children, two of her own and three from her second marriage. 
During the late 1970's early 1980's, she traveled to Tassajara on weekends.  While practicing Zen, she began writing the history of the Hot Springs.  She took to traveling widely in Monterey County at every chance; interviewing anyone and everyone who'd been part of the place, from the stagecoach drivers to the cooks.  She documented conversations and stories, collected boxes of pictures, and passionately began writing an important part of California history with the skill of a scholar.
After the weekend, returning to the tiny two-bedroom house with a single bathroom, in Salinas Valley, she ran a busy household.  Getting up at 5am to sit on her cushion in the dark kitchen before making breakfast and lunches. Then working two shifts a week waitressing at one of the town's two restaurants.  She built her own hot tub, grew organic vegetables, canned pickled beets and peaches. Marilyn baked five loaves of bread a week and made the best granola on the planet. She was a consummate friend to many dogs and other pets. And she lovingly built beautiful rock gardens in Gonzales long before anyone knew what they were; recognizing that they evoked peace and calm.
As years passed she continued incorporating ever more of the Zen principles that shaped how she chose to focus her life. Marilyn's artistic eye for patterns and her talent at assembling fabric, beads, clay, art work and other media, that would often, initially, seem a jumble—a most unlikely cacophony of bright, vibrant visual noise, was without parallel. Her colorful quilts and, her home writ large, with hundreds of what would anywhere else have seemed discordant objects, yielded a visual symmetry that was at once poetic and synergistic. Some of her projects took decades to complete. She was patient, persistent, and perspicacious in her commitment to each, and devoted to her visions as to exactly how each particular harmony could be achieved. Of all her strengths, perhaps of this skill she was most humble, and most successful.
One of her favorite sayings:
Since my house burned down
I now own a better view
of the rising moon
This evocative Haiku written by Mizuta Masahide, a 17th century Japanese poet and samurai, spoke to her deeply.  It seemed to embody a particular way in which she connected with the spiritual dimensions of Zen practice, Suzuki Roshi's teachings and the subtle underpinnings to "see the moon" that slowly became her own. Life was never easy for Marilyn. The extreme poverty and emotional deprivation in her early life deprived her of the education she secretly always longed for.  She was a complicated woman. Armored and intensely vulnerable.
Her pragmatic view of the world in conjunction with an excess of common sense generally served her well, albeit, formatted in an excess of forthright and speaking truths that led others to fury on occasion.  She could be honest to a fault.
Across the years her inquisitive style and, ultimately, her authenticity, transcended her doubts and regrets. She was able to build her very own beautiful and lush secret garden, create a home, raise a family she loved dearly, enthusiastically pursue her own adventures, and, all the while, steadily assemble so many of her heartfelt artistic visions.
Marilyn was quite content with a simpler life all the way through, reading her books, petting her dog Rosie and making beautiful things.
---
---
History of Tassajara Hot Springs

Introduction by Marilyn McDonald
[book not yet available - 12-17
In the early 1970s, I was working in a restaurant in Gonzales, California.  The local farmers talked about Tassajara Hot Springs and all the wonders that had happened to them there over the years.  I was strongly encouraged to go there.  In l971, four women friends and I headed for Tassajara in my 1958 Volvo.  We made it almost to China Camp when the brakes went out and I had a flat tire.  This was before cell phones and the walk down the hill to the nearest help would be a long one, so we sat under a tree and waited for rescue.  Along came a man in a station wagon who had been collecting pine cones up the road.  After changing the tire, he put his car in front of mine and acted as my brakes going back down the hill.  By the time we got to flat ground the brakes were back and we were all exhausted and ready to go home.  Tassajara would have to wait until later.
My first successful trip to Tassajara was in 1972.  Everywhere I looked were wonderful old stone buildings.  Being inquisitive, I wanted to know who had built them and why.  None of the Zen students I asked had answers that were complete enough for me.
I went again in 1974 and met Jack Novcich at lunch.  He was from Yugoslavia, spoke with a wonderful accent, and had quite a twinkle in his eye.  He had lost his left arm and leg in a work accident in 1914 in Santa Cruz and came to the Springs almost yearly "for the waters".  I borrowed a tape recorder and began my research with Jack that afternoon.  His memories were priceless.  He had owned Jack's Cigar Store since 1914, knew everyone, and the list of names of people he gave me to interview was long by the time I left him later in the day.
My early plan was to make a scrapbook for the desk at Tassajara.  My husband was a schoolteacher in Greenfield and he encouraged me to put it all together and see what came of it.  Life has it's way of changing and mine did.  In 1983 I moved to New Mexico and began in a totally new direction.  Tassajara history was put on hold.
I want to thank everyone who invited me into their homes and gave me photographs, albums, lists of folks to interview, glasses of wine and cups of tea. Not to mention all the memories they shared so freely. I have special warm thoughts of Ira Bailey, and Irma Reaves. They both became my friends. The time I spent with all these people and at the Springs is a high point in my life.  What an experience--to learn about Tassajara from the people who loved it.  The staff at the Monterey County Historical Society was always helpful, as were clerks in the Salinas City offices, The Roads Department, The John Steinbeck Library, Monterey Library, and the Harrison Library in Carmel.
"When we hear the sound of the pine trees on a windy day, perhaps the wind is just blowing, and the pine tree is just standing in the wind. That is all that they are doing. But the people who listen to the wind in the tree will write a poem or will find something unusual. That is, I think, the way everything is."           Shunryu Suzuki-roshi
***
Note that came after Marilyn's introduction
This book was produced from a manuscript prepared in the early 1980s before easy availability of digital files. The book developed over many years in the 1970s and was archived in a binder at the Tassajara Zen Center. Mark Stromberg (U. C. Hastings Reserve) digitized the book with Marilyn (Santa Fe, NM) in this very informal format. Should another press want to re-publish the material, Marilyn should be contacted directly. All background archival materials, original photos, brochures, clippings, etc. have been archived at the Bancroft Library, University of California Berkeley.