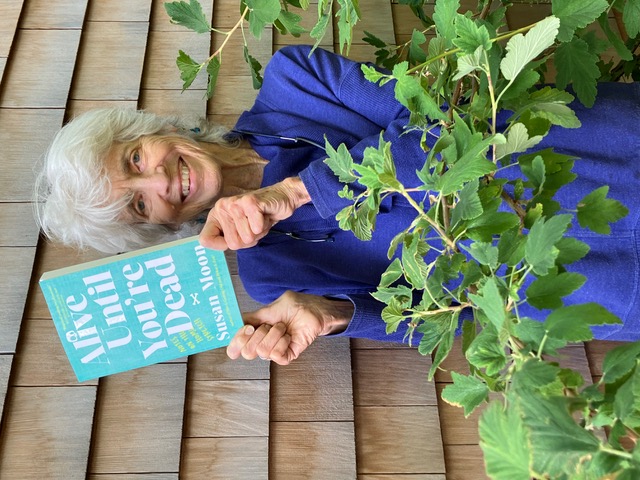 Sue has been a Zen student since 1976, practicing in the lineage of Suzuki Roshi at Berkeley Zen Center, Tassajara Zen Mountain Monastery, Green Gulch Farm, and now with Zoketsu Norman Fischer's Everyday Zen sangha. She received "entrustment" as a lay teacher in 2005.
She is a serious student of photography and the mother of two grown sons and the grandmother of three granddaughters. She lives in Berkeley, California. - from Susan Moon's Place (her site not updated for a few years)
I love Sue Moon. Don't tell her. I think everyone does. - dc
---
Alive Until You're Dead
Notes on the Home Stretch
released by Shambhala April, 2022
at local indie bookstore | on Amazon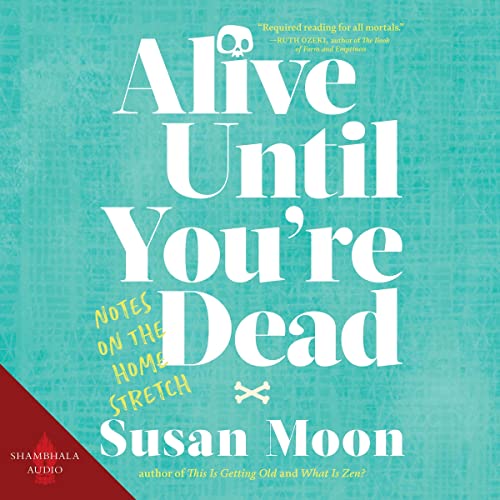 ---
Books by Susan Moon


in chronological order

All Susan's books on Amazon

The Life and Letters of Tofu Roshi (Shambhala)

Being Bodies: Women and the Paradox of Embodiment, with Lenore Friedman (Shambhala)

Not Turning Away, an anthology of writings from "Turning Wheel: Journal of Engaged Buddhism" (Shambhala)

This Is Getting Old: Zen Thoughts on Aging with Humor and Dignity (Shambhala)

The Hidden Lamp: Stories from Twenty-five Centuries of Awakened Women, with Florence Caplow (Wisdom)

What Is Zen? Plain Talk for a Beginner's Mind, with Norman Fischer (Shambhala)
Alive Until You're Dead
---

A dharma talk by Susan
If you do a web search for "Susan Moon" you'll find more talks by her and maybe other gems.