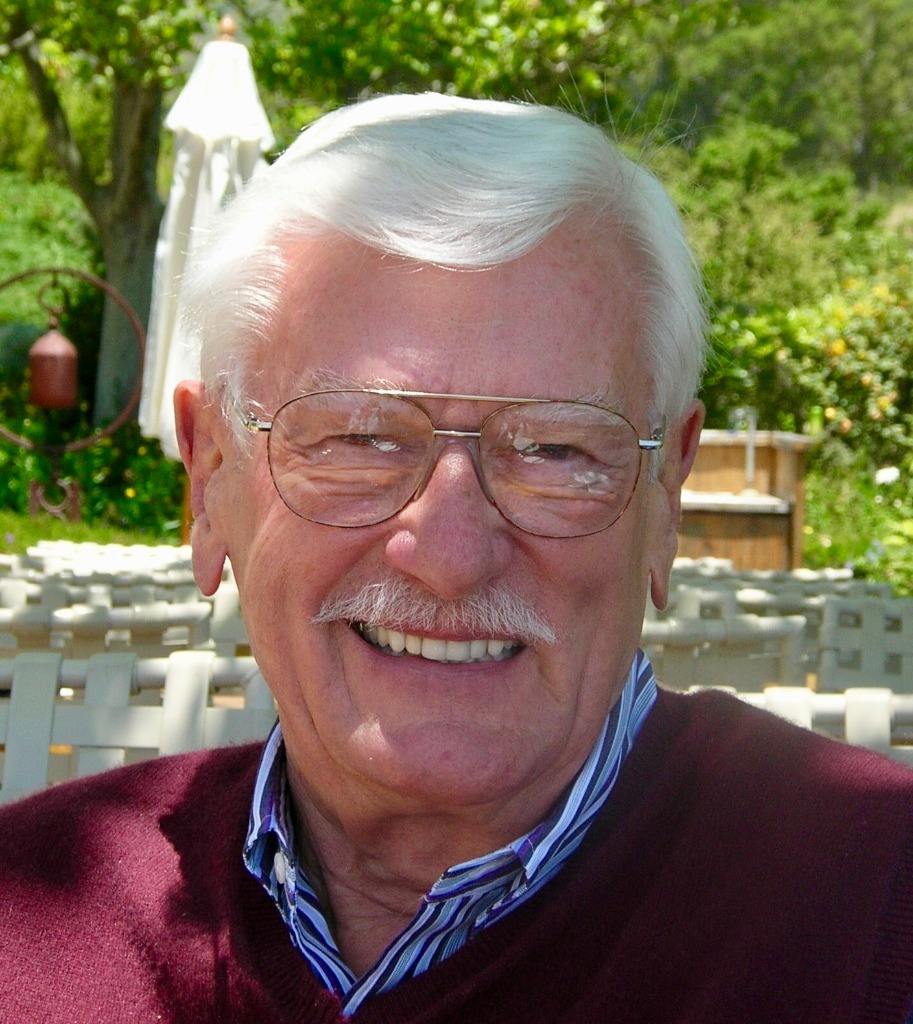 Charles Page
Charles Page has died in Monterey at the age of 89. He had been coming to Tassajara before the SFZC bought it and he and his wife Caroline were regular guests through the years. Charles was a prominent attorney in the area and was quite helpful with matters in the Monterey County area in the time I was there. I'd pay him for legal advice with Tassajara bread. He'd buy eight loaves when he was a guest and freeze the ones that didn't get eaten right away when they got back home. Charles and his wife Carolyn had four sons whom he was most proud of and always mentioned when we talked.- DC
Charles Page Obituary in the Monterey Peninsula Herald (below)
Charles Page review of Crooked Cucumber - Monterey Peninsula Herald,
April 11, 1999. Tassajara Hot Springs A Place Where Enlightenment Can Happen and "Crooked Cucumber" A book by David Chadwick, the Biography of a Zen Master. - An Essay and Review by Charles Page
Obit for Bill Wenner by Charles Page - 12-11-05
Charles Page Obituary in the Monterey Peninsula Herald
read it online
June 12, 2018
Charlie Page
April 20, 1929 - June 7, 2018
Carmel Valley
Charlie Page, long-time attorney, city councilman and contributor to a variety of organizations and causes on the Monterey Peninsula died of natural causes Thursday. He was 89 years old.
Charles Henry Page was born on April 18, 1929 to Earl and Maggie Parrish Page in Durham, North Carolina. Much of his youth was spent in the company of Maggie's family, eight brothers and sisters whose lives were anchored around the family tobacco farm in the small hamlet of Stem, about 20 miles north of Durham. Among the colorful characters who made up that family, one of Charlie's favorites was his Uncle Smerden Parrish who operated one of Stem's two general stores, across the street from his competitor, Lewis Gooch.
Earl Page was a journeyman carpenter and often out of work. When Charlie was in high school the family moved to Sandusky, Ohio where he was often forced to fend for himself economically.
Over the course of his school career, he delivered lunch to a blind man who paid him 25 cents a week and delivered telegrams as a Western Union Boy. He worked as a soda jerk, a warehouse boy, a theater usher, a lady's shoe salesman, a laundry clerk, furniture store salesman, a day laborer, a carpenter's apprentice, and a fireman on the Pennsylvania Railroad, among a litany of other odd jobs he took to cobble together a living. His humble upbringing would never have foretold his prestigious career path, and he never, ever forgot his good fortune for where his education and career took him.
After graduating from high school, Charlie enrolled in Miami University of Ohio. The Miami football coach at the time was future Ohio State legend Woody Hayes and among Charlie's fraternity brothers was Hayes' future Michigan rival Bo Schembechler.
One weekend Charlie and his friends visited a dance at the neighboring women's school, Western College. There he became enamored with the campus social director, Caroline Randolph and they soon became an item.
Charlie's early college career was not marked by academic excellence and when the Korean War broke out he enlisted in the US Air Force. Soon after he proposed to Caroline and she accepted. The idea of marriage to a college drop-out and junior airman was less well received in Caroline's home town of Burlington, Iowa where her mother's family were prominent retailers and her father was an
international diplomat. On their wedding day there were plenty of tears...not all for the same reason. After basic training, Charlie was assigned to the Defense Language Institute at the Presidio in Monterey, California, where he received training in Russian in preparation for an intelligence posting in Cambridge, England.
When his Air Force stint was complete, Charlie returned to Miami University where he pursued his studies with a vigor that had not been evident in his first tour. So impressed were a couple of his professors, they helped him engineer a successful application to Stanford University in a unique program where he was able to complete his bachelor's degree at the same time as his first year of law school. He eventually graduated with honors and was named managing editor of the Stanford Law Review.
During his stint at the DLI, Charlie had fallen in love with the Monterey Peninsula and upon graduating from Stanford he accepted a job as an associate with the firm of Hoge, Fenton, Jones & Appel, working closely with his mentor and life-long friend Lewis Fenton. Charlie spent his entire career with the firm and its successor, Fenton & Keller where he grew to be a sought-after specialist in tax, real estate and land-use law. Among his clients were The Pebble Beach Company and movie legend Clint Eastwood.
Charlie retired from his law practice in 1993, but his long history in community service continued for many years after retirement. He served two separate terms on the Monterey City Council, served on the board of directors and as the president of the Association of Monterey Bay Area Governments, was a founder of the Monterey College of Law and the Monterey County Legal Aid Society, served on boards and as an officer on several local non-profit organizations, was on the Board of Trustees and served as president of the Big Sur Land Trust, served as chair of a special task force regarding the 1994-95 floods, was on the founding board of Cypress Fire Protection District, and was foreman on the 1996 Civil Grand Jury. He also served two terms on the Monterey Peninsula College Board of Trustees where Charlie and his wife Caroline initiated and helped fund the startup of the Monterey Peninsula College Foundation.
In 1992, Charlie received the Chief Justice Gibson award, presented to the attorney who best represents commitment to community service and high legal standards, as set by the award's namesake the late presiding justice of the California Supreme Court. In 2015 he was recipient of the President's Award from Monterey Peninsula College.
Among Charlie's family and friends, he will be remembered for his generosity, wit and love of life. He always referred to himself as Mr. Lucky, noting how he had emerged from humble beginnings and always mindful of the many blessings he had enjoyed over the course of his life, from a rewarding career, wonderful family and friends and the opportunity to enjoy the unique joys of life on the Monterey Peninsula. Although he had occasion to travel worldwide, he always felt a special passion for the region where he spent most of his life, from sunsets overlooking Carmel Valley and Point Lobos, New Year's Day hikes to the top of Jack's Peak to weekends at his beloved Tassajara Zen Center, Charlie and his family made the most of their time in this special place.
Charlie lost his first wife Caroline to cancer in 2001. Charlie and his second wife Linda enjoyed 16 years of marriage, traveling and spending time in the company of good friends and family. Charlie is survived by four sons, Stephen, David, Christopher and Jeffrey, six grandchildren, Kevin, Justin, Kiavash, Shaheen, Niku and Claudine Page, and daughters-in-law Judy and Farnoosh Page and Lisa Berry. David's wife Heather Page was lost to cancer in 2016. Charlie is also survived by stepson AJ Prolo, step daughter Kristine Jordan and step grandchildren Lauren Prolo, Eyrika Collins and Nicole, Ben and Amina N'Gambwa.
Friends are invited to a celebration of Charlie Page's life to be held at the Beach Club on Saturday, July 7 at 5:00pm.
In lieu of flowers, Charlie's family suggests a donation in his name to the Monterey Peninsula College Foundation.