Nancy Wilson Ross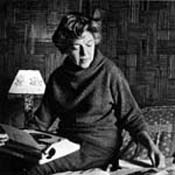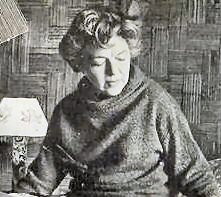 Nancy Wilson Ross was a good friend of the SFZC, came with Margo Wilkie (four mentions of Ross) to visit in the city in the sixties, met with Suzuki and a few other elegant seemed to be high society women into the arts, meditation. She and Margot had gone to India together as part of a serious study of Eastern religions. Margot said in her interview that she was in a "women's discussion group there in 1958 which included the writers Nancy Wilson Ross and Ann Morrow Lindberg. Suzuki-roshi met with them a few of the few times he went to the East Coast. Elsie Mitchell, founder of the Cambridge Buddhist Association was close with Nancy. I remember hearing once from Richard Baker I think that Alan Watts had also connected us to Nancy. Baker sent students to live with her and help her out. Some thrived there like John Bailes. I recall John telling me how through Nancy he'd been invited by someone from the Mellon family to spend some time in a Caribbean resort and was flown there in a private jet with a Matisse? hung on the cabin wall and on that island sat on the beach and chatted with Bill Colby who'd been director of the CIA. I recall that Robert Lyttle hated being there. Dan Welch and Deborah Madison were there and Deborah talks about it in her interview.
I loved Nancy Wilson Ross - she was into loving kindness. She was hard to live with and we didn't always get along and after Dan came we really didn't get along. A lot of people didn't get along with her but I loved it. I was so happy to be away from Zen Center. I got to go to lunches and have Manhattans in the afternoon. Dan didn't want to drink at cocktail hour and I said you have to so he got into it. When John Bailes first arrived he was depressed and she'd say at breakfast I see you're wearing your lead suit but he got closer to her than anyone.
I remember John Bailes telling me he was going through security with Nancy at an airport and she got a little haughty about it and said, "Well, I'm not very likely to be carrying a bomb on the plane," or something like that. They pulled elderly sophisticate Nancy into a room for interrogation and she missed her flight.

From a 1967 Tassajara fundraising brochure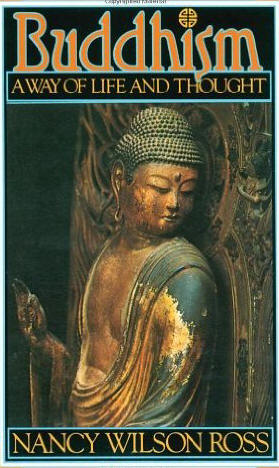 Nancy was considered an expert on Eastern religion.
Nancy Wilson Ross (November 22, 1901 – January 18, 1986) was an American novelist. A native of Olympia, Washington who graduated from the University of Oregon in 1924, she became an expert in Eastern religions and wrote fifteen novels. Her 1957 novel The Return of Lady Brace was nominated for the National Book Award for Fiction. - from her Wikipedia page with a list of her books.
Friday to Monday (1932)
Take the Lightning (1940)
The Farthest Reach (1941)
Westward the Women (1944)
The Left Hand Is the Dreamer (1947)
I, My Ancestor (1950)
Joan of Arc (1952)
Time's Corner (1952)
The Return of Lady Brace (1957)
Thor's Visit to the Land of Giants (1959)
Heroines of the Early West (1960)
The World of Zen: an East-West Anthology (1960)
Three Ways of Asian Wisdom (1966)
Buddhism, a Way of Life and Thought (1980)
She sure didn't act like she was from the West Coast. - DC
This is interesting - Nancy was into John Cage
Nancy Wilson Ross' contributions to the New Yorker
New York Times 1986 obituary for Nancy Wilson Ross (below)
Nancy Wilson Ross, a novelist and an authority on Eastern religions, died of heart disease Jan. 18 at Indian River Memorial Hospital in Vero Beach, Fla. She was 84 years old. From the early 1930's until the late 1950's, Miss Ross wrote some 15 works of fiction, including ''Take the Lightning,'' a novel about malaise and despair in a Western university town; ''I, My Ancestor,'' which ranged from Manhattan's Park Avenue to a sparsely inhabited island near Seattle, and ''The Left Hand Is the Dreamer,'' about a couple in upstate New York whose marriage is shattered when the wife has an affair with an Austrian refugee doctor. Reviewing that book in The New York Times in 1947, Orville Prescott described it as ''tense with the fears and pressures of civilization's agony.''
Miss Ross was born in Olympia, Wash., and graduated from the University of Oregon. In 1939 she traveled to China, Korea and Japan, a trip that she later said influenced her greatly.
''In Japan, in particular,'' she wrote, ''the theaters of the Noh and the Kabuki, the 'abstract' gardens of rock and raked sand, the meaning behind the tea ceremony - all these suggested new dimensions in art, and considerably reduced my arrogance as a 'modern.' '' Eastern and Western Values
That interest eventually manifested itself in her writing. While her 1957 novel ''The Return of Lady Brace'' concerns a woman who, upon the death of her British husband, returns after years of absence to help dismantle the Long Island house in which she was born, reviewers noted that the book's values were as much of the East as the West.
She subsequently wrote ''Three Ways of Asian Wisdom,'' which presented the history, tenets and practices of Hinduism, Buddhism and Zen; ''The World of Zen,'' and ''Buddhism: A Way of Life and Thought.'' She also wrote an introduction to ''The Temple of the Golden Pavilion,'' a novel about a Buddhist priest by Yukio Mishima.
In 1942, Miss Ross married Stanley P. Young, a playwright and partner in the publishing house of Farrar, Straus and Young.
She is survived by two stepchildren, Aline Meschter, of Edgewater, Md. and Christopher Young, of Davenport, Wash.
A memorial service is scheduled for Feb. 15 at 3 P.M. in the Cathedral of St. John the Divine, Amsterdam Avenue and 112th Street.