David Steindl-Rast
Brother David at Gratefulness.org
Brother David, as he was called, was at Tassajara for the first practice period and to this December 2017 day has a relationship with the SFZC and people in those circles.
Brother David's 2021 Christmas message.
Brother David's 2020 Advent Message
***
About Brother David - from Gratfulness.org - including links to an extensive archive on Brother David - books, articles, audio, video, German language
In 1989 Vanja Palmers and David Steindl-Rast founded Puregg, Haus der Stille ('House of the Silence') in Austria. Read what Vanja wrote about it in the Winter 1997 Wind Bell - A Place to Center in Austria.
DC talking with David Steindl-Rast in 1997 at the Shadows retreat in Nicasio
Most of the memories I have of Suzuki Roshi are images - standing on the bridge, him so small and lifting rocks in the creek.
When I first came, he was going around in the zendo with his stick. He bowed behind me. I put up my hood so he could get to my shoulders. He said in a strong voice, "Take this off!" - meaning the hood attached to the scapular - and he whacked me. The next day he said to me, "Oh, I didn't know this was your kesa" and laughed. "I thought you Christians had to protect your head."
Another time he called me in and asked, "Why did you come here?" And he said, "I want to come to your monastery for three days." We met at Chester Carlson's funeral [ 1968]. It was just two miles away. He almost came but he didn't.
He said that faith and doubt belong together, that doubt is good as long as faith is the nose on the head of doubt.
In 1967 at Tassajara I asked David if he believed in a personal god and he said he could see god including the personal. He talked about his monastery, Mt. Savior, in Elimira, New York. Said his teacher there told the monks to "fall into heaven." He said from his experience there he'd advise us at Tassajara to avoid having animals or businesses. Both took too much time and energy. He said they were baking bread and making other items to sell and monks were driving around in trucks making deliveries and got so involved it became their focus.
The Summer 1983 Wind Bell quotes David as saying that monastic life is "a time not your own time."
***
Brother David and Peter Schneider in conversation at Tassajara in the KQED 1968 film Zen Mountain Center - film segment - transcript
***
From Fall 1968 Wind Bell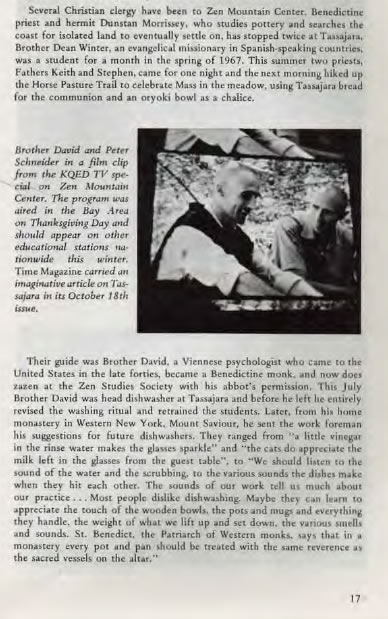 ***
Congratulatory statement to Tenshin Reb Anderson at Reb's Installation as abbot of the SFZC on January 12, 1986 - from the Spring 1986 Windbell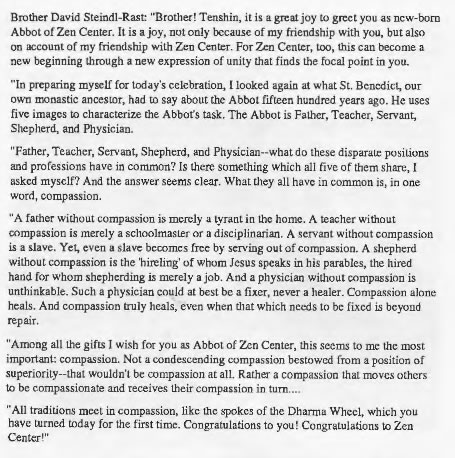 ***
Georget Gayuski refers to Brother David in the Fall 2000/winter 2001 Windbell article writing "Brother David correlated gracewith belongingness and sin with alienation. He suggested that realization requires a sense of belongingness, that it is the ground on which realization takes place."
2007 Season's Greetings from Brother David
2008 Season's Greetings from Brother David
On the Opening of the Zen Studies Society by Brother David Steindl-rast from the Fall 1968 Wind Bell
David wrote Memory of a Brief Moment in a Long Friendship printed in Roundabout Zen: Recollections in Celebration of the 70th Birthday of Zentatsu Baker Roshi

Click
here
for Shunryu Suzuki Photo Archive images
and links to all
cuke.com
pages on .