Al Tribe
---
Al died on Monday November 27, 2017 of unknown cause. A fellow student of Shunryu Suzuki, a dear friend I've been in contact with occasionally for years, a supporter of Cuke Archives. My sympathies to Carol and Laurence and others in the family. - dc

Click here for Shunryu Suzuki Photo Archive images and links to all cuke.com pages on .
See photos a bit further down.
Al's brief memories of Shunryu Suzuki
Al is on the far left on a group photo from the 1998 Sati Conference on Shunryu Suzuki at Stanford.
Al's first wife, Fran, had this memory of Suzuki in which she mentions Al.
Al always seemed to be involved with a sitting one or more sitting groups.
From a 2012 email: I started sitting @ Sokoji and BZC on Dwight Way and met SR and Mel both  in '67.
When Katrinka and I were living in San Rafael 2012 and 3 I joined him, his wife Carol Paul, and others at the Mt. Source Sangha on Wednesday morning. His primary affiliation then was with Lew Richmond's Mill Vally group.
8-21-11 - Congratulations to Al Tribe whom, along with Peter Coyote, was ordained as a Soto Zen priest by Lew Richmond, head teacher of the Vimala Sangha yesterday. 
And then Al assumed a teaching role.
The Vimala Sangha, originally founded by now-retired teacher Lew Richmond, is based in Mill Valley, CA (Vimala Sangha Mill Valley) and is currently led by teacher Ed Sattizahn assisted by Al Tribe and lay teacher Gib Robinson. The practice style of Vimala Sangha especially supports dedicated lay Buddhist practitioners, and draws inspiration (as well as its name) from Vimalakirti, the "householder Buddha" of Buddhist scripture whose wisdom was said to surpass that of all the Buddha's other great disciples.
Here's a notice put on cuke way back:
Jan 16, 1999 ... lst & 3rd Sundays 9-11 a.m. Contact Al Tribe, [phone #] before 9 p.m.. Peninsula Sitting Group, Skyline at Hwy 84. Wednesday 8:30 p.m., .
He sat for years at the Berkeley ZC and was there not long ago when his wife was ordained as per this comment by David Silva on Facebook.
I had not seen Al for many years. Then saw him just recently at the ordination ceremony at BZC, that including the ordaining of his wife as a priest. Had a great catch up conversation. What a wonderful man. Now he's gone. Poof.


Like a tiny drop of dew, or a bubble floating in a stream;
Like a flash of lightning in a summer cloud,
Or a flickering lamp, an illusion, a phantom, or a dream.
So is all conditioned existence to be seen
Three Photos from Al and Peter Coyote's transmission ceremony at Vimila Sangha's Mill Valley zendo. Got them from Peter Coyote's website
Al Tribe, Lew Richmond, Peter Schireson and Peter Coyote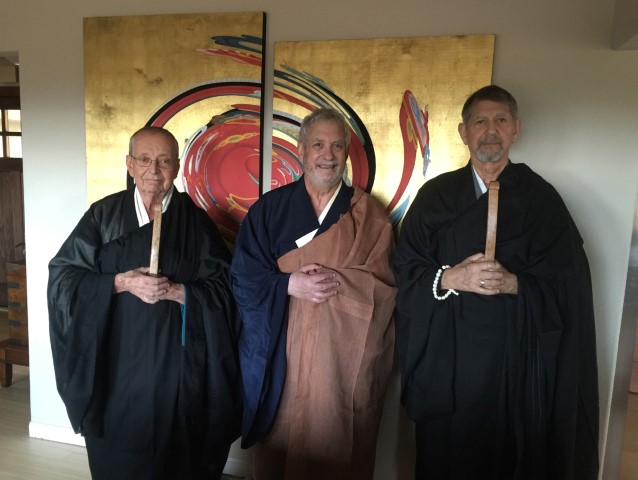 Al Tribe, Lew Richmond, Peter Schireson and Peter Coyote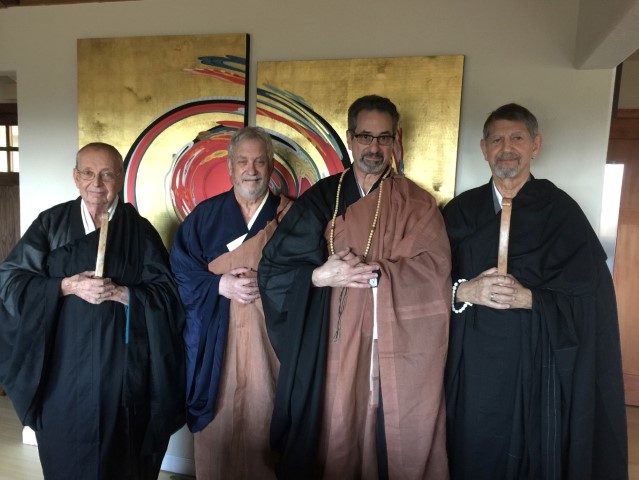 Peter Coyote, Lew Richmond, Ed Sattizahn, Al Tribe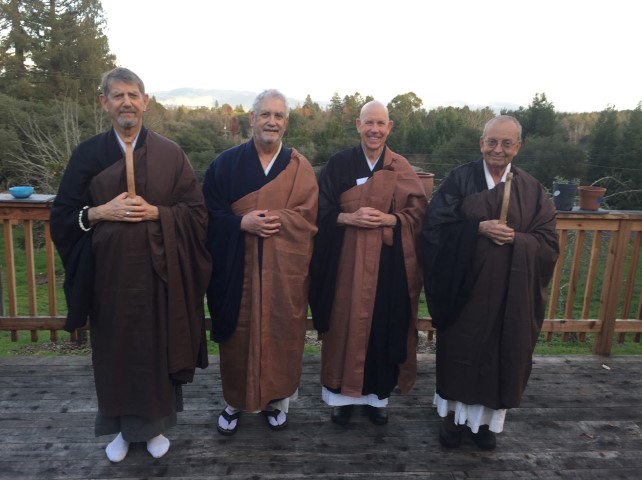 Al and I had a lot of email back and forth through the years, always for some reason. Like this one from 2013.
I think I might have asked you about this a few years ago, but was wondering when Roshi's birthday is, or if it's still in some sort of international dateline zone of ambiguity.
I ask because mine is May 18 and I'd love to share a BD with him!
Best wishes, Al
I answered
Just to make sure, I'll go to the chronology of his life on cuke.com
And yes! He was born on a great day - May 18th.
Congratulations.

And this from 2017
He's referring to a note I wrote him and, among other things, thanking him for being a generous supporter of Cuke Archives for the last five years.
I really appreciate your devotion to Suzuki Roshi and his teaching through Cuke!!! It's been a pleasure to offer you what support I can, and I look forward to your kind offer of that USB drive with the Offline Archive. And congrats to you and Katrinka for tying the knot...great news. Carol and I did the same one year ago after being together for 10 years.I think you were at the first Tass. practice period in '67, yes?, Fran and I didn't get there till the summer practice period in '68 [see note at end], when we served meat to the guests and ate almost nothing but brown rice in the zendo, thx to Donny! I remember his smoking while ranting about the evils of Western medicine Fifty years ago, hard to believe! I remember S.R. sitting on the stage at the Human Be-In, looking bemused or baffled, alongside Allen G. and Gary S.. In the Summer of Love Fran and I were camping at Limekiln and heard there might be a monastery at the end of this insane dirt road, drove down to Tass. greeted by Peter S. who said we couldn't stay, but for $10 we could use the baths!!! We thought, "that doesn't sound very Buddhist to us", turned around and drove right back to the coast. Later that summer I began to sit at BZC and Sokoji...Deep Bows,AlP.S. make sure to let us know if you're ever back in the Bay Area
[Interesting - he says they were at the "the summer practice period in '68." Fran wrote in her story that they were there for the summer practice period in 67. That was the only summer practice period. There was none in 68 or ever again at Tassajara.
And $10 for the baths? Seems to high for 67. I'll check with Peter Schneider. - dc]