Brian Unger

3-14-18 - Brian has a new book out - the Rincon Notebooks.
3-22-02 - Brian on Philip Whalen
Brian Unger came to study at Zen Center at the end of 1976, was met at the door by priest Patricia Phelan, and studied with Richard Baker, Reb Anderson, Blanche Hartman, and Norman Fischer for over 15 years. He took priest ordination with Norman Fischer in 2002 and led a small zendo practice in New Jersey for 18 years. Brian earned an M.A. in English & American Literature at New York University in 2007 and a Ph.D. in English & American Literature at the CUNY Graduate Center in Manhattan in 2014. The Rincon Notebooks is his first novel, a tale of a Zen-inspired professor of literature living in a tropical surfing town in Puerto Rico. His critical annotated edition of Zen priest-poet Philip Whalen's literary journals Bowed Some, Chanted a Little: The Literary Journals of Philip Whalen 1948 - 1990 comes out from University of Alabama Press in 2019. He lives part of each year in Santa Cruz, Calif., and part in Rincon, Puerto Rico.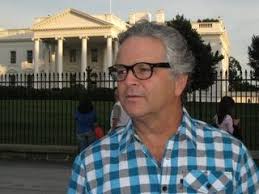 5-05-08 - On Zen Monster by Brian Unger
4-6-12 - Zen-Lampe: "We are Rebels" - Interview with Brian Unger

8-25-03 - Fighting Unger - from Surfing Magazine

***
11-08-11 - ZEN MONSTER LAUNCHES 3RD ISSUE
See cool Zen Monster release card
click on thumbnail to enlarge
With a contribution by DC as well.

Zen Monster, Vol. 1, #2 is now on sale @ all 3 ZC bookstores or online @www.spdbooks.com and 'google' Zen Monster on the site; its around $10. And don't forget Zen Monster Vol. 1, #1. You can order them both fromSFZC Bookstore. Check out the Zen Monster website.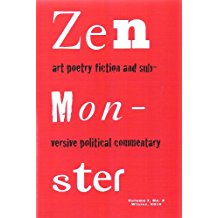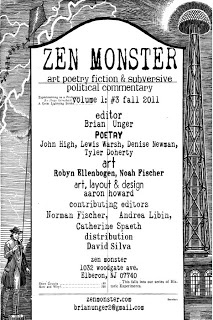 There's more on Brian on the Internet but put "zen" or "surfing" after his name so you won't get the actor.