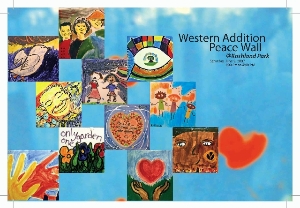 6-08-07 - Western Addition PEACE WALL Unveiling and Celebration
in San Francisco tomorrow across from the SFZC
Here's the announcement on sfzc.org. This is the Page Street wall of Koshland Park across the street from the SFZC.
Thanks to Barbara Wenger for her years of work to help make this happen.
Sorry I can't be there but have to be at son's school's year end event. Here's Volunteer Match's announcement of this event. A lot of announcements - like the Neighborhood Parks Council. You should have seen that neighborhood when we moved into the Page Street building. It was so dangerous and so much has been improved - work done by many people, some from the ZC. The park itself was orchestrated by the ZC in the Richard Baker era. Nuff said, thanks to all. - DC
---
Barbara Wenger's invitation to the
Western Addition PEACE WALL Unveiling and Celebration
San Francisco, California
(and history of the project)
Hi Everyone,
As you are some of my favorite friends, I wanted to be sure to invite you to attend this event. Yes, it is finally happening: An eight-year labor of love has resulted in the Western Addition Peace Wall, installed on the Koshland Park retaining wall in San Francisco, CA. Please join me to celebrate!
Here is the story: Since 1999 churches, schools, and community based organizations in the Western Addition have been learning a peace empowerment process, and painting tiles of what PEACE means to each person.
Through the integration of the visual arts, volunteers have taught a program in two local elementary schools, Megan Furth Academy (formerly Sacred Heart Elementary) and John Muir Elementary, and over fifty community based organizations in the Western Addition, that focused on tolerance, understanding, and non-violence. Participants collectively learned ways to develop positive and proactive solutions to resolving conflicts and defusing anger. The project was developed and implemented by residents for residents-a true community endeavor.
This project also included events at two Juneteeth Festivals, Ella Hill Hutch Community Center, African American Arts and Culture Complex, YMCA, On-Lok Centers, the Korean Center, Churches, and Housing Developments.
As a result of this project, children, residents, and seniors designed over 1,800 tiles that will be placed on the retaining wall surrounding the Daniel Koshland Community Park on Page and Buchanan Streets in San Francisco in the next few weeks. A community celebration will follow on Saturday, June 9, 2007. The wall will be dedicated to the families who have lost their children to violence in the Western Addition.
Please join us in celebrating PEACE and the COMMUNITY. Our partners include Mo Magic and Community Partners United. To get involved in this celebration, please contact the Hayes Valley Neighborhood PARKS Group at hvnparks@hotmail.com, or 415-431-8112.
The PEACE EMPOWERMENT ART PROJECT is a direct, personal, and far reaching undertaking that will enhance the quality of life for generations in our community. This project has been funded in part by the San Francisco Foundation, San Francisco Beautiful, the Mayor's Office of Neighborhood Beautification and the Community Challenge Grant Program, with consultation and training from the World Wall for Peace and unifying art by Justine Tatarsky.
Western Addition PEACE WALL Unveiling and Celebration Koshland Park Page Street (between Laguna and Buchanan) Saturday, June 9, 2007
1:00 - 2:00 PM Music & Entertainment, Food, Booths
2:00 - 3:00 PM Program and Dedication
3:00 - 4:00 PM Music & Entertainment, Food, Booths
Best wishes, and hope to see you there!
Barb Wenger, Director
Hayes Valley Neighborhood PARKS Group
A Project of the TIDES Center
415-431-8112 ext 3
---