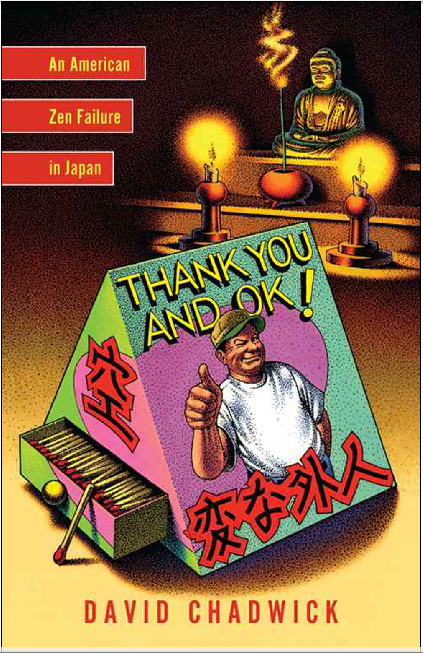 ---
Front Matter
---
praise for the book
about the book
about the author
title page
publishing info page
dedication
epigraph or opening vignette
pronunciation of Japanese terms
notes
preface, and acknowledgments come after the epigraph in the book but herein are placed after this selection and after the contents page on their own pages.
---
"Hats off to Chadwick. . . . His writer's skill is evident in everything from skin-crawling descriptions of mukade (dreaded scorpion-like insects) to a benevolent look at takuhatsu, formal monks' begging." —Publishers Weekly
"Written down with good humor and keen observations. . . . This book is not a serious examination of Zen Buddhist practices nor a major study of East-West relations but a rollicking, anecdotal mishmash of incidents about the foibles of monks, abbots, 'housewives,' and fellow students of the author's. Read with this understanding, this book is good entertainment." —Library Journal
"Vivid, lighthearted, and unself-consciously profound." —Kirkus Reviews
"The Catch-22 of Zen." —Daniel Leighton, author of Faces of Compassion

"Asked why Zen was brought from India to China, master Zhao Zhou replied, 'The oak tree in the garden.' This is exactly what Chadwick gives us here—no grand sweeping statements about the 'real' nature of Zen or Japan—just specific experience rendered with a peculiar intensity that lingers in your memory. The writing is excellent. The artistic integrity is the very finest." —Robert Pirsig, author of Zen and the Art of Motorcycle Maintenance
"Totally delightful—fantastic couch potato Zen. Chadwick saves you the trouble of going to Japan by making all the mistakes for you." —Jack Kornfield
---
ABOUT THE BOOK
David Chadwick, a Texas-raised wanderer, college dropout, bumbling social activist, and hobbyhorse musician, began his study under Shunryu Suzuki Roshi in 1966. In 1988 Chadwick flew to Japan to begin a four-year period of voluntary exile and remedial Zen education. In Thank You and OK! he recounts his experiences both inside and beyond the monastery walls and offers insightful portraits of the characters he knew in that world—the bickering monks, the patient abbot, the trotting housewives, the ominous insects, the bewildered bureaucrats, and the frustrating English-language students—as they worked inexorably toward initiating him into the mysterious ways of Japan. Whether you're interested in Japan, Buddhism, or exotic travel writing, this book is great fun. To learn more about the author, David Chadwick, visit www.cuke.com.
---
DAVID CHADWICK, a Texas-raised wanderer, college dropout, bumbling social activist, and hobbyhorse musician, began his Zen study under Shunryu Suzuki Roshi in 1966. Chadwick now lives in Northern California where he reads, writes, walks, and continues to dabble in Buddhism and related matters.
[Now, February 2016, and since Dec. 2013 living in Bali, Indonesia.]
---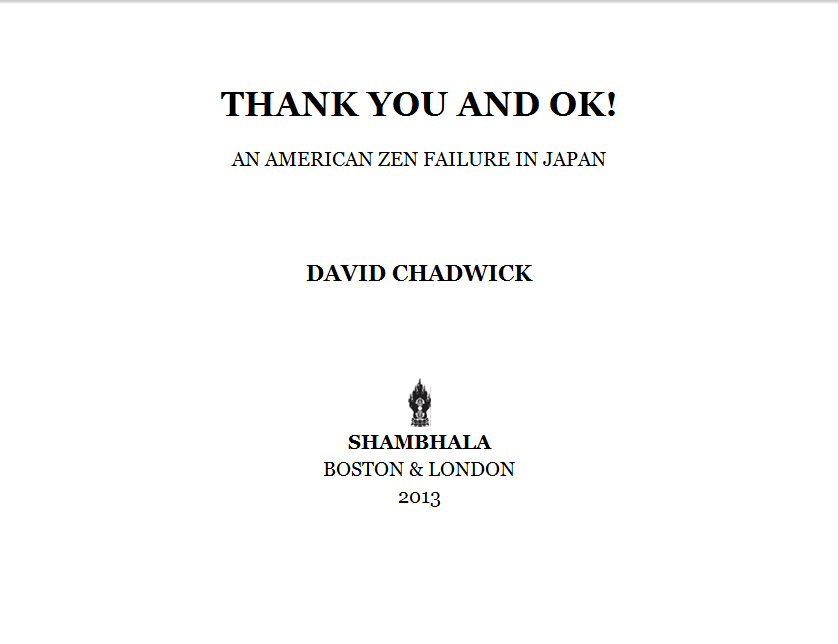 ---
Shambhala Publications, Inc.
Horticultural Hall
300 Massachusetts Avenue
Boston, Massachusetts 02115
www.shambhala.com
© 1994 by David Chadwick
Cover illustration by Alex Murawski
All rights reserved. No part of this book may be reproduced in any form or by any means, electronic or mechanical, including photocopying, recording, or by any information storage and retrieval system, without permission in writing from the publisher.
Library of Congress Cataloging-in-Publication Data
Chadwick, David, 1945–
Thank you and OK!: an American Zen failure in Japan/David Chadwick.
p. cm.
Originally published: Thank you and OK!
New York: Arkana, 1944.
eISBN 978-0-8348-2686-1 ISBN 978-1-59030-470-9 (alk. paper)
1. Chadwick, David, 1945– 2. Spiritual life—Zen Buddhism. 3. Zen Buddhism—Japan. 4. Spiritual biography—United States. I. Title.
BQ946.A334A3 2007
294.3'927092—dc22
2006102310

---
To learn more about Shambhala books, visit us online to sign up at shambhala.com/eshambhala.

---
TO AHDEL AND KELROY MY PARENTS
---
Once when I was driving Suzuki Roshi to Zen Center from Tassajara, after we'd stopped at the original Thunderbird Bookstore in Carmel Valley and he'd had three cups of coffee and me two, we got back into the car and I was all jacked up and driving down the road and I said, "Suzuki Roshi, may I ask you a question?" and he said "Yes," and I proceeded to beg him to tell me what it is that I should do to understand reality, to get enlightened. I told him that I was totally dedicated to the Way and that whatever he told me, I would do, no matter what it was. I went on and on making sure that he was thoroughly aware of my sincerity and devotion. I turned to him for an answer. He was sound asleep.
---
A NOTE ON APPROXIMATE JAPANESE PRONUNCIATION
A is similar to the "a" in father
I is similar to the "ea" in eat
U is similar to the "oo" in look
E is similar to the "e" in egg
O is similar to the "o" in go said quickly
Examples taken from An introduction to Modern Japanese
by Osamu and Nobuko Mizutani, Japan Times.
_____________________________________________________________
This book is about events that took place between April of 1988 and April of 1992.
The value of the yen fluctuated in that period, but think of 1000 yen as worth roughly eight dollars.
---
next - CONTENTS