Zen Aluminati Interview with Grahame Petchey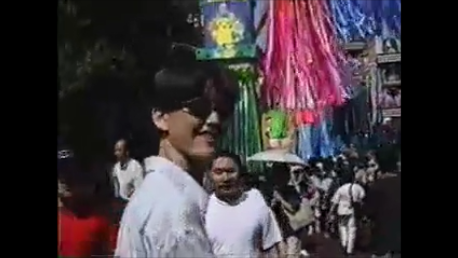 Mark Petchey son of Grahame Petchey and Hideko Oga
---
That's a photo of Mark from a video he and a friend made in Japan in 1998. This and two others, below, are from the section where he's walking down a street during a festival.
Here's a link to the page on Shunryu Suzuki dot com with that clip, a brief video of the parts with mark - both linked to at the bottom of the page - and on top, a link to the thorough footage he took of Shoganji where Suzuki was born and spent his childhood plus many stills taken from the video. Mark's accident was the next year.
I'd see Mark now and then from the time he was a baby. He did some work for me at my home in Sebatopol in 98 and 99. Clay and I got a ride from him and his friend on July 3rd, 1999, two weeks before the accident in which his friend died and he suffered serious brain stem damage.
It happened in the wee hours of the morning of a Sunday when Grahame and I were supposed to go together to Green Gulch to join other Suzuki disciples for a public event focusing on Suzuki. Grahame called me and said in his formal British way that he was sorry but he wouldn't be able to make it and mentioned that Mark had been in an accident. It was strange because he didn't make clear how serious it was and that Mark was in a coma. After the event, I went to the hospital and spent a lot of time there with Mark, visiting quite a bit. At first the doctors said he'd die pretty soon and then that he'd never come out of the coma and then that he'd never etc. The nurses were more positive Mark has continued to make progress through the years. See below. - dc (9-18-15)
---
12-22-09 - Mark Petchey is doing great considering severe brain damage. He's enjoying his life and is awfully good natured. Here's his website.
---
3-10-08 - Photo of Mark Petchey with some friends at his 25th birthday party.
---
10-12-04 - A photo of Mark Petchey standing with his parents
---
The Twelve Days of England has material about Mark's situation after the accident.
---
Below are prior reports on Mark's condition going backwards in time.
---
12/22/99--Great News about Mark Petchey. Read the article from last Sunday's Santa Rosa Press Democrat (12/19/99). I've visited him some recently and knew he was out of his coma but just didn't get around to reporting it--somewhat because his progress has been so incremental. Anyway, he's officially out of his coma now. The doctors gave him little hope. I guess it's their policy--they have to be careful. Only his parents, other family, friends, and some of the nurses and therapists had hope. The later would say "Don't give up hope. I've seen 'em like this and heard the doctors say there's close to no hope and had them come back and visit a year later." It seemed somewhat like Grahame and Hideko were clinging to false hope at times, but their incessant efforts and faith has paid off. It's unbelievable. Mark had hardly any signs of life for the first few weeks. It's been such a long hard painful and now wonderful struggle for his family--and I'm sure for him. There's a long way to go but I'll put my money on them--and on Mark. Look at the trust fund info below.--DC
---
12/8/99--Another update on Mark Petchey's progress from his mother.
Donations to help out the Petchey's can be sent to:
Trust Fund Mark Petchey
c/o Cal Fed Bank
328 N. Main St.
Sebastopol CA 95472-3438
---
11/18/99--A report on Mark Petchey's progress from his mother, Hideko.
Here in Sebastopol California, preparations are underway for a Traffic Accident Victim Awareness Day in honor of Mark Petchey, son of Grahame Petchey, an early disciple of Suzuki-roshi. It will take place on Saturday, October 9th, from 3 to 9PM in the downtown Sebastopol Plaza. There will be food, music, drumming, and a multi-media tribute to accident victims. Many local people, especially high school friends of Mark's are helping out. There will be an auction to raise money to help the Petchey family to care for Mark who will probably be coming home from a rehabilitation center next week. This event is co-sponsored by the Sebastopol Downtown Association and the Mark A. Petchey Trust. Event Info Line: 707-824-9733. Volunteers call: 707-824-4636.
To donate to this trust make a check out to "Mark A. Petchey Trust" and send to:
Mark A. Petchey Trust
c/o Cal Fed
328 North Main Street
Sebastopol CA 95472
---
10-08-99 - Here's a note I received about Mark from Jack van Allen while I was away:
Mark Petchey definitely seem to be improving. Ellen and I visited him at the convalescent center yesterday. As we entered, Mark was laying in bed, sort of looking at nothing in particular. When I spoke to him, he looked directly at me and tracked Ellen and I as we walked across the room. When I spoke to him, he could maintain eye contact for long periods. He moved about in the bed, displacing the pillows placed around him. When this occurred, he knocked one off onto the floor. I picked it up and re-placed it between his knee and the bed frame explaining to him that it had been placed there to protect him from damaging his knee in his restlessness. He calmed down with that. There are other subtle indications of emerging consciousness which are very encouraging. Jack VA

For those who don't know, I repeat the following from a flyer for the Traffic Accident Victim Awareness Day: "On July 17th Mark survived an automobile accident that killed his friend, Max. Expert medical opinion is uncertain as to Mark's future, but it is clear that recovery will be long and slow." Mark received a severe sheer injury to the brain stem and is said to be hovering between consciousness and a coma at the present. But his arms and legs are moving and his eyes are following stimuli, especially a picture of his cat.--DC
---
7/29/99--Mark continues to show slight progress that makes friends and family optimistic but hasn't convinced any doctors that he's going to have any significant recovery. His step-aunt reported that last night he turned his head toward her slightly depending on the side she was on, that he slightly opened one eye, and that he gently squeezed her hand. I want to experience this for myself or hear more like this. He breathed for three hours on his own today but his heartbeat went up too much so they put him back on it. The tube in his head and the one in his chest are gone. Now there's only the throat and just below the stomach in the duodenum for feeding. Sounds bad but it's a lot better than it was.--DC
---
7-28-99 - Mark Petchey, sixteen year old son of Grahame (and Hideko), one of Suzuki's earliest disciples, is in the hospital in Sonoma County CA since early Saturday 7/17, with severe head and lung injuries following an automobile accident in which the driver was killed.
I will keep their current status on this page so that those who wish to know can keep up. The messages below are printed in reverse chronological order, the earliest at the bottom. Last names have been omitted because this info is basically for people who know them and want to keep up. If you have any further questions call me at 707-823-0305.--DC
---
7-20-07 - Mark is not yet showing signs of consciousness. His condition is not improving or changing.
7/19/99--Not much new. Both Lew and Mark were still in comas in critical condition the last I heard today. Hundreds of people chanted in a healing ceremony for them at Green Gulch yesterday.--DC
7/17/99--And now there has been a terrible automobile accident. Let us offer our zazen, prayers, healing thoughts to Mark in intensive care and our love and support through our hearts and minds to his parents at this very difficult time for them.--DC
The cuke.com Sangha News section started off with reports on the conditions of Lew Richmond. and Mark Petchey's comas. Both of them almost died.