cuke.com - an archival site on the life and world of Shunryu Suzuki and those who knew him.
check home for more links what's new Basic info on Shunryu Suzuki Suzuki lectures donate to this site table of contents bibliography interviews articles/excerpts Cuke Sangha News SFZC Dchad Misc Current Events Thank You and OK! links comments SFZC table of contents and more if you look around
---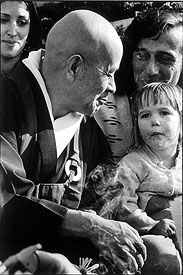 Brief Memories
of Shunryu Suzuki, Zen Center back then, etc.

Interviews
Suzuki Basic Info
Suzuki Stories
Brief Memories

photo by Lisa Law

Edward Brown remembers
---
9-06-12 - One of our spies relays the following that Edward Brown said about the old Crooked Cucumber:
Ed told about Suzuki Roshi on zazen (I have heard this one twice): Someone asked, "Why don't you give us better directions on what to do in zazen?" Suzuki: "Because if I told you that, you might try to do it."
Again from our spy in the Ed Brown camp:
Ed says that Suzuki Roshi was big on being vague and encouraging each person to find out for themselves what might work for them. Experimentation-- even groping.

Ed abbreviates that now, and it has become his favorite line for his own teaching on how to practice: "See what you can find out."
Our third installment from our spy in the Edward Brown camp:
Ed says Suzuki Roshi also said that Suzuki was fond of reminding that: "You are the boss."

Thanks Danny. - DC
---
Interviews Suzuki Basic Info Suzuki Stories Brief Memories