---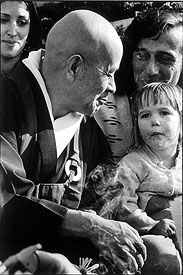 Brief Memories
of Shunryu Suzuki, Zen Center back then, etc.

Interviews
Suzuki Basic Info
Suzuki Stories
Brief Memories

photo by Lisa Law
---

Click
here
for Shunryu Suzuki Photo Archive images
and links to all
cuke.com
pages on .
Tony Johansen
told to DC
9\13\95
Just learned 2-14-15 that Tony has recently died. More or Tony below. - DC
I used to drive Suzuki Roshi to Los Altos - Antoinette and I would take turns driving him down for zazen and lectures. I'd go in the morning and I taught in the East Bay and someone would take him home and then he'd come back at night. We had to leave at four to get down there in time and one time I was driving him and we went up the Fell Street entrance to the freeway and it was dark and wet and there was a very very heavy fog and I had a 61 Volkswagen and Suzuki Roshi was in the passenger seat and Lynn Workof was in the back and when I got up to speed there was an Oldsmobile in the lane beside me and the cement guardrail on the left and out of the mist there appeared a flatbed truck parked in my lane and I hit the brakes and I started to slide right toward this mouthful of flatbed and the Olds and I were traveling at the same speed and I couldn't change lanes and at the last conceivable minute I hit a dry spot and my brakes caught enough for the Olds to get ahead and I slammed it into third and whipped around the edge of the flatbed to behind the Olds and Suzuki Roshi said, "Very good."
---
Tony was a founder or early member of the the Santa Barbara Zen Center.
Interview with Tony's former wife Toni - with a lot about Tony and their history with Suzuki and the SFZC.
from that interview with Toni:
I met Suzuki Roshi in 1964 I believe.
I didn't try to talk my husband Tony into coming there but I came home just so beaming every time that he said he had to come and see who this fellow was that made me so happy. And when he came it was the same for him - he really wanted to practice with Suzuki Roshi.
So I got to be his driver and so did Tony Johansen the first. We were going down to Los Altos in the morning and for a while, Redwood City in the evening. Then it became Los Altos in the morning and evening. We had the two young children so we shared the practice as best we could. Tony was great about that.
There is going to be a memorial for Tony on Sunday in Santa Barbara and an email from Sensei Koan to the SFZC office asked what his Buddhist name was. Tony and Toni received lay ordination on August 25, 1970, the first lay ordination Suzuki had performed since 1962.This is all I can find on that - from Toni's interview:
Our Buddhist names was one of Roshi's funny little kind of jokes. He named me Toen Jundo which means essence of a plumb blossom or something like that and he named Tony something that starts with an R who was a Zen master who went up to the top of a mountain to seek his enlightenment and he didn't get it and when he came off the mountain he saw a plum orchard in bloom and attained enlightenment. I thought that part of my practice was being married to Tony because Roshi said, you should keep family practice. And somehow when he wasn't there anymore I didn't do family practice anymore.
Koan Gary Janka at the Sant Barbara Zen Center wrote after receiving the above info: Thanks, David, for your feedback and all your efforts.At the moment, the most likely candidate for Tony's Dharma name is Reiun. All the signs seem to point to that.
from Bill Lane's interview:
Mel showed me a picture of Suzuki Roshi and some students walking in a procession in Japantown and Phillip Wilson was in it and Tony Johansen and his son were in it and his son wrote a story about that day. Suzuki Roshi looked very young and wore that fancy red outfit and the way he was holding that staff was the way he held it going into the mountain seat ceremony.
The Children's Ordination
Tony and Toni's kids were and are Aaron and Rhonda.
from Katharine Cook's interview:
Do you remember the children's ordination? We were learning how to sew rakusu from Tomoe Katagiri. The Johansen's were there and the Katagiri's. [The summer of 70?] Maybe. We all gave rakusus to our children and it was a very touching thing and we had the full ceremony and what Suzuki Roshi said is, "What this means for all you children is that you're going to be good and brave and beautiful." And I thought that was a good way to sum it all up. Amber was too little to have a rakusu with her name but Tony Johnsen's daughter didn't like her name at all. She had an animal name and she wanted a flower name or the other way around.
Crooked Cucumber has that children's ordination as being in the summer of 1971:
People with children were coming to Tassajara for "family practice." Pauline Petchey spent the summer there with her and Grahame's three children. Beat poet Diane diPrima, an old student of Suzuki's, spent a month with her four children. Toni and Tony Johansen brought their two children and ran a little summer school down in the barn. With Katagiri's help a children's ordination was arranged. Twelve of them sewed their own rakusus with their parents, and Suzuki performed a lay ordination, telling them they were the good children of Buddha.
But maybe that's wrong as this from TASSAJARA AND SUZUKI IN THE TIME OF THE SANDOKAI TALKS
There was a lay ordination that summer for children - the only such ordination we ever had – complete with rakusu that looked like little bibs.
Here's an email DC received from Tony i 2010:
Hi David,
How goes it?
My son Aaron, lives in Guam and has a Japanese wife. I would love to send a copy of Crooked Cucumber for her to give to her parents, who speak no English. Has your book been translated into Japanese? Couldn't find an indication of such at Amazon. If it isn't, it should be.
The best to you in this Holiday Season and always,
Tony
DC responded that no it hasn't been translated into Japanese.
---