---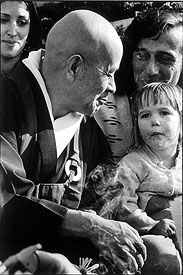 Brief Memories
of Shunryu Suzuki, Zen Center back then, etc.

Interviews
Suzuki Basic Info
Suzuki Stories
Brief Memories

photo by Lisa Law
---

Click
here
for Shunryu Suzuki Photo Archive images
and links to all
cuke.com
pages on .
From Peter Malakoff's blog which contains more about hiking in the wilderness around Tassajara and a lot more interesting material. Check it out.
Tassajara Zen Center
With my friend Bobby, I hiked back to the Tassajara Zen Center from Big Sur. It was a beautiful, hard walk, up steep mountains and down, through the Ventana wilderness, a hike that took us several days. After we cleared the first coastal range, we hiked into forests of huge redwoods. The trail would come around the side of the mountain and begin a traverse, running back along the side of the mountain, cutting sideways on the very steep hillside. As we looked out level from the trail, we saw huge trees towering above us, their tops soaring up to the sky. Then, as we looked down over the outside edge of the trail, we could see the trunks of those very same trees extending far down into a canyon to the ground. I had never before seen such huge living things. We saw almost no one and the area was a real 'wilderness'. I had never been so far away from everything. At night, we felt small, unprotected and vulnerable in our very remote campsites set by quiet streams. It seemed we had left civilization behind.
Finally, we began to approach the Tassajara hot springs and the collection of buildings that form the Zen Center there. As we came down a small canyon trail, late in the afternoon, we saw about 10 Buddhist monks, all in black flowing robes, coming out of their meditation caves along the cliffs above a creek and smiling broadly at us. It seemed like an ancient dream and I felt a little awed at the romantic vision of it all. Then their dog started barking at us and one of them yelled at him to "Shut the fuck up". His shout broke the intoxicating reverie of my romantic vision and restored me to balance, simultaneously giving me a deeper and more realistic faith in both Buddhism and Buddhist religious practitioners. With this 'shout of reality', I saw and felt in the monks a genuine expression of life and religion, an expression which did not try to put on any airs or false pretenses. I liked that. Their Buddhism seemed to be a religion based on reality, not idealism.
When we arrived in Tassajara, we met Suzuki Roshi. A woman monk, who seemed to be in in charge of 'managing' the Zen center had met us as we walked in and told us that we could not use the hot springs. Just then, the Roshi walked up and asked us how we had come to be there. He was a very bright, happy and serious man. When we told him we had come up Pine Ridge and hiked over from the coast, he seemed very pleased with this and told us we were welcome to use the baths, thus, by implication, instructing the woman monk to allow us to do so. We gratefully soaked our weary bodies in those beautiful hot springs, rare true treasures of exquisite healing, surrounded by miles and miles of wilderness.
thanks to Marilyn Sandperl for sending us the link to this story and more on Peter Malakoff's blog which contains more about hiking in the wilderness around. Tassajara.
A few comments: There are redwoods in Big Sur, but once you get over the ridge I don't know of any redwood forests. One can take days to hike in to Tassajara from Big Sur but it can be done in the daylight hours of one day. There are no caves at Tassajara. We sat in a zendo. The people he called monks were likely all laypeople in the robes we wore then although this story seems to have taken place in 1970 or 71 when there were a few ordained disciples. Suzuki wasn't at Tassajara during the 1970 or 71 practice periods so this was probably the late spring or summer in the interim or guest season when the baths were open to guests. The woman he refers to probably worked in the office and sounds like she was being unnecessarily strict. It certainly makes sense that Suzuki offered them use of the baths. Other people would have too. The only dog we had in those days as I recall was Noah who never barked at people or dogs, only other animals. Maybe this is another dog who was visiting or Noah on a bad day. - dc (posted 3-30-14)
---
5-03-14 - Peter Malakoff responds to DC comments.
I HAVE A FEW COMMENTS ON WHAT YOU WROTE:

There are redwoods in Big Sur, but once you get over the ridge I don't
know of any redwood forests.

THERE ARE SOME THAT ARE OVER THE COAST RANGE RIDGE. CHECK OUT REDWOOD
CAMPGROUND (https://www.youtube.com/watch?v=s94Y6JTn6vk)- YOU CAN SEE
THE REDWOODS AT ABOUT 4:30 INTO THE VIDEO

One can take days to hike in to Tassajara from Big Sur but it can be
done in the daylight hours of one day. WE WERE TAKING OUR TIME

There are no caves at Tassajara. We sat in a zendo.

WHEN WE CAME DOWN A HILL INTO TASSAJARA THE MONKS OR PEOPLE IN ROBES
THAT I REFERRED TO IN MY STORY, WERE COMING DOWN FROM SMALL CLIFFS
WITH OVERHANGING ROCK PROTECTION. WE ASSUMED THEY HAD BEEN MEDITATING
THERE FOR THE DAY. THESE OVERHANGING ROCKS ON CLIFF FACES ARE WHAT I
MEANT BY "CAVES".

The people he called monks were likely all laypeople in the robes we
wore then although this story seems to have taken place in 1970 or 71
when there were a few ordained disciples. Suzuki wasn't at Tassajara
during the 1970 or 71 practice periods so this was probably the late
spring or summer in the interim or guest season when the baths were
open to guests. NOT SURE WHEN WE GOT THERE. I DO REMEMBER THAT THERE
WAS NO ONE ELSE IN THE BATHS

The woman he refers to probably worked in the office and sounds like
she was being unnecessarily strict. I REMEMEMER HER ATTITUDE, NOT HER
ADHERENCE TO RULES.

 It certainly makes sense that Suzuki offered them use of the baths.
Other people would have too. I REMEMBER HIM AS VERY GRACIOUS AND
INTERESTED IN US

The only dog we had in those days as I recall was Noah who never
barked at people or dogs, only other animals. Maybe this is another
dog who was visiting or Noah on a bad day. - dc

I HAVE NO IDEA BUT HE WAS BARKING.

ALL THE BEST TO YOU



PETER MALAKOFF

---