---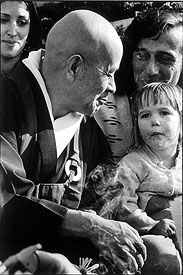 Brief Memories
of Shunryu Suzuki, Zen Center back then, etc.

Interviews
Suzuki Basic Info
Suzuki Stories
Brief Memories

photo by Lisa Law



---

Click
here
for Shunryu Suzuki Photo Archive images
and links to all
cuke.com
pages on .
Fred Stoeber in Hawaii says, Here is an anecdote about Suzuki Roshi (which was surely during a one day sitting when Suzuki would give dokusan [interviews] - DC):
We were sitting at the old Sokoji on Bush street one morning (1966 or 67), and I was thinking about having a private interview with Roshi to ask him a question. I really didn't have a pressing question, but thought I should, so I sort of made one up.
As I sat before him, I came up with my question sounding as sincere as I could (I don't remember at all what it was). He sat quietly for a while, then turned and took a stack of envelopes from his table, handed them to me, and said "Would you mail these for me?"
---
12-31-08 - Shunryu Suzuki student Fred Stoeber has died. I talked to his partner Miyo today. Continued. - dc
---