---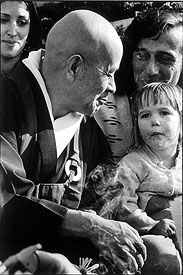 Brief Memories
of Shunryu Suzuki, Zen Center back then, etc.

Katherine Thanas

Interviews
Suzuki Basic Info
Suzuki Stories
Brief Memories

photo by Lisa Law

main page for Katherine Thanas
---
In a 2002 interview with the late staff writer Nancy Redwine of the Santa Cruz Sentinel (link not available), Thanas talked about an encounter she had with Suzuki roshi at the first shosan (a kind of dharma combat) at Tassajara during the first sesshin. Thanas said, "Inside there's a yes and a no."
"Follow the yes," Shunryu Suzuki Roshi told her.
"At first I didn't know what he meant."
Later that day, Thanas was struck with a vision of falling flat on her face — and she knew Zen would be her practice.
"If I said yes, I could fail," Thanas says, her soft voice full of laughter. "As soon as I saw that, I thought: Oh, is that all?"
This was a real turning point for her.
---
This is an excerpt taken from Adam Tebbe's In loving memory of Katherine Sobun Thanas, Roshi Posted on: Jun 24th, 2012 on Sweeping Zen
---