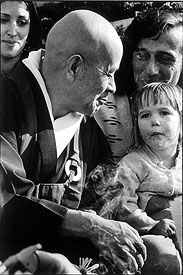 ---
Judith Yamamoto. Sent to DC 4-07-10
---
Judith, her husband and I were at a celebration at Muir Beach for Richard Moore's 90th birthday and she related this story to me. It seems that Suzuki Roshi was there visiting with Charlotte Selver and her husband Charles Brooks. - DC
---
In 1969-71 (I'm guessing at the exact year, but I know it was soon after the year we moved in, which was 1968, and definitely no later than 1971, though I don't think it was that late) our very active dog, about one year old, named Ishi, followed my three children down to the school bus stop at the Dairy, where the yellow school bus picked them up every day. Our little dog, Ishi, was a young, energetic beagle with a good tracking nose. A half hour or so later, all three of my kids came back home, with the dog in the arms of my 12-year-old son, Peter. Ishi had been run over at the bus stop, under the wheels of a mother's car – she'd dropped off her kids at the bus stop and then taken off over the hill.
All of us were crying. We wrapped Ishi in a sheet and laid him on a bench outside our door, then got out a shovel and took turns digging a hole nearby on the hillside. We were still crying and digging when Suzuki came walking down the hill with a couple of other people. He seemed to be out just walking over the hills – that was our impression at the time.
He stopped and asked what we were doing, and we told him, with tear-streaked faces, about Ishi. He stood over Ishi's body lying on the bench, wrapped in a sheet, and said a few words in Japanese over our dog.
Ever since, we have always said that Suzuki sent Ishi straight to Dog Heaven, and that's quite an accomplishment since we're all atheists! His few words made us all feel so much better, right then. We thanked him profusely, and he continued on his way down the trail.
True story! love, Judith
[DC asked Judith if she remembered anything more about Suzuki]
Trying to remember what Suzuki Roshi looked like or said. I really can't remember much more; he was not a big man, and he was wearing some kind of dark robe, so he immediately didn't look like all of us in our jeans and sweat shirts. Gentle voice, very pleasant to listen to, but he didn't do a lot of talking – I remember him mostly asking questions. He was passing by, and he stopped to say hello, asked what we were doing, prayed over Ishi, and passed on (in the old, literal sense of the word, not dying). the whole picture had a very monk-like quality, the walking and alert man, noticing what was happening on his way, here and then gone.
And, in those few minutes, becoming a permanent part of our family story.