Suzuki lectures and lecture excerpts on the Heart Sutra
---
Film with audio of the Heart Sutra being chanted at Sokoji in 1968 from the KQED Zen Mt. Center film.
Sokoji zendo zazen & Heart Sutra - (4:45) - Suzuki and Dainin Katagiri (on shunryusuzuki.com) - or on Youtube Cuke Video
***
Audio - The Heart Sutra being chanted at Sokoji March 13, 1966 - from a Suzuki lecture tape. From the Other Audio page on shunryusuzuki.com
It's on the Way of Eiheiji recordings too.
---
The original four-sided two page Heart Sutra Card

used at Sokoji first in 1962 for Suzuki's installation as abbot in the Shinsanshiki ceremony.


The later sixties one page two-sided card
Shunryu Suzuki "Translations" of the Heart Sutra - - thanks Chris Modec-Halverson
---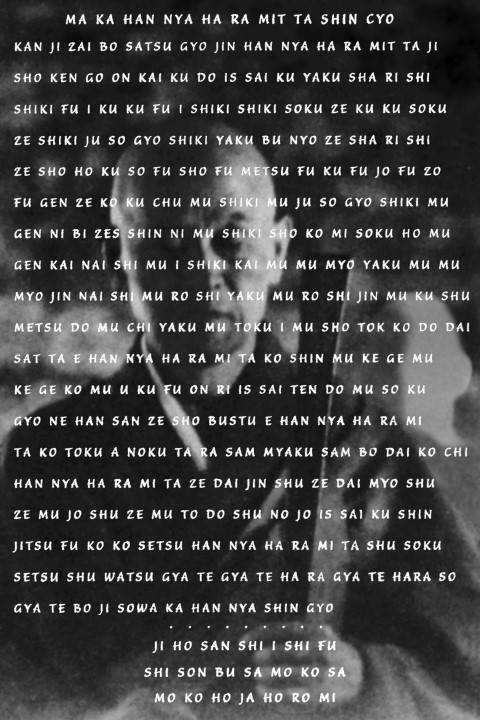 click on image to view larger
5-17-13 - Commentary by Shunryu Suzuki
IN THE PRAJNA PARAMITA SUTRA the most important point, of course, is the idea of emptiness. Before we understand the idea of emptiness, everything seems to exist substantially. But after we realize the emptiness of things, everything becomes real—not substantial. When we realize that everything we see is a part of emptiness, we can have no attachment to any existence; we realize that everything is just a tentative form and color. Thus we realize the true meaning of each tentative existence. When we first hear that everything is a tentative existence, most of us are disappointed; but this disappointment comes from a wrong view of man and nature. It is because our way of observing things is deeply rooted in our self-centered ideas that we are disappointed when we find everything has only a tentative existence. But when we actually realize this truth, we will have no suffering.
Earlier post on Shunryu Suzuki's "translation" of the Heart Sutra.
Two links to the version Allen Ginsberg chanted:
Zen Site source of the above - Rockument dot com
Version of the Heart Sutra Shambhala (Trungpa) sangha uses. (thanks Howie)
Rick Levine's calligraphy of an English version
for
Kazuaki Tanahashi
&
Joan Halifax's
book,
The Heart Sutra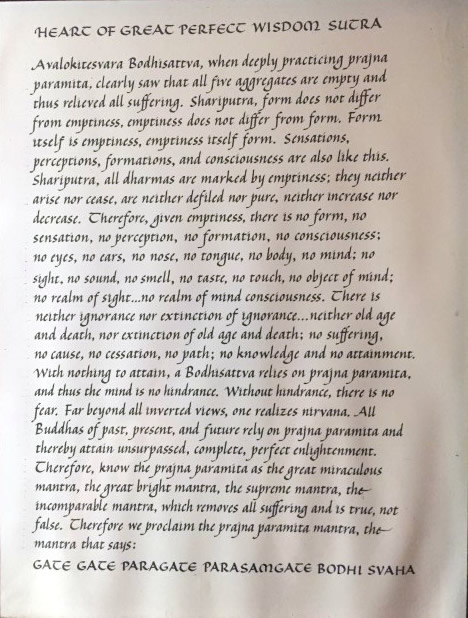 ---
Jack Van Allen sent this 6th century Heart Sutra a while back.
---
The version of the Heart Sutra "translation" by Suzuki chanted by Allen Ginsberg - the Zen Site and on Rokument dot com - Haight.
It's chanted by Allen Ginsberg [Rokument page for AG] in the CD-ROM Haight-Ashbury in the Sixties - Allen Ginsberg cuke page
reproduced below
---
MA KA HAN NYA HA RA MIT TA SHIN GYO
Great Prajna Paramita Sutra

KAN JI ZAI BO SATSU GYO JIN HAN NYA HA RA MIT TA JI SHO KEN GO
Avalokitesvara bodhisattva practice deep prajna paramita when perceive five

UN KAI KU DO ISSAI KU YAKU
skandas all empty. relieve every suffering.

SHA RI SHI SHIKI FU I KU KU FU I SHIKI SHIKI
Sariputra, form not different (from) emptiness. Emptiness not different (from) form. Form

SOKU ZE KU KU SOKU ZE SHIKE JU SO GYO SHIKI YAKU
is the emptiness. Emptiness is the form. Sensation, thought, active substance, consciousness, also

BU NYO ZE
like this.

SHA RI SHI ZE SHO HO KU SO FU SHO FU METSU FU KU FU JO
Sariputra, this everything original character; not born, not annihilated not tainted, not pure,

FU ZO FU GEN ZE KO KU CHU MU SHIKI MU JU SO GYO
(does) not increase, (does) not decrease. Therefore in emptiness no form, no sensation, thought, active substance,

SHIKI MU GEN NI BI ZETS SHIN NI MU SHIKI SHO KO MI SOKU HO MU GEN
consciousness. No eye, ear, nose, tongue, body, mind; no color, sound, smell, taste, touch, object; no eye,

KAI NAI SHI MU I SHIKI KAI MU MU MYO YAKU MU MU MYO
world of eyes until we come to also no world of consciousness; no ignorance, also no ignorance

JIN NAI SHI MU RO SHI YAKU MU RO SHI JIN MU KU SHU
annihilation, until we come to no old age, death, also no old age, death, also no old age, death, annhilation of no suffering, cause of suffering,

METSU DO MU CHI YAKU MU TOKU I MU SHO TOK KO BO DAI SAT TA E
nirvana, path; no wisdom, also no attainment because of no attainment. Bodhisattva depends on

HAN NYA HA RA MIT TA KO SHIN MU KE GE MU KE GE KO MU U KU FU ON RI
prajna paramita because mind no obstacle. Because of no obstacle no exist fear; go beyond

I SSAI TEN DO MU SO KU GYO NE HAN SAN ZE SHO BUTSU E HAN
all (topsy-turvey views) attain Nirvana. Past, present and future every Buddha depend on prajna

NYA HA RA MIT TA KO TOKU A NOKU TA RA SAN MYAKU SAN BO DAI
paramita therefore attain supreme, perfect, enlightenment.

KO CHI HAN NYA HA RA MIT TA ZE DAI JIN SHU ZE DAI MYO SHU
Therefore I know Prajna paramita (is) the great holy mantram, the great untainted mantram,

ZE MU JO SHU ZE MU TO DO SHU NO JO IS SAI KU SHIN JITSU FU KO
the supreme mantram, the incomparable mantram. Is capable of assuaging all suffering. True not false.

KO SETSU HAN NYA HA PA MIT TA SHU SOKU SETSU SHU WATSU
Therefore he proclaimed Prajna paramita mantram and proclaimed mantram says

GYA TE GYA TE HA RA GYA TE HA RA SO GYA TE BO DHI SO WA KA
gone, gone, to the other shore gone, reach (go) enlightenment accomplish.

HAN NYA SHIN GYO

NEGA WA KU WA KO NO KU DO KU O MOTTE A MA NE KU ISSAI NI OYO
What we pray, this merit with universally all existence Pervade,

BO SHI WARE RA TO SHU JO TO MI NA TO MO NI BUTSUDO O JYO ZEN KO TO
we and sentient being all with Buddhism achieve

this (What I pray is that this merit pervade universally and we Buddhists and all sentient beings achieve
Buddhism.)

JI HO SAN SHI I SHI HU SHI SON BU SA MO KO SA
Ten directions past, present and future all Buddhas The world honoured one. Bodhisattva, great Bodhisattva,

MO KO HO JA HO RO MI
great Prajna-paramita.
---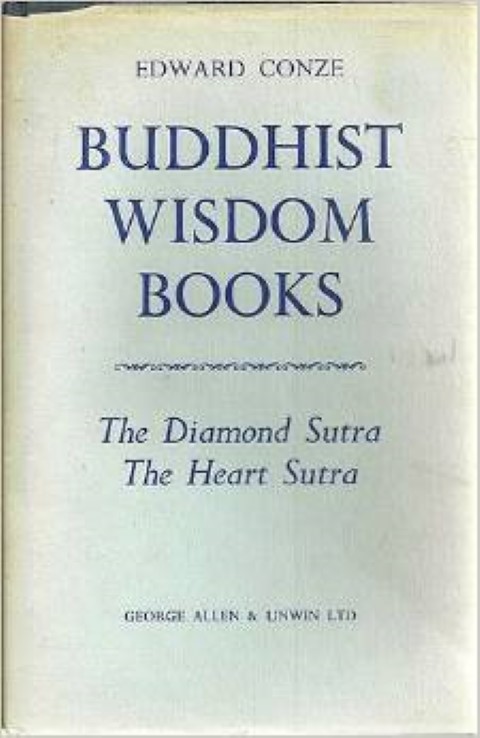 Book that students at Tassajara studied the first practice period in the summer of 1967.
---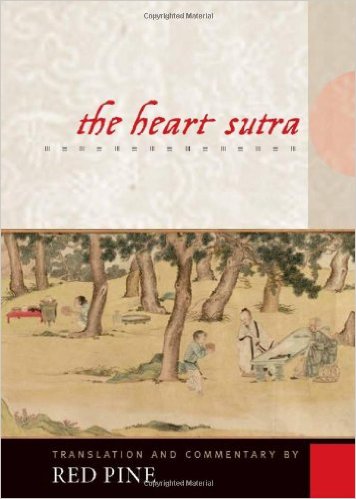 ---
Heart Sutra in Chinese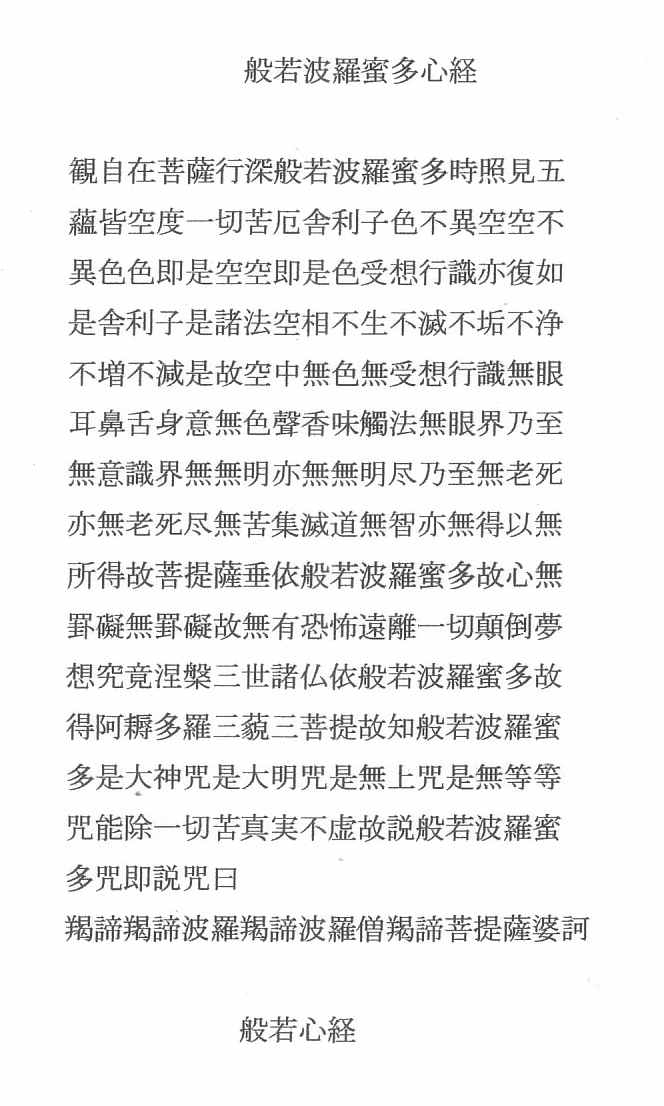 ---
Diamond Sutra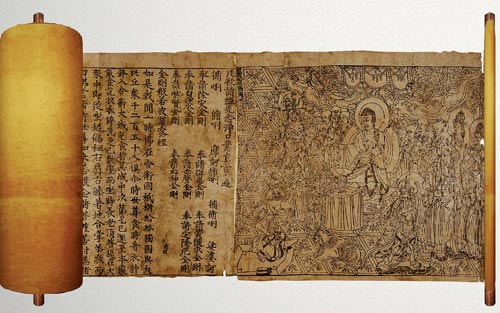 A copy of the Chinese version of Diamond Sūtra, found among the Dunhuang manuscripts in the early 20th century by Aurel Stein, was dated back to May 11, 868.[1] It is, in the words of the British Library, "the earliest complete survival of a dated printed book." - from Wikipedia
---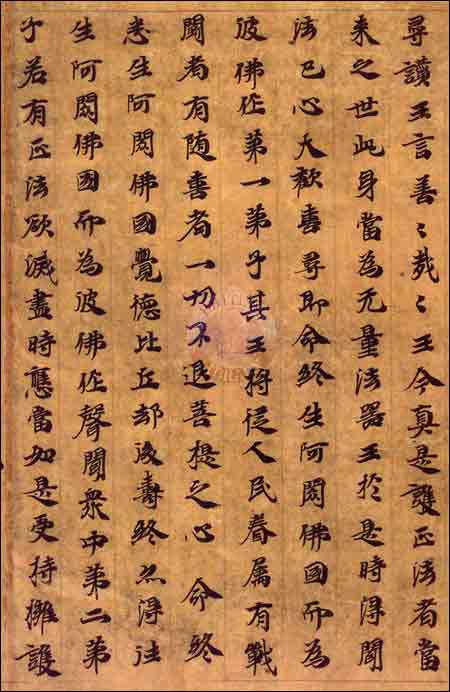 Jack van Allen sent this years ago and wrote it was a 6th century heart sutra but I don't see those characters and the file name included "mahapari" which must be the Maha Parinibbana Sutra. - dc