9-02-13 - Starting list of Suzuki students who studied at the San Francisco Art Institute
Virginia Baker - must get her interview on cuke
Peter Di Gesu
Rob Gove - where is he now?
Lou McNeil (?)
Brigid (Barbara) Meier BFA Painting 1968
Norman Stiegelmeyer (teacher) - below
---
Post Suzuki era SFZC and SF Art Inst Students
Ward Flemming - of Pinscreen fame.
Ward wrote: I was a post Suzuki student and I can not think of any other art inst. students who were at ZC. I've always felt that I saved myself from a difficult and dangerous road by leaving the art inst. and my drinking pals and immersing myself with you all at ZC and although it could be judged a frying pan into a fire situation it was not so for me, I really took to it and flourished in that marvelous environment with you, Ed, Tommy, Leland, David S. to name just a few. Rick Levine, how is he?
Diane Gray - once Diane Thorn - thanks Jordan Thorn
---
9-01-13 - Genine Lentine is teaching a course on Zen at the SF Art Institute. She wrote me an email saying she didn't have her copy of Crooked Cucumber and wanted to see if there were any Suzuki Roshi students who sat there. I wrote back that this here cuke.com is a far greater resource than Crooked Cucumber (the all of which it now contains) and to just write "art inst" in the site search box on the Home page or What's New page and many links will come up to mentions of the SF Art Institute. I think it would be neat for someone or her class to collect info on this subject and organize it for presentation here on cuke and/or on the SF Art Institute's site. I'll start a page for it.
---
The first person I'll mention will be the dear late Norman Stiegelmeyer who was a teacher there and an early and close student of Shunryu Suzuki. I see five mentions of Norman on cuke and he's on the web:
Norman on Surreal Sight dot com
Dealing with Rowdy Guys at Tassajara - featuring Norman
There's more plus lots of art if you search the net. Norman should have his own page. He was a sweet and quite eccentric guy. - dc
---
Here's some of Norman Steigelmeyer's art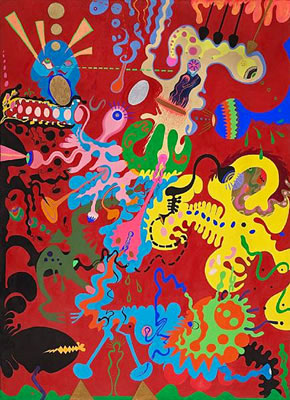 ---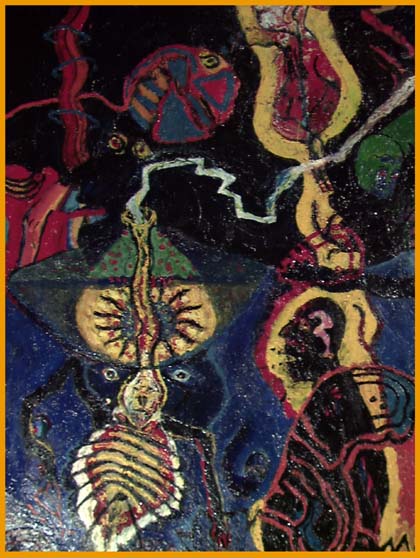 ---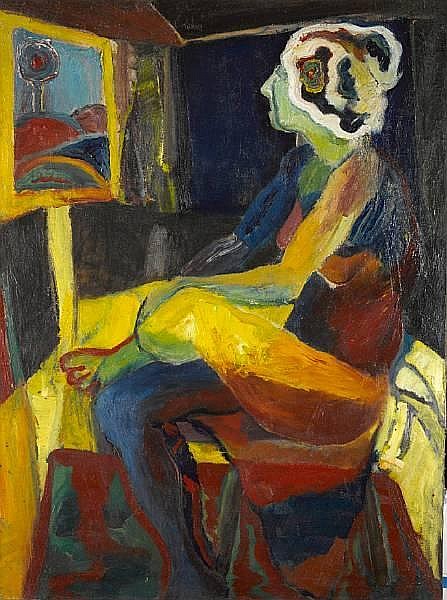 ---
Mentions of Norman Stiegelmeyer on cuke:
Zen in America early fundraising for Tassajara brochure
Of course there may be more - this list made from doing a site search for "Stiegelmeyer".