Letters
- not many. He wasn't much of a letter writer and seems what remains was by accident.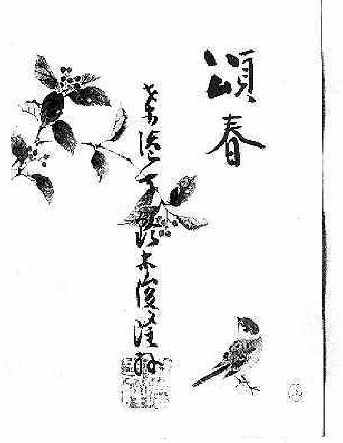 to Elsie Mitchell - 17 from 1964-1970, both originals and transcripts plus more on this card.
to Grahame Petchey - 6 from 1963-1971, just transcripts (for now) plus transcript of a letter from Kobun Chino to Grahame
---
(not absolutely positive every letter is in his own hand)
---
To Mrs. Carlson (Dorris Helen Hudgins Carlson)
Draft of memorial service talk for Trudy Dixon
Draft of talk at Buddha's Birthday celebration in the Japanese Tea Garden in Golden Gate Park in SF. - Japanese at bottom means "concerning the Japanese Tea Garden."
Wind Bell poem - for early Wind Bell publication
To Helen Walker - transcribed here.  A revealing letter from 1966, transcript only. I guess this is a draft of one he sent. Thanks to Vicki Austin for going through Mitsu Suzuki's waste basket before she left for Japan and digging this and some other little treasures out. And naughty on Mitsu who'd told me she didn't have a single thing of his like this.
Letter of invitation from Shunryu Suzuki for Buddha's Enlightenment celebration at Sokoji. Looks to be early sixties letter to be sent out to English speaking mailing list.
---
---
Letters to Shunryu Suzuki
Translation of letter to Suzuki from Takashina Rosen at Soto Zen headquarters.
Richard Baker - 1965
Joe Phelan, student of Soyu Matsuoka in Chicago
Julia Laurin in Japan with Grahame and Pauline Petchey and Phil Wilson
From Marian Derby (Mountain) later to be Wisberg -
               1st letter - 1965 - about her practice
                2nd letter - asking for translation of enclosed letter to Tatsugami - 4/70
(something I doubt that Suzuki did - dc)
                3rd letter - Imploring Suzuki to continue inviting Tatsugami back to Tassajara. Tatsugami was not invited back. (Valentines - 1970)
Phillip Wilson - 1964 on the way to Japan
Peter Schneider - early sixties from Kalamazoo, Michigan
Sally Unger - Octorber 25, 1962 - with some kind words about Maezumi in LA.
Sally Unger - October 29, 1965 - mentioning Jean Ross (one of these dates might be wrong).
Calvin Steimetz about a BCA (Buddhist Churches of America) annual seminar of Buddhist groups and teachers.
Trudy Dixon - sent to Shunryu in Japan October 1966.
Saul Warkov - September 29, 1962
---
2013 scans of Shunryu Suzuki letters and drafts
---
Thanks to Warren Lynn for scanning back in 2013 in Fort Worth