---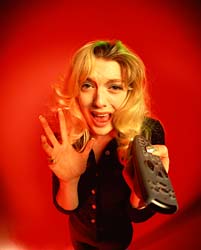 6-06-07 - Mel Van Dusen informs me, DC, that his Community TV interview with me (A bit more on this from an earlier post), is now on his web site, Mel Presents. Go there and scroll down to the still of two funny looking guys sitting on a goza mat above which are these words:

Mel Van Dusen Presents David Chadwick, Buddhist Priest and Disciple of Soto Zen Priest Shunryu Suzuki

Here's the email Mel sent (He must have enjoyed it more than the woman to the left).:
Well you're up! I see you as being forthright, fun, insightful, mischievous and marvelous. In a time frame of 27 minutes you gave the audience a feel for Zen, a feel for Suzuki Roshi, a feel for beginner's mind, a feel for your brand of creativity, a feel for your two books, a feel for what it means to live. That's pretty good! And, as time goes on - and I get more high profile guests - you'll be one of my high profile guests. Thank You David!
---