---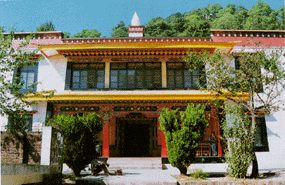 THE AUDIO-VISUAL ARCHIVE of the LTWA - the Library of Tibetan Works and Archives
in Dharamsala, India.
Project manager - Lama Karma Khedup LTWA home page
---
---- VOLUNTEER
---
Introduction and comments by DC [in progress].
A Proposal to fund this archiving work - "The purpose of this project is to transfer Audio/Visual Information of Tibet's religions, culture and people to digital media."
A letter of 10-10-03 from Alain Bywaters on this project
Updated equipment needs from Karma Khedup from letter of 11-19-04
6/15/04 software and hardware update from Karma Khedup
---- VOLUNTEER
---
Venerable Karma Khedup
Head of Audio/Visual Section,
LTWA
Gangchen Kyishong
Dharmsala - 176215
H.P., India.
Tel (Off.): +91-1892-222467, 226095, 201347
Fax: +91-1892-223723
Email: ltwa@gov.tibet.net
Website: www.tibet.net
---