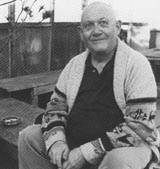 5-04-08 - A Report on yesterday's Celebration of Philip Whalen at the SF Public Library

Here's how this event was billed.

John Sumser (his site with Internet recruiting news and views - he's been writing daily on the web about this since about the time it started) drove

Dave Haselwood (cuke link), former Suzuki student and head of the Empty Bowl Sangha in Cotati - no website but here's info

and me dc (up top) to this event.

Ran into a bunch of folks I knew before the event started - Some of them to be speakers, others not, like Brian Howlett of PZI and Dharma Dog (a site for his great art also featured on cuke), Gary Gach, David Silva who first told cuke about it, Steve Silberman (his site) who told me about how he put The Invention of the Letter: A Beastly Morality by Philip Whalen on his site for all to read which is okay since it was for free to begin with.

A professor whose name I'm not sure of from SF State's Poetry Center and American Poetry Archives MC'd quite well, with no excess of verbiage.

The proceedings started off with a film made from outtakes of a film on Philip by dear friend Richard O. Moore of early KQED fame. It was made in 1965 in Philip's SF apartment and it was great to see and hear him talking in his inimitable way and reading his poetry.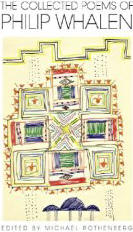 Michael Rothenberg who edited the recently released The Collected Poems of Philip Whalen read first.
Amazon link.
Local Zen priest Dave Haselwood whom I mentioned above was next. He had a publishing company called Auerhahn Press that first published Philip - and others like McClure.
Michael McClure read and passed out fliers for his upcoming show with Ray Manzurek of the Doors and others at Yoshi's new SF club. That link takes to you McClure-Manzurek dot com which is a good site with photos and poems of theirs and from others as well.
Others who read were Joanne Kyger and Norman Fischer, Bill Berkson, Clark Coolidge, and, Alastair Johnston.
Another book that was for sale there was Zen Monster. More on this book soon. They are available now at GGF bookstore and City Center bookstore. They are also available by sending a check payable to "New York Zen Circle" and mailing to "Zen Monster, 1032 Woodgate Avenue, Elberon, NJ 07740." Copies of Zen Monster are $10 each plus $5 postage and packaging for up to 2 copies, $6 postage and packaging for three copies, $7 postage and packaging for 4-5 five copies, etc. For more info, people can email me at: fitzunger@yahoo.com
A great event for a great person with a lot of neat folks attending.
---
I got to know Richare O. Moore because he lived in Muir Beach where SFZC's Green Gulch Farm is. I still see him sometimes at The Redwoods retirement home in Mill Valley. Got the following on Richard Moore from this page of KQED's early history.
As part of KQED's original staff, Richard Moore was hired as membership director. Moore, who had been a ballet dancer (with Jose Limon) and poet, was one of the early associates of Pacifica Radio and an executive and announcer at its first station, KPFA in Berkeley, where community support for noncommercial radio had been invented. At KQED, he soon became a TV producer and an accomplished filmmaker. As a poet he had been associated with Kenneth Rexroth's anarchist libertarian group. "Coming to KQED in 1952 was my version of going straight," he says.
It was Moore who suggested the series, Eastern Wisdom and Modern Life and recruited its host, Alan Watts, who had been presenting--also at Moore's request--a regular Sunday morning program on KPFA entitled Way Beyond the West. Those who may have considered Japanese brush painting an esoteric and unlikely alternative to commercial TV (until its undisputed popularity) must have been truly bemused by Eastern Wisdom, another one-person presentation.
Richard also made a documentary I really liked on the old Route 66 and did a terrific series on Duke Ellington.