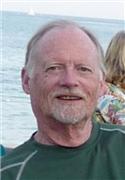 Don was my brother-in-law, husband of my sister Susan.
First post by dc on Don's passing.
Obituary as posted in SF Chronicle
---
This is a longer version of Don's obituary written by Susan (Chadwick)
Don Koué – journalist, writer, painter, lover of travel, tennis and good food – passed away on May 12th 2015 at home after a brief illness. An Oakland native, he was the son of Aage Lewis Koué, an architect, and Elsa Milne Koué, a registered nurse. From an early age he showed an interest in writing, which would continue his whole life and be expressed in various forms: newspaper reporting and book reviews, press releases for UC Berkeley, short stories, video scripts, and numerous freelance productions.
After two years of college at San Francisco State and U.C. Berkeley, Don interrupted his formal education to work at various jobs, including a year and a half in the U.S. Army in Karlsruhe, Germany, where his first wife Margaret Samuelsen joined him and where their son Scott was born. They returned to the Bay Area in 1957, Don graduated from U.C. Berkeley in 1959 with a degree in political science, and then once again they went back to Europe for fourteen months of travelling and living in England, where their second son Glen was born. These two experiences of living abroad fostered in Don a lifelong love of travel and openness to other countries and ways of thinking.
Upon returning to Oakland once again, Don began his varied writing career. He was a reporter and book reviewer for the Oakland Tribune, a public relations writer for the United Community Fund of San Francisco, and the managing editor of an insurance association magazine. During that period, Margaret and Don welcomed a third child, their daughter Nicole. Finally he landed the job that he loved for eighteen years and in which he thrived, that of a public information officer at U.C. Berkeley. During those years, he wrote press releases on science, engineering and the social sciences as well as television news scripts, and he spoke for the campus on many occasions. He was present during the turmoil of the free speech movement on campus and often recalled spending whole nights in his office at Sproul Hall, with police sirens blaring outside and the smell of teargas coming through the windows. As a journalist at heart, he loved being in the exciting center of momentous events and being able to report on them.
In 1982 Don decided to pursue freelance writing and to try his hand in work such as video production. He and Margaret had divorced, and in 1984 he married Susan Chadwick, whom he met playing tennis, and in 1985 they became parents of their daughter Camille. During the following several years, Don worked on a variety of video scripts, co-authored Going Home, a manual for research on Native Californians, edited reports for U.C. San Francisco and a U.C. Berkeley faculty newsletter, and wrote numerous magazine articles. All along he had also written fiction in his spare time and had won third place in a short story competition for his story "Arms," which describes a woman who grows extra arms to deal with her many duties. He continued to read, write and love fiction, but his interests were broad and he accumulated hundreds of books on a variety of subjects.
Don's other consuming interest – and one on which he spent a great deal of time and thought – was art. He had an art studio at home and painted in various media – pastel, watercolor, pen and ink, and acrylic. As with writing, his interests were wide-ranging and he studied and appreciated a variety of artists and styles. He was also an excellent cook and continuously tried new recipes. After retirement Don played tennis several times a week, both with his wife Susan and with a men's doubles group. He gave tennis the same attention as his other activities and strove to improve every time he played. In fact, in everything he attempted Don was a serious researcher and a careful thinker.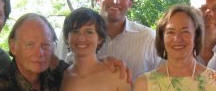 Don is survived by his wife Susan, his son Scott Koué and wife Aislinn Scofield, son Glen Koué and wife Susan Reed, daughter Niki Tucci and husband Paul Tucci, daughter Camille Koué, and grandchildren Tom, Ryan and Anna Tucci and Ezri Koué. His brother Lewis died in 1990. A celebration of Don's life and his art will be held this summer.