Final benefit event for MEDITATE AND DESTROY
(a documentary on Noah Levine)
Saturday August 26th, 6:30 – 9pm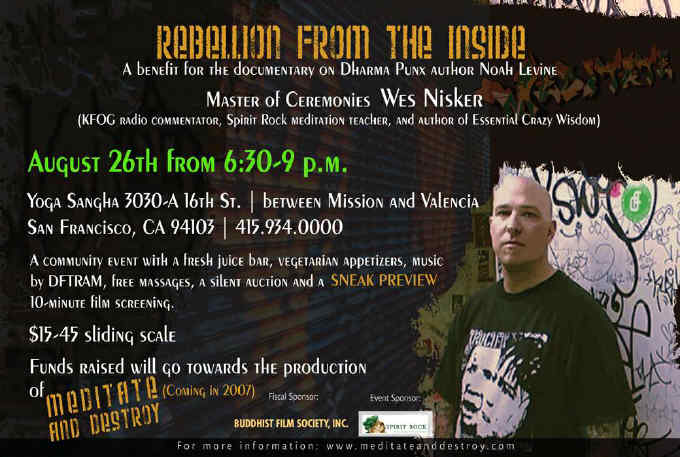 Dear Spiritual Friends,
We are approaching completion on our work-in-progress 75-minute documentary, MEDITATE AND DESTROY, and warmly request your presence at our final benefit event, "Rebellion From the Inside" being held the evening of August 26th in San Francisco. The event is sponsored by Spirit Rock Meditation Center.
MEDITATE AND DESTROY offers an intimate look at meditation teacher and author of Dharma Punx, Noah Levine. After a self-destructive adolescence of criminal activity and substance abuse, Noah is now a devout Buddhist. This provocative documentary will provide a personal portrait of this unique individual by showing how he uses his punk rock sensibilities to teach others the path of spirituality and community service in urban centers around the country.
Noah teaches meditation practices in prisons, juvenile halls, and addiction recovery groups where he brings a compelling and inspirational message of positive transformation. His debut book Dharma Punx: A Memoir chronicles his own journey of personal transformation and growth, and has influenced thousands of punk rock/alternative kids who are eager to find a role model they can look up to. In June 2000 Noah founded the Mind-Body Awareness Project, a non-profit organization which teaches meditation practices and awareness techniques to troubled and at-risk youth.
Since Dharma Punx was released, Noah has been featured in many magazines, newspapers, and other media, including: SF Bay Guardian, Salon.com, NPR, Whole Life Times, Santa Cruz Sentinel, Marin Independent Journal, Chicago Reader, Chord Magazine, Inquiring Mind, Shambhala Sun, LA Yoga, Contra Cost Times, and Satya.
For more information on Noah Levine and MEDITATE AND DESTROY, please visit these websites:
http://www.dharmapunx.com/ (Noah Levine's website)
http://www.mbaproject.org/ (Mind Body Awareness Project website)
http://www.meditateanddestroy.com/ (Official Website for the movie)
http://www.digitalrites.com/meditate/trailer2.html (Watch the trailer here!)
ABOUT THE EVENT:
MEDITATE AND DESTROY benefit "Rebellion From the Inside" will be held at Yoga Sangha on August 26th from 6:30-9 p.m. It will be a community event with a fresh juice bar, vegetarian appetizers, ambient/experimental music by DFTRAM, free massages, a silent auction and a SNEAK PREVIEW film screening (10 minutes). $15-45 sliding scale donation suggested.
Yoga Sangha is located at 3030-A 16th St. (between Mission and Valencia). Yoga Sangha is truly an oasis in the heart of the Mission: www.yogasangha.com.

Wes Nisker (KFOG radio commentator, Spirit Rock meditation teacher, and editor of Inquiring Mind) will be our Master of Ceremonies: www.wesnisker.com.

Many local filmmakers, yoga teachers, dharma punx, and members of the larger Buddhist community will be in attendance.

MEDITATE AND DESTROY is fiscally sponsored by Buddhist Film Society and Film Arts Foundation-- both provide the project with 501(c)3 tax-deductible donation status. Proceeds from the event will go toward post-production costs (editing, music licensing, motion graphics, animation, and sound mixing) to bring us across the finish line!!
If you would like to receive an invitation to the August 26th event, "Rebellion From the Inside", please send your contact info (name, e-mail address, and physical address) to: contact@bluelotusfilms.net. (Your contact info will only be used for the purpose of sending you an invite and will not be shared with anyone else). Also, please feel free to forward this message to anyone you know who might be interested in attending.
If you are unable to attend our benefit, "Rebellion From the Inside" but would like to make a tax-deductible donation anyway, please visit our website: www.meditateanddestroy.com and become a MEDITATE AND DESTROY Film Supporter today.
All the best,
Sarah Fisher
Director/Co-Producer
MEDITATE AND DESTROY