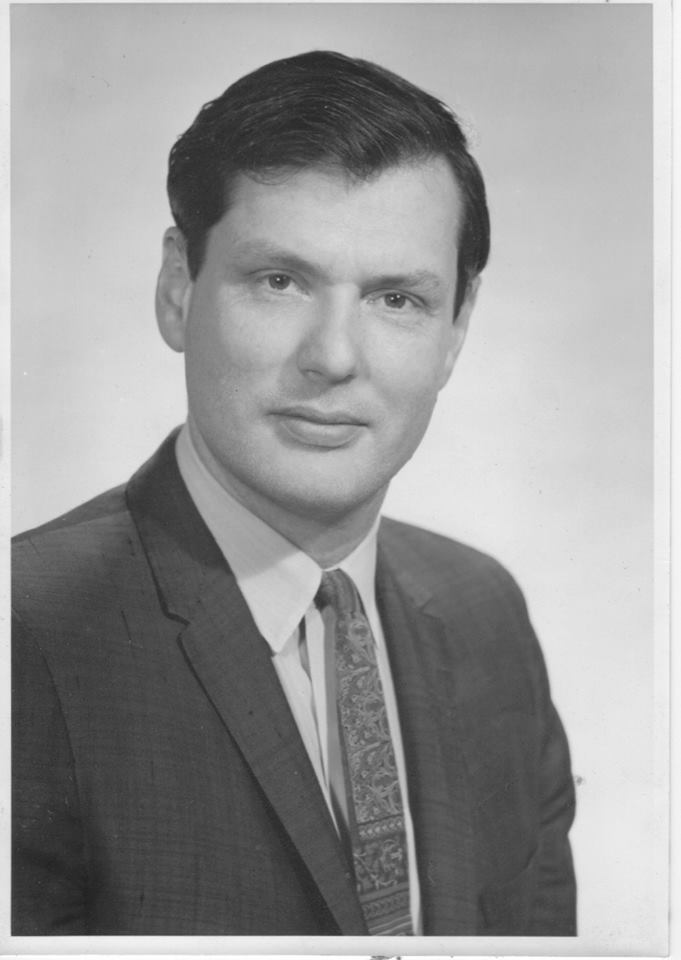 July 14, 2016 - Just learned from Richard Baker that Sterling Bunnell died December 30, 2015. I talked to him not long before Katrinka and I left for Asia late in 2013. Thought about getting hold of him recently too because I'm writing some stuff about Tassajara and he knew so much about the nature angle there.
That's a photo from maybe the sixties. Got it off Facebook January 10th and posted a link to this page but didn't look further and realized he'd just died twelve days before. Sending today condolences to his son Seth and Elana if I can find her. - dc
1995 cuke interview with Sterling
Sterling Bunnell Facebook page
Don't miss Sterling's sterling articles from the Wind Bells below.
A nice quote from Sterling in a SFZC 1967 fundraising brochure Zen in America.

***
Sterling Bunnell was, is I understand it, a Freudian and Jungian analyst. He's also a scientist. He's the first person I heard use the word ecology when he told me in 1967 on walk above the narrows that the Tassajara area was a meeting place for three ecological zones. He's a junior. When you see the book Surgery of the Hand by Sterling Bunnell, that's his father who, I believe helped that science along considerably. I think Sterling is or has been a Mensa member. He wrote a famous article about the pup fish in Death Valley for the Scientific American. He also co-authored an early article on psychedelics for the Scientific American (The Hallucinogenic Drugs - April 1, 1964). He guided Alan Watts on his first LSD trip. He's written some articles for the SFZC's Wind Bell on the ecology and geology of Tassajara. I remember once at Tassajara he went with me to get a rattlesnake out of the lower barn and when I told him where I saw it go under a big cabinet he just stuck his hand in there and moved it around where he couldn't see. He tends to look rather disheveled. He lives near Chez Panisse, the famous neuveau California cuisine restaurant in Berkeley where Renee des Tombe (who was manager of Greens when I was host) has been upstairs host for years. Sterling was eating there and someone told her how wonderful it was that they fed the homeless like that. - DC
Added 7-14-16 - Sterling was close friends from way back early sixties with Michael McClure, Joanne Kyger, and Dave Haselwood - they'd go on nature walks together. He introduced Yurok Shaman Harry Roberts to Yvonne and thus to all of us. He brought a snake to Yvonne's where he'd gone to meet my mother and hang out. Bill Kwong's Genjoji was formerly Sterling's. Dennis Samson says Sterling decided to sell it because he was getting divorced and needed the money. I remember hearing back then that he gave them a very good deal on it. Dennis said, "Sterling would come back time to time. Put sunfish in the pond. Would get in there naked with a net." I also heard he swam into one of the murky ponds and through thrashing and sound hearded a bunch of frogs out. He'd come to my booksignings and others I've been too and we'd get together and he'd talk about the books he'd read which was a great variety and quantity of those in the shelves and he'd make wonderful observations. A lot of fiction as well. He's lots of fun. There's nothing he can't or won't talk about. His 2nd wife Kathy is a talented stained glass artist. After a while he was too distant for her and too promiscuous. His second wife, Diane as I recall seemed more compatible with the person he'd evolved into. Visited Sterling and 2nd family in Newcastle thirty years ago or so. Had turned the swimming pool into a home for flora and fauna, maybe shrimp. Had earthworms in mulch in a bathtub in the garage and composted family waste there including their feces. Held up a bunch to my face to show me how sweet it smelled. Visiting him in Berkeley introduced me to his falcon which went hunting for him - would bring back rabbits and squirrels that they'd eat them. He promoted a man from India who had started a school in the East Bay that taught the Socratic method of thinking about things. Sterling brought the man to our home in San Rafael and Elin and I went to a play the school put on. That was about 1995. Sterling had a son who went to John Woolman Quaker school in Nevada City and my son Kelly would get rides to and from the Bay Area with them. Kelly was always a nature boy and he and Sterling would talk non stop about that shared passion while, according to Kelly, Sterling drove 40 miles an hour in the right lane. Eccentric, friendly, curious, accomplished, not arrogant, fun. Farewell Sterling.
---
Sterling in the Wind Bells
In the fall 1967 issue listed as a donor toward the purchase of Tassajara in the $50 to 500 range.
From the Fall 1968 Wind Bell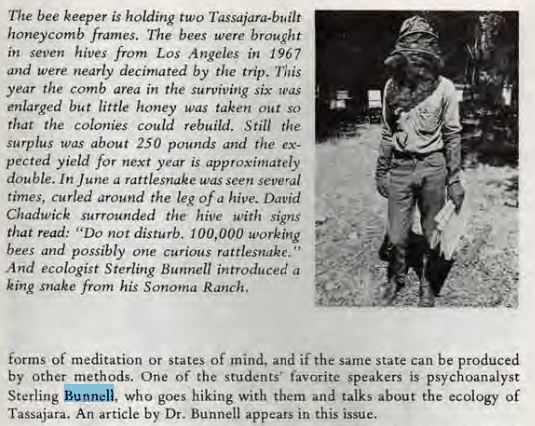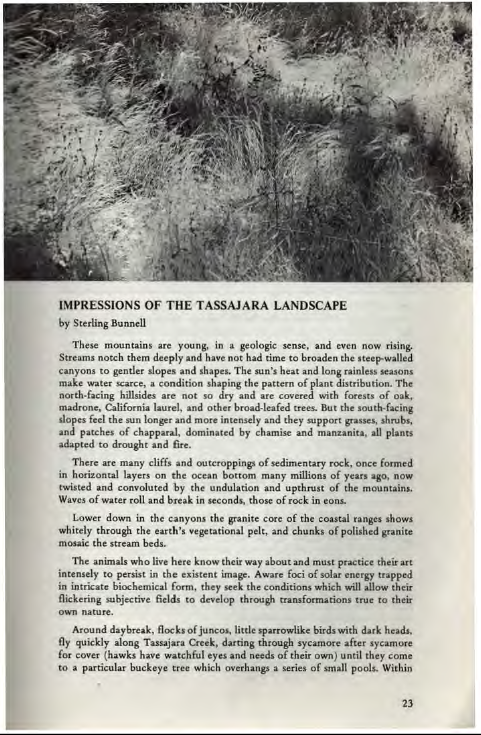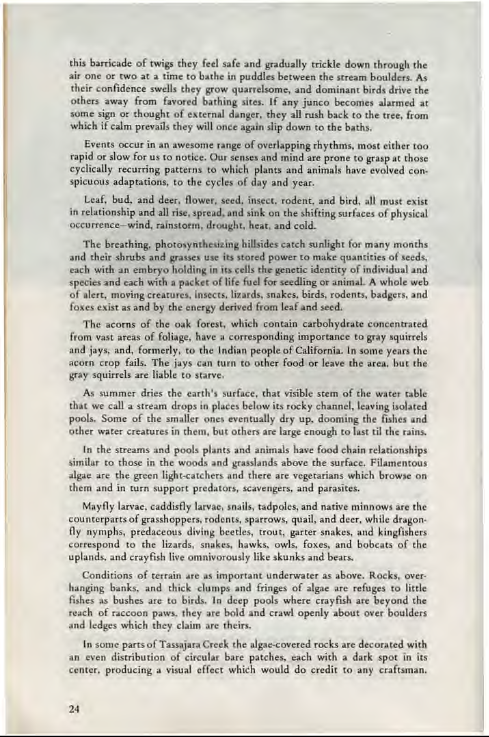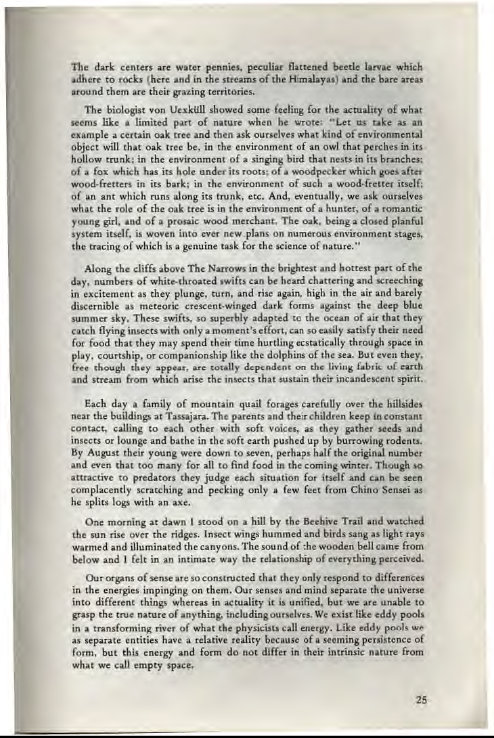 Impressions of Tassajara Landscape - a draft of the article.
from the Summer 1970 Wind Bell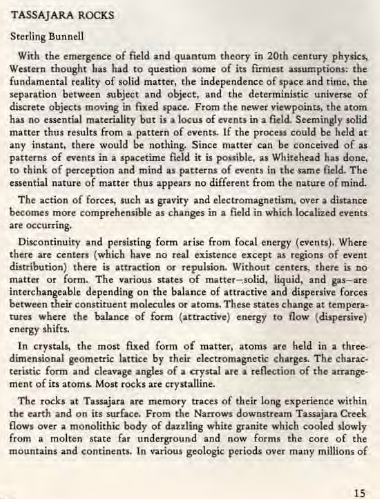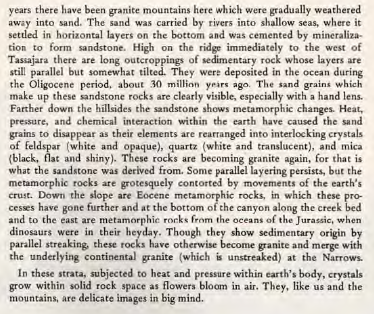 Field of Flowers from the 1974 Wind Bell