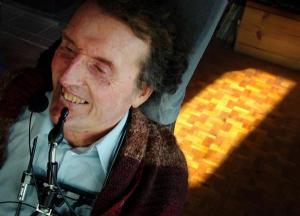 3-23-12 - Charles Fox, born Dec. 1, 1942, died yesterday at about 4:30pm - very peacefully at his home in Bolinas. He was a dear friend of almost forty years. He died peacefully with his wife Veronique, son Charles, daughters Jeanine and Kelly, and Dr. Michael Whit at his side. Charles was an accomplished writer and photographer who had MS for over forty years. MS crippled his body but never his spirit. Good show Charles! I start this memorial page for you today. - DC
---
5-27-12 - Going to Charles' memorial today. First met Charles in 73 I think, when he was living with Dianne Seigleman (sp?) in Bolinas. Pregnant wife Dianne Goldschlag (Daya now) went to Seigleman for acupuncture. I'd hang out with Charles while Dianne was getting her treatment. We'd go visit Liz Okamura (later Tuomi) too. Charles was in the early stages of MS though I didn't know it or don't remember anything about it. He was strikingly handsomeand had long hair and we smoked pot and joked and talked about everything, got along splendidly. He was a successful writer. One subject he specialized in was racing and race cars. Had written for Playboy and True, the men's magazine which I'd loved reading as a boy and which had Indiana Jones type stories every month. He told me the latter had served him well such as the time in Idaho, some local rednecks were not taking well to the long hair young man with an educated British accent - till he let them know he was there to do a story for True and then they'd be starstruck. In 76 spring I started living with Liz in Bolinas and Charles was one of the few people I'd go visit there - mainly stayed home and wrote music, walked the beach, and did my socializing and work over the hill where I always had another abode. Charles' MS had progressed and continued to do so the nine years I was there. We'd stayed in touch through the years. Charles was friends with others from the Zen Center and had occasionally gone to Green Gulch. He'd read our Zen books and was quite charitable with his comments on mine. Came in wheelchair to a couple of readings. We went out for drinks afterwards with an assortment of friends. I was honored. He'd give me advice on writing. My favorite being, "The key to the writer's art is to place the seat of the pants on the seat of the chair." He talked about the importance of editors who had a knack for removing that which the writer couldn't. They'd strike those cherished sentences and paragraphs, he'd say, that would make one exclaim, "But that's some of my finest work!" Charles knew I didn't want to do priestly functions and didn't wear robes anymore but he asked that I perform the marriage for him and Veronique, the charming French woman who'd been helping to take care of him. I suggested Ed Brown whom he knew. They wanted it to be a secret, needed more time to break it to Vero's family, he said, and thought Ed was too much in the loop. Actually had a secret wedding certificate. I agreed to do it if they did the preparation, brought materials to read, talked about what it meant to them. We got together and they read and talked and we drank brandy and smoked pot and after a couple of hours I said okay, that's enough, you're married - or something like that. And they agreed. We made the dog the witness on the form. Charles wrote later in a book he did on his history with MS, that his MS stopped progressing because of his relationship with Veronique. They were absolutely devoted to each other. I enjoyed knowing watching his kids, Jeanine and James, grow up. Was touched by his and Vero's adoption of daughter Kelly. Later Charles asked me a few times to do his funeral and I refused saying I didn't want to do ceremonies and the important thing is that we get together while he's alive. He had me ask Silas Hoadley if he'd do it and talked to the local Episcopal minister. I came to sit with Charles while he was dying and was informed that he'd said I'd do his funeral. I agreed. At the funeral, described below, I never had to do a thing other than be one of the people who shared a memory of Charles. It all just happened on its own. Charles was an inspiration. Never let the MS hold him back. I saw it progress from needing a cane to a wheelchair and special vehicle to where he could only move his head and talk and sip. He was always wise, clear, humorous, friendly. And he got out a lot. I said he was inspiring at the funeral, recalled how one New Year's eve he'd called me up at my Sebastopol home and asked me to join him and Vero at the Johnny Otis Dance Party at the Sebastopol Community Center. I, who was ten minutes away, didn't feel like going out - but he, who was at least an hour away over winding roads, did. Good show Charles.
---
5-04-12 - A memorial service for Charles Fox will be on May 27th at 2pm at the Gospel Flat Farm, 140 Olema Bolinas Road, Bolinas, CA
PDF of the card for this memorial
Charles Fox's sister, Sue Bower, read these prayers at his funeral.
---
3-27-12 - Today's evening service at Green Gulch Farm will be for Charles. Zazen is at 5:15 followed by this service.
---
3-26-12 - Charles Fox's funeral was Saturday, two days ago. His son James and nephew Ian had built a simple coffin of pine which was placed next to his bed and Charles' body was placed inside with sage, some flowers, a Gauloise cigarette from a friend who Charles liked to bum one from occasionally. The top was secured by James with brass screws and six men hoisted the box up and walked out followed by men, women, and children carrying the many flowers from the room. This was a small, private ceremony but still there were fifty or so people who walked down the street, only a few children ahead of the coffin. The rain had subsided to a light drizzle. The coffin was heavier than anticipated so the pall bearers switched sides one by one and others stepped in to relieve them. I joined in on a back corner and noticed then Ethan Okamura on the other. The Bolinas Cemetery, the oldest in Marin County (1853), was just up the road past the nursery. The coffin was placed on an old thick sheet of plywood, several of which lay on the somewhat wet ground surrounding the grave hole, ten feet deep with a pile of dirt to one side. We all kept a safe distance from the edge.
Son James had spoken after the coffin was closed and again was the first to speak at the gravesite. He emphasized his gratitude to all who had been so supportive and to his father, gratitude and admiration. Then one by one others spoke, some read. Some of these words will be added here in days to come.
We've grown accustomed to cremation. This was a green burial. Charles' body and the box it's in will decompose and feed the surrounding trees. The brass screws will last longer. None of his carbon will go into the atmosphere, at least not now. And it's not a cemetery with watered and chemically sprayed grass.
---
---
---
3-28-12 - The evening service at Green Gulch yesterday was for Charles. Vero, Kelly, a few friends, Katrinka, and I sat the zazen period before and offered incense during the Dai Hi Shin Dharani. It was great being there. So many people to sit and chant with in the wonderful old barn. Afterwards we went to the Pelican Inn down the valley near Muir Beach.. - dc
Hungry but Scared dot com - super artistisimo whacko from Peter Valentine who was at the Charles Fox funeral.
---
Charles Fox's sister, Sue Bower, read the following prayers at his funeral.
Go forth into the world
Be of good courage,
Hold fast that which is good,
Render to no man evil for evil.
Help the afflicted,
support the weak,
Honor all men
And the blessing of God the Father, Son, and the Holy Spirit
be upon you and remain with you always. Amen.
********
As our Loving God holds us in his arms
In the transformative mystery of death
We must fly to our beloved homeland
For there is God and there is everything
May the souls of the departed
Through the mercy of God
Rest in peace and rise in glory
Amen
---
For Charles Fox and Liz Tuomi: O How I Miss You - by Hanford Woods
Writing about another who has died is, among other things, one way of reminding yourself, of convincing yourself, that you are still alive. I say 'among other things' because I spent plenty of time with Charles after mutual friends had died and Charles was always there among the other things, he needed no reminders that he was alive. It would not be fair to say he clung to life, he lived most of the time the way most of us do, careless of the fact of being alive, but we have those other moments, the ones I am trying to write into being here, and which are often so complicated but, as far as I can figure out, were for Charles decidedly simple. The simplicity came from his compassion; Charles did not have to outlive anyone because he had already outlived himself.
Charles had got hold of that truth that religion seeks and inevitably makes such a hash of, the relation between body and soul. His body had betrayed him and Charles had made his peace with it, at least as far as I know, maybe the others and especially his wife Vero, who had spent nights with him, witnessed something I never did, but I think not. So when another's body gave out, Charles knew what they had gone through and seemed to understand more clearly than the rest of us the concomitant spiritual disappearance that entailed. I am thinking of Liz Tuomi, dead now less than a year, friend to both Charles and myself. Charles' sadness at her death, was something purer than grief, volitionless, when Charles spoke of Liz he collected about himself this immense human sadness and you partook of the empathy.
I always felt more complicated than Charles and, of course, I was ready to think that was a sign of greater intelligence and greater depth: but I had just to experience one of those silences Charles was capable of, not those silences where Charles was stoned and ridiculous and hilarious, but a real one, such as the time out of nowhere he said "I miss Liz and I'm sorry I didn't get to see her before she died," but said without rancor, without regret even, but as marking what would now be forever a fact of his life, a spiritual scar, to go with all the others, both the bodily insults and what the soul of the man on the chair has to endure. Then he fell silent. Charles never made more of something than it actually was and when you got him in that vein, what I think deserves to be called 'philosophical'—and within the teleological branch of the discipline—then you felt like you were getting to go as far as it is humanly possible to go.
---
Elizabeth Tuomi memorial page