Silas Hoadley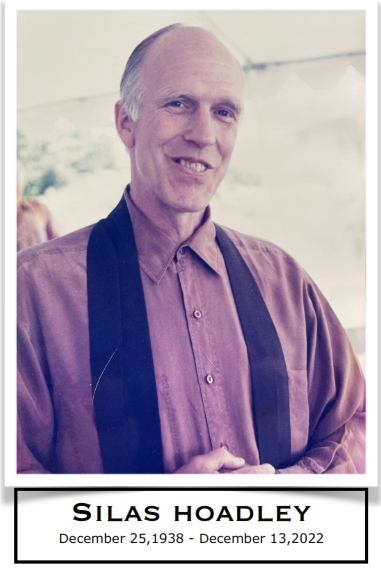 RIP Silas Hoadley:
December 13, 2022. Dear friend and dharma uncle, Silas Hoadley, died on Monday, December 12th. Silas has been suffering from dementia but still we've had some phone chats this year thanks to Bill Porter. I Just talked to Silas ten days ago and it he was clearer than some months before. Bill said that was because he was in a care home and had more people to relate to.
From an email just received from Bill Porter: I'm so glad both of you (Steve Tipton and me) could have some time with Silas recently. Isaac and I have been visiting him almost daily for the past week. He stopped eating and drinking a week ago, and he also stopped talking. He finally died tonight. Amber (Silas's daughter) flew down and was with him shortly before he died. It was definitely time for him to go, and I'm glad he didn't linger any longer than he had to. May we all be so fortunate. Treasure the memories. Bill
When Shunryu Suzuki was dying, he told Jerry Fuller, "Don't worry. You have Dick and Silas."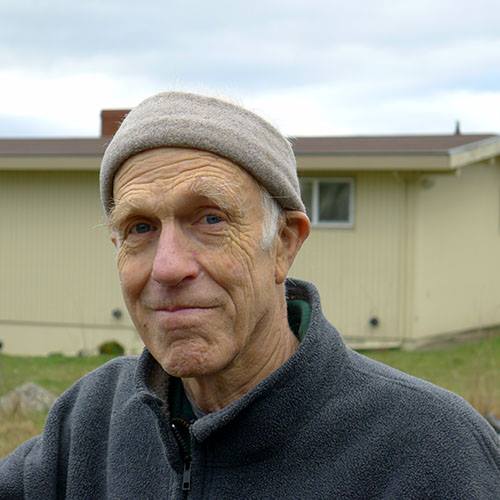 Interview with Silas
photo 2014 by Tim Buckley

Calligraphy given to Silas by Sotan Tatsugami when Silas was shuso at Tassajara
---

Given to Christina Huggins and David Cohen by Silas Hoadley after he performed their wedding ceremony using language he'd learned from Suzuki.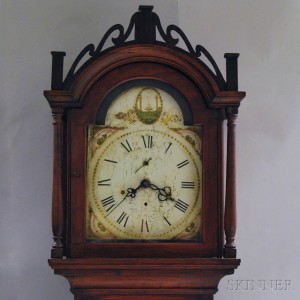 Here's what one of his direct ancestors of the same name is famous for - Silas Hoadley Clocks.

Thinking of Silas who was so important in the formative years of the SFZC.
We're still in touch but it's been some years since I visited with him in Port Townsend. Hi Silas.
posted this on Silas and his namesake on cuke blog 12-08-15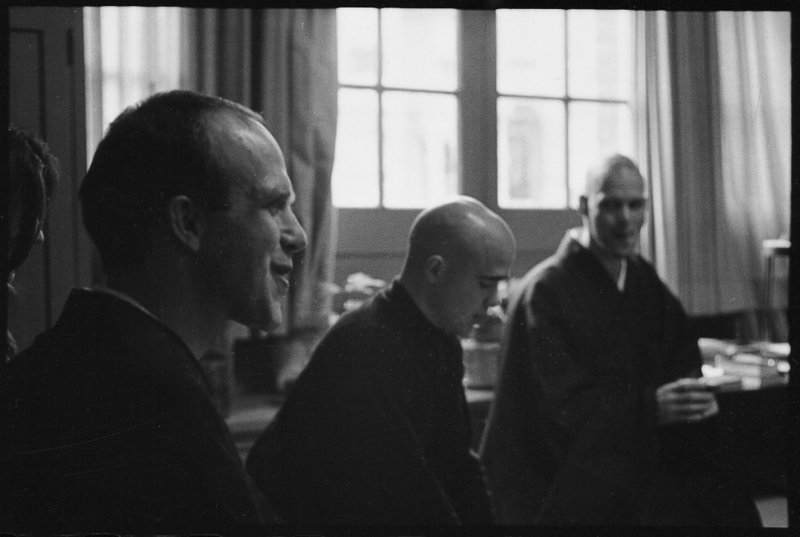 L to R - Silas Hoadley, Craig Boyan, Reb Anderson, abbot's study, SFZC City Center
For Silas (from Steve Tipton)

In God we trust, let's say, and ask
who else comes up along the way to join us
and become a friend for life, a companion
side by side on the road, face to face in the moment,
with good, sure hands, steady on the job,
agile at play. Swing that hammer, hit that ball!
Alive to joy, aware of loss, awake to care,
One to clear our mind, fill our heart, light our way.

The good man has no shape, some say,
and everyone is good in their own way--
a child of God, point of light, wave of wonder--
even if a little off, selfish or sleepy. Then
it's time to go. Ready or not, we rise
to give our all, if we're lucky or blessed,
with all the goodness, grace, and generosity
of spirit Silas shared with us in the flesh.

ST
12/21/22