Click
here
for Shunryu Suzuki Photo Archive images
and links to all
cuke.com
pages on .

I went to Sokoji in either late 1968 or early 1969 with Steve Weintraub. Then I began sitting at Sokiji sporadically and attending lectures regularly later in 1969 after meeting Bill Lane and moving to an apartment on California Street. I moved into Page Street in the summer of 1970 and then to Tassajara in the fall of 1971. - Facebook message from Barrie.
Barrie on coming to Zen Center and Shunryu Suzuki down at the bottom of this page.

Barrie on the first visit to Green Gulch and what she knows about how it was acquired by ZC.

From the Winter 1970-71 Wind Bell
discussion with students on city practice taking up most of that issue




p.5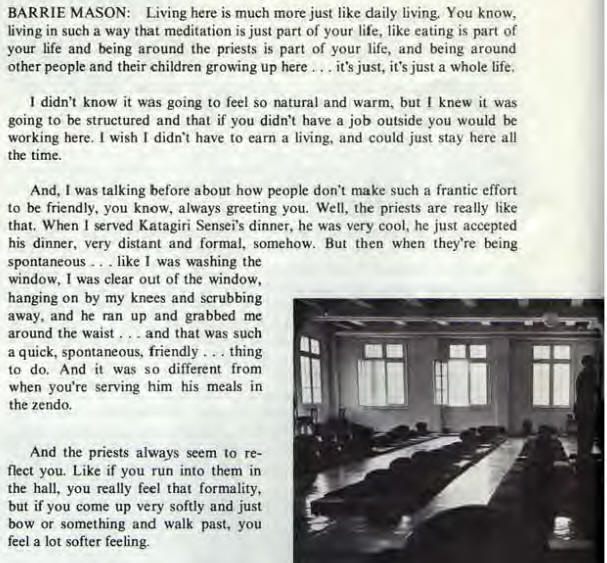 p. 20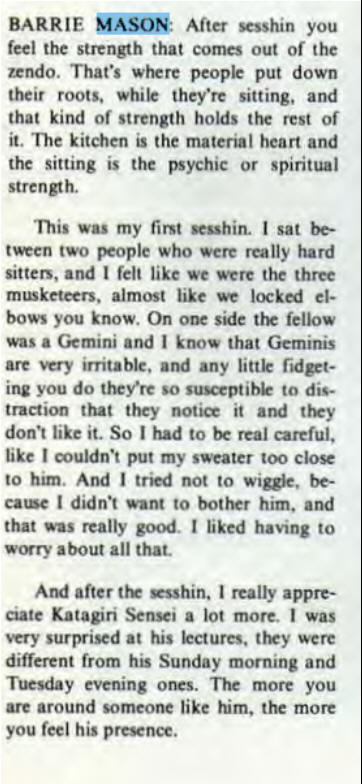 p. 37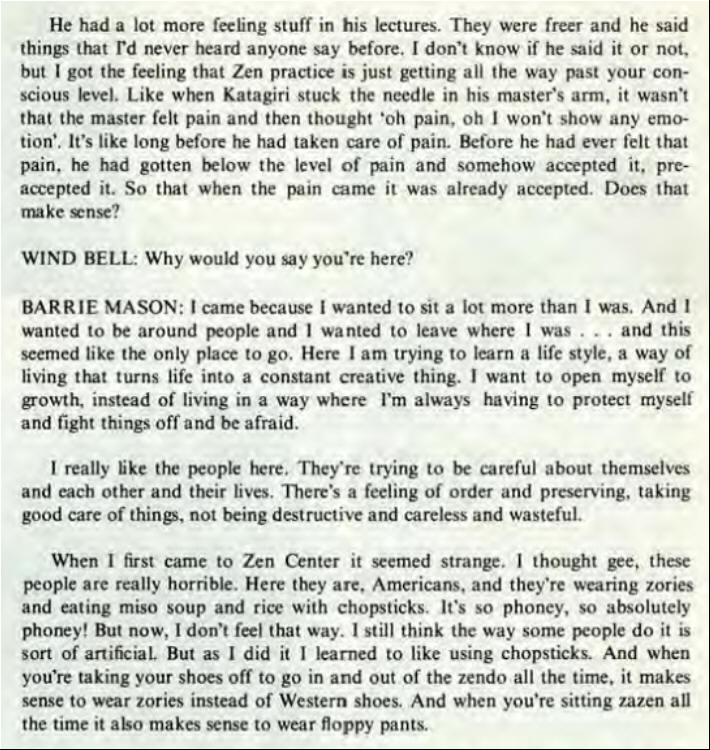 p 38
*****
Steve Weintraub took me to a lecture at Sokoji in the winter of '68-'69. That was my introduction to Suzuki Roshi. I went to zazen a few times and met Steve's roommates on Pine Street, Margret Kress, and Tim & Betsy Ford. I was impressed how kind they were to each other.
After zazen and service, students would file past Suzuki Roshi one by one and bow to him. I hadn't been told about this procedure and had no idea what to do when I walked into the small room and was face to face with Roshi. He gave me a very severe look and gasshoed towards me, so I bowed to him and walked past him thinking, "He's not very nice."
In the spring of 1969 I met Bill Lane, and moved into an apartment with him on California Street. We worked nights the Rincon Annex sorting mail. This apartment was closer to Sokoji than I had lived before so I attended more often, mostly to lectures. I went to Trudy Dixon's funeral. At one point in the ceremony Suzuki Roshi let out an emotional scream. This impressed me as a very genuine thing to do at a funeral. Later in the summer Bill and I visited Tassajara for a weekend where I heard Roshi give his lecture about "putting rocks in the air."
Bill and I were tired of working nights the Post Office and sleeping days above noisy California Street so we accepted a caretaking position at Lower Tubbs Island Bird Sanctuary. After I year there I moved into the building on Page Street where I began to have more contact with Suzuki Roshi. He lectured usually once or twice a week, sat zazen in the zendo with us, ate meals in the dining room with us, and led sesshins. Once I was walking in the upstairs hall with Michael Gilmore and Myron Thomas who was carrying a six pack of beer. Suzuki Roshi came towards us from the other direction, I expected him to say something to them, but he greeted us in a friendly manner. One Sunday morning after breakfast I was in the flop room with other students reading the Sunday paper. Roshi came in, asked for a cup of coffee, poured in sugar, drank it, and said "Strong medicine!" He then did sort of a somersault in his robes and got up and left.
During this period Chogyam Trungpa Rinpoche was in San Francisco. Because I liked his writing, his lectures, and because some of my friends were following him to Boulder, I thought about going. I asked Suzuki Roshi if I should go, he told me he didn't think it was a good place for a young woman. I am very grateful for his protective advice.
In the fall I went to Tassajara. Katagiri Roshi led the training period because Suzuki Roshi was not well. When it was announced in the zendo that he had terminal cancer people sobbed. We came up from Tassajara for the ceremony to see Richard Baker installed as Abbott. I was shocked to see how Roshi had turned yellow. We went back to Tassajara, Roshi died during the Rohatsu sesshin.
I visited the mortuary to sit with Roshi's body, Chogyam Trungpa Rinpoche was there also, the three of us were together in silence in the little room.