His Amazon Bio and curriculum vitae are below - neither of which mention some details that would be interesting to cuke readers.
c. 2008 phone Interview with David Padwa
Alan Watts on David Padwa - from Chapter 15 of Watts' autobiography, In my Own Way
---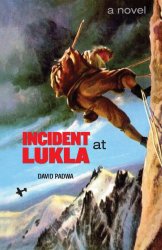 David Padwa has a novel out - Incident at Lukla.
Here's the Amazon link
Here's the audio book link from Audible - with David Padwa narrating.
Excellent site for David Padwa's Incident at Lukla - Hapax Press
5-12-17 - Posting a PDF of Sanskrit Coyote - Padwa on Gary Snyder. He writes: at the end of the 80s the sierra club decided to produce a festschrift to celebrate gary snyder's life/work. the editor asked me to contribute something for a dharma section. the book was published in 1991, never reprinted.
---
Padwa not Padua as I kept writing it. Have fixed a few places on cuke.
In the Acknowledgments under Sources the name of David Padwa was misspelled as David Padua. My apologies. DC - See End Matter of Crooked Cucumber. - Posted in Errata for Crooked Cucumber.
SFZC Zen in America fundraising brochure for Tassajara which went out early? in 67 and listed previous donors with David Padwa's name spelled Padua. Also in the Fall 67 Wind Bell the same list repeats this error. Too late to fix those.
---
From Email of yesterday posted 12-16-14 - I, DC, wrote David asking about his name which seems to get misspelled as Padua by more folks than me, and he replied:
ah so. i speak as an onomastician. "padwa" is a toponym. ("topos" = place). i.e. a place name. i am descended from an illustrious jewish rabbinical family of the 16th century from the italian city of Padova. originally place named by the romans as Patavium. While the italians call it Padova, the engish call it Padua, the portuguese call it Padoa, the french call it Padoue, and germanic/slavics write it as Padwa. (e.g. the frogs say the british capitol is Londres, while the eyetalians say the capitol of france is Parigi) In my family's case the city's name was historically written in hebrew characters which retain the V sound of padoVa, which in back-formation when written in roman script sounds the W as a V (as in Wagner) in continental europe, but as a soft W in the english speaking world, hence padwa.
And he added a bit of bio:
as a philosophy student, i came to buddha dharma in the 1950s when picking up an english copy of the dhammapada in new york's 8th street bookstore and thought it a masterpiece of ethics and fell in love. then later, in the same bookstore i got alan's beat zen square zen and some englished suzuki daisetz and was off to the races. then some levite gave me a sacramental sugar cube with the pronouncement that any question my mind formed would be answered profoundly. i happened to be looking at a large photo of a statue of a korean maitreya/miroku and formed the query: why was that buddha smiling? twelve hours later i had my answer. around this time i met richard and thereafter we were all off to the races. om ah hung!
And some important Zen history. I've always thought of him as a key benefactor to us all. The Richard he refers to here is Richard Baker:
richard and i had real-estate karma. i introduced him to chester carlson (inventor of xerography) who funded tassajra. years later i gifted the santa fe dharma center to him.
---
12-17-14 - In response to DC queries, David Padwa about his genealogy and relationship with Richard Baker
There are written rabbinical responsa (i.e. Q & As) documenting family lineage going back to 10th century france (troyes). [see An Unbroken Chain] granpa broke the rabbinical chain by interrupting his study in order to emigrate to the USA in 1914 and was not able to complete his matriculation-ordination in the new world.
i met richard in 1964 or 65 in san francisco at "parties". we really got along and saw him whenever i came to san francisco from new york and sometimes stayed as a guest at 310 page street. always admired his subtlety of mind and cheerful mien. i owned land next to his on san juan ridge (next to gary). he brought gov brown to meet me. saw him intermittently since those early days till now. (and just a couple of months ago in santa fe when he arrived with gerd stern). i remember his talk at watt's funeral and also suzuki roshi's death. he married melissa and me at ZC (3rd wife) in1974. i never held his life style against him and thought he bungled the mishap at ZC by being timid, insufficiently boldly heterodox like the great masters. think radical, i say. anyway, that's ancient history. i've visited in freibourg and also at johanneshof. still hoping he will write something unforgettable.
DC: May I ask what do you mean by "and also Suzuki Roshi's death." You mean his funeral?
DP: yes, i meant at his funeral. there was something haunting about that occasion which probably led to my wording. though i had heard roshi's teisho a few times, and had shared an informal dinner with him once in new york together with richard, i could not say i had ever been close to him. when at his funeral at page street, shuffling forward to pay last respects to the body in its coffin, i leaned over his corpse to bow. he appeared infinitely calm, as if carved out of a grey stone centuries earlier. for an instant our faces were eighteen or so inches apart. i had never been so close to a deceased person before and i recall my feelings as i write this. he, the room, the attendants, san francisco, the world, myself, were all one thing. everything was exactly the same. he came, he went. somehow it was not just a "funeral". just continuous dharma instruction. wah!
---
The author, an experienced story teller, has sojourned in most of the world's great mountain ranges over 27 years as a member of the American Alpine Club; including the Khumbu of Nepal, Kunlun Range Pakistan, Garwhal Range India, Tien Shan Range China, Chimbulak Shan Kazakhstan, Svalbard Archipelago Norway, Torres del Paine Patagonia Chile, Mt. Aspiring New Zealand, Cradle Mountain Tasmania, Brooks Range Alaska, and the American Rockies.
Aside from several years in Asia he has lived in New York City, Washington DC, Boulder, Colorado, and Santa Fe, New Mexico, where he shares a home with his girl-friend, to whom he is married, and three Jack Russell terriers. He has contributed to academic and popular journals and served on the faculty of several universities. An astute analyst of foreign relations, he was uniquely poised to tell the thoughtful seriocomic tale of an imaginary incident at a village near Mt. Everest in his novel of the Himalayas "Incident at Lukla".
---
David Padwa Curriculum Vitae
(posted 12-15-14)

"For in my nature, I quested after beauty, but God, God, hath sent me to sea for pearls." - Christopher Smart\
Born, New York City, 1932. Attended Bronx High School of Science.
B.A. University of Chicago 1950.
1951-1953. Dishwasher, ghostwriter, hospital orderly, novelist, poet, merchant-seaman. Decided to return to academic life.
1953-1954. Columbia University. Department of Government & Public Law.
1954-1957. Columbia University, School of Law. Received LL.B and Juris Doctor degrees. Admitted to the New York Bar.
1958-1960. Continued graduate studies towards Ph.D. at Columbia University. Served as legal aide to Hon. Philip C. Jessup, Fish Professor of International Law (Judge of the International Court of Justice, former Ambassador-at-Large, Assistant Secretary of State.) Authored legal articles in The International and Comparative Law Quarterly, The American Journal of International Law, The Journal of International Organization; Diplomate of the Hague Academy of International Law and Member of the Research Center at the International Court of Justice. Served as Counsel to various law firms on international law questions. Employed at The Carnegie Endowment for International Peace, and the Department of Political and Security Council Affairs of the United Nations Secretariat. Introduced to the Alps.
1960-1965. Founder and CEO of Basic Systems Inc. Principal offices in Cambridge, New York, Chicago, Pasadena, and Washington, DC. Firm specialized in educational and curricular technologies as well as the provision of systems integration services in education and training markets. In 1964 Xerox Corporation acquired Basic Systems; continued as division executive at Xerox and Director of Planning for educational markets.
1965-1966. Lecturer, Harvard University. Joint appointment at School of Public Administration (since renamed the Kennedy School) and Graduate School of Education.
1967-1968. Travel & Adventure. Alpine mountaineering; crewed on trans-ocean sail; drove land-rover across Iran, Afghanistan, Pakistan, India and Nepal. Lived in Japan.
1969-1974. Moved to Santa Fe, NM. Supported regional environmental organizations in the Southwest. Organized the parallel non-governmental gathering at the United Nations Conference on the Environment in Stockholm in 1972. Founder of the Santa Fe Canyon Association; appointed by Mayor Pick to the City's Community Development Commission and there prevented paving of upper Cerro Gordo Road and preserved Cerro Gordo Park as open space. Built the Buddhist meditation center next to Cerro Gordo Park.
1975-1985. Founder and CEO of Agrigenetics Corporation. Moved to Boulder, CO; (bought first 300 baud modem 1983). Agrigenetics was the earliest agricultural biotechnology company, attaining $120 million in revenues and supporting a multi-million dollar research budget in cellular and molecular biology before being acquired by a large chemical company in 1985. The company's path-breaking genetic research and patenting strategy transformed the American crop seed industry. Consultant to the National Research Council, The Business Higher Education Council, The US Congress Office of Technology Assessment. Gave expert testimony before Congressional committees. Also served on the Board of the Industrial Biotechnology Association, and as a Director of Rothschild Biotechnology Investments, a fund listed on the London Stock Exchange.
1985-1986. Bicentennial University Professor at The University of Georgia. Studied implications of large scale computer networked collaborations in the scientific research community.
1986-1987. Professor Adjoint, University of Colorado School of Business. Appointed by Governors Lamm and Romer as Commissioner of The Colorado High Technology Commission, which developed a successful strategy for the State to benefit from its technology resources. Designed and supervised the creation of novel institutional forms to enhance technology transfer from the academic research community into the private sector, and served as consultant to several universities and the Government of Victoria, Australia on issues relating to the commercialization of university based intellectual properties.
1988-1991. Policy Research Fellow and National Science Foundation contractor at the University Corporation for Atmospheric Research, in Boulder, Colorado, a consortium of 62 research universities. Helped craft UCAR's approach to capitalizing the consortium's intellectual assets, and for developing hybrid public-private organizations in technology areas.
1987-1993. Outside board member of Bandgap Corporation, a company active in contract opto-electronic research, laser photonics, and the epitaxial fabrication of advanced semiconductor materials. The company was acquired by a Fortune 100 company in 1993. Participated in two Himalayan mountaineering expeditions and created the 1988 expedition's unprecedented internet satellite link on the Tibetan side of Mt. Everest which was used to acquire and exchange up-to-the-minute ground-level meteorological information with a group of American universities.
1991-1995. Returned to Santa Fe from Boulder. Retired again. Presented colloquium at the Santa Fe Institute on the National Science Foundation "Collaboratory" concept and another on the philosopher Charles Sanders Peirce. Climbing in New Zealand, China.
1995 --- Spring and Fall in Nepal.
1995-1997. Chairman of NetSage Corporation, a technology company developing software systems enabling the personalization of interactivity on networks. Granted a United States Patent for the invention of an "Agent Based Instruction System & Method". Chairman of The National Homework Computer Coalition, a non-profit organization chartered in the District of Columbia to investigate requirements to provide students in K-12 with a network access device to be used at home for the special purpose of doing school assigned curricular work on a daily basis.
1998 – Gold medalist, men's over 60 relay team - Mt. Taylor Quadrathlon, and repeated in 2005
2001 – Climbed Grand Teton. Met Bettina Sulzer Milliken, marrying in 2005 and began mountain touring with her in the Khumbu of Nepal, Garwhal Ranges India, Tien Shan Range China, Chimbulak Shan Kazakhstan, Svalbard Archipelago Norway, Torres del Paine Patagonia Chile, Mt. Aspiring New Zealand, Cradle Mountain Tasmania. Commenced working on a novel "Incident at Lukla".
2012 -- Now an octogenarian! The years have gone by so swiftly, with many friends gone, and so many books still unread, so many mountains unclimbed, but so happy and in good health with beloved Bettina. Absolutely amazing.
2013 - "Incident at Lukla" published!
Children: Sabrina Isabella Padwa, Gideon Ash Padwa, Mariner Ezra Padwa
American Alpine Club, Harvard Club of New York.
---
Received 3-25-17 from David Padwa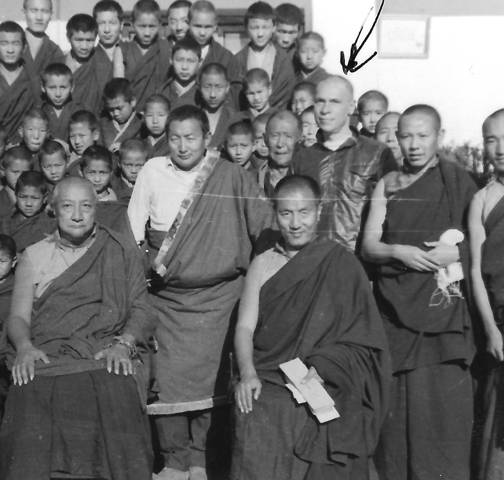 1973, David Padwa g
iven hair-cut, robes, and Dharma
name Kunzang Namgyal (Skt: Samantabhadra Vijaya). Ordination from
Khyentse Rinpoche and
Zognor Palyul Rinpoche, at Nyingma Lamas College, Clementown, India.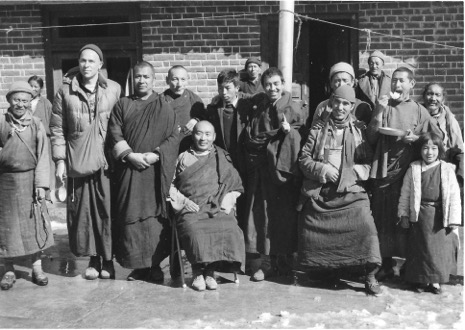 Traveling that year along Himalayan foothills
(on left, Ladhaki Vihara, Rewalsar, India)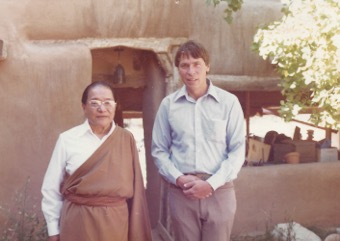 With Dudjom Rinpoche, in Santa Fe, 1976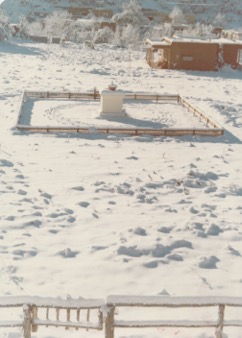 While staying with Dudjom Rinpoche in Kalimpong, India, in 1973, he was given relics and precious objects to place within a Mahayana style
stupa
in Santa Fe. This was the first
stupa
in the western United States and its physical construction in 1974 was supervised by Dodrup Chen Rinpoche, the esteemed
chorten
builder from Sikkim.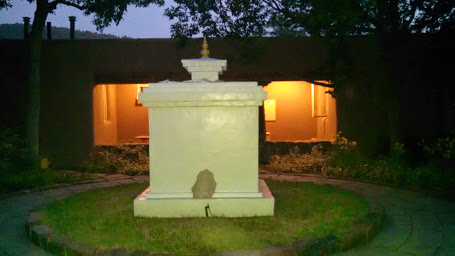 A meditation hall was constructed surrounding the stupa in 1976 and it was used in later years as a seat for Richard Baker Roshi. Philip Whalen, Issan Dorsey, and others were ordained there. Presently, the meditation hall is owned by the Maha Bodhi Society of Santa Fe and is located immediately adjacent to the campus of the Upaya Foundation.
DC thoughts on seeing these photos.