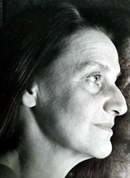 Interview emails from Audrey

Click here for Shunryu Suzuki Photo Archive images and links to all cuke.com pages on .
Bob Walter page (Audrey's ex from Tassajara days - lots on her)
Eliot's Blow-out Encounter - in Brief Memories
Walter - in Tassajara Stories (mainly taken from their interviews)
photo from obituary below.
Audrey did two books with wonderful simple cartoon drawings called Foibles. Look at the bottom of the page for three of them received January 9th, 2017. That's how I learned of her passing. - DC
---
Audrey Walter cuts cornerstones for the kitchen stone walls at Tassajara in 1968. Stills from Zen Mt. Center film in the section where there's a discussion among Shunryu Suzuki, Richard Baker, and Maud Oaks.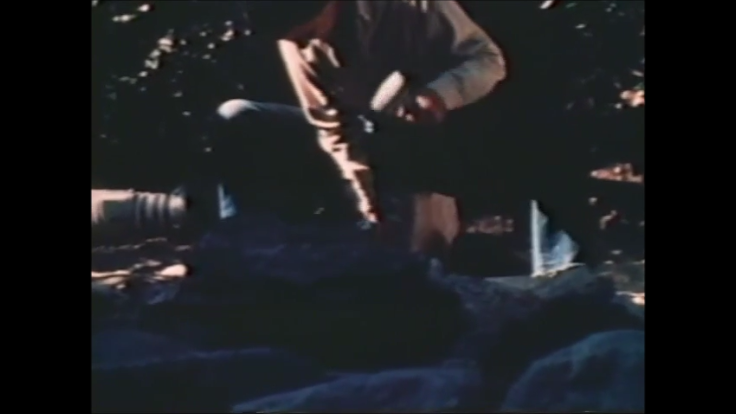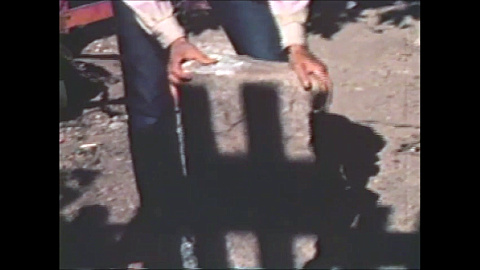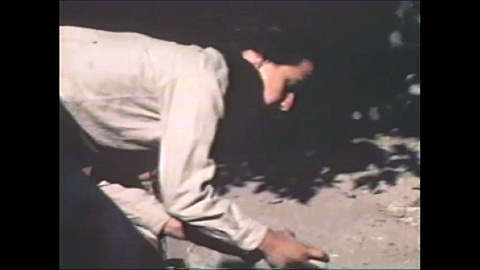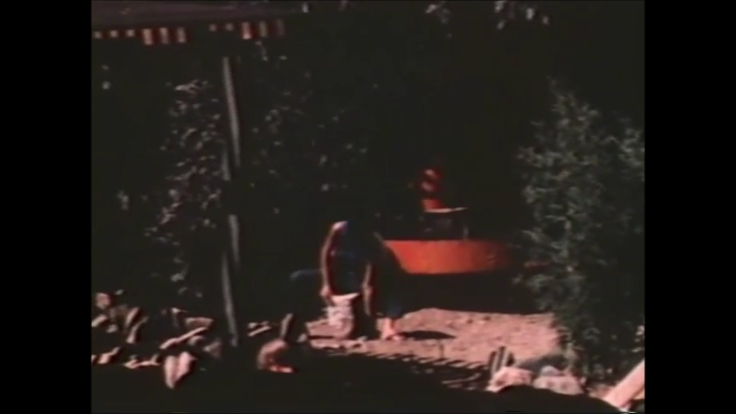 Two more stills from that film with both Audrey and Bob from the Nature, Bell, Tea section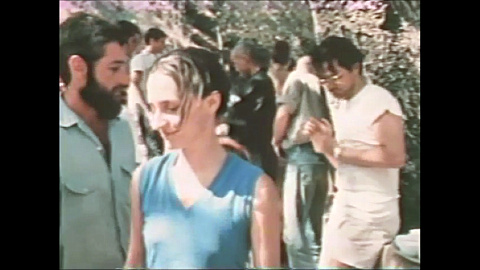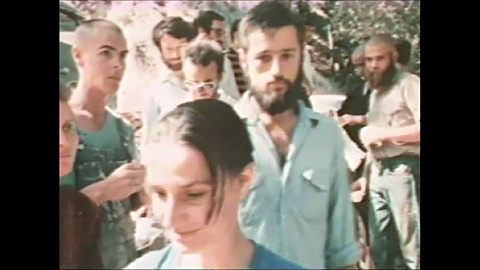 ---
Obituary Published in Lexington Herald-Leader on Oct. 2, 2016
ROBINSON Audrey Blair Smith, wife of Don Robinson, died at her home on Winter Quarter Farm in Lexington, KY, on September 26, 2016. She was born in New York City on March 19, 1935 to Pyrmen L. and Marion V. Smith and, with her brother, Whitney S. Smith, grew up in Scarsdale, NY. Audrey's life was lived with energy, devotion, and intention on several levels. She was the mother of three beloved children, all now of Lexington: Lethe A. Walter, Eliot V. Walter, and Ferran Robinson, and one grandchild, Layla Robinson, whose presence in her life delighted her. She was a poet and visual artist. And she was also a 5th degree Black Belt in Shaolin martial arts. She received her BA degree in English from the University of North Carolina at Chapel Hill. After graduating, she studied creative writing at Columbia University and stone sculpture at Kansas University. Her lifelong interest in Buddhism led to meditation training in NY, and then to several years of study with Shunryu Suzuki Roshi at the Tassajara Zen Mountain Center, in California. She married Don Robinson in the California Redwoods in 1974, where they homesteaded in Briceland, CA, before moving in 1977 to Don's birthplace in Lexington as he assumed management of the family farm and its thoroughbred business. In her late fifties, Audrey began the study of Tai Chi and karate under Grandmaster Hiang of Central Shaolin Martial Arts. Since then, she continued to practice under his instruction at his farm every week with a group of her peers. She occasionally taught Tai Chi at the YMCA. She was a member of the Furnace Mountain and Lexington Zen Centers. She was also a talented visual artist. For twenty-five years, she was a member of an art group, with Donna Boyd, Linda Butler, Carolyn Hisel, Susan Richards, Mary Ann Taylor-Hall, Jane Vance, and Judy Young, whose diverse work included writing, visual art, and music. During this time, she produced very original, spare poetry and also began creating plaster-cast and wire sculptures, both playful and profound, as well as intricate pen and ink line drawings, which eventually developed into a unique form-a high-art, wordless series of comic strips, always beginning with a little stick figure, often sitting in meditation pose in a cube, whose exploits, adventures, mistakes, triumphs, and catastrophes became representations of the human experience. These were eventually collected and published in two volumes, with the editorial help of Dobree Adams and Johnathan Greene, entitled Foibles 1 and 2. Human foibles were what interested and entertained Audrey most-how our minds trip us up. Even from her sickbed, she made a series of ink sketches of what she saw around her that were exuberant with life and energy. She did the last drawing four days before she died. Her strenuously maintained physical stamina and strength, her force of spirit, the joy she found in her family and her friends, and the devotion of her husband and her children contributed to her almost unprecedented eleven-year survival of metastatic colon cancer. She was a charter member of the Markey Cancer Center's Patient Advisory Group. She and her family are immensely grateful to the staff of the Cancer Center, particularly to the expertise and generous attention of Dr. Phillip Desimone. Services for Audrey will be private and at a later date. In lieu of flowers memorial contributions may be made to the Markey Cancer Foundation for the Audrey Robinson Memorial Fund, 800 W. Rose St., Lexington, KY 40356.
Our community has lost a gentle and strong soul who contributed through her accomplishments to many in the Bluegrass. Our thoughts and prayers are with Don and the family. Elizabeth and Herman
I never had the pleasure of meeting Audrey in person however, several years ago I wanted to take karate lessons. As I was in my 50's I thought for sure it was impossible. A man I worked with told me about Master The' and Audrey. She was then and is now the inspiration for my practice of martial arts. Given what she accomplished and how hard she worked I feel I have someone I can look to for strength.

She will be missed by those who knew her and those who only knew of her.
Our thought are with you and family at this sad time! Audrey was quite the fighter! She will be missed.

Mary Jane and Nucks
---