cuke.com - an archival site on the life and world of Shunryu Suzuki and those who knew him.
check home for more links what's new Basic info on Shunryu Suzuki Suzuki lectures donate to this site table of contents bibliography interviews articles/excerpts Cuke Sangha News SFZC Dchad Misc Current Events Thank You and OK! links comments SFZC table of contents and more if you look around
---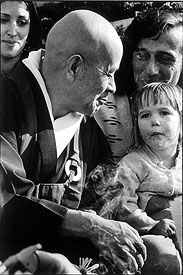 Brief Memories
of Shunryu Suzuki, Zen Center back then, etc.

Interviews
Suzuki Basic Info
Suzuki Stories
Brief Memories

photo by Lisa Law



---

Audrey Robinson (Walter) on Eliot's Blow-out Encounter
12-26-07 - Tassajara: One day happy little Eliot was walking somewhere by the han & between the kitchen and the dining room when he blew his what-do-you-call those paper party favors that unroll and toot at Suzuki Roshi. Roshi turned and rapped him on the back with his kyosaku. I've heard this story many times. He left a mark! Eliot told me with some delight. -Was he kidding, I asked. -No. I was being noisy and disrespectful. An American kid, in other words.
---
---
Interviews Suzuki Basic Info Suzuki Stories Brief Memories