Shunko Enjo Mike Jamvold
RIP January 29, 2016
starting this page 1-31-16
---
1-31-18 - Below is a report from Jirai Reinhard Mehl on the three year memorial for Shunko - with photos.

12-14-16 - Just got this from Jirai Reinhard Mehl, a German monk with whom Shunko has been living in Fukujoji, a small temple in Kyoto.

Hello to everybody,

I want to inform you that we will do the 1-year ceremony for Shunko on 22nd (Sunday) of January 2017 in Fukujoji/Kyoto. Starting at 11.00 am we will first perform a ceremony in the Hondo and then move to his grave on the grounds of Fukujoji and put his remains into the grave.

Everybody is welcome to attend the ceremony. Please inform me a few days before when you are planning to come. The grave was constructed last month. It's a natural shaped stone with his buddhist name (Shunko Enjo Joza) on the front, and his civil name and the dates of birth and death on the back. In front of the stone I put the statue of a Jizo-sama because Shunko loved Jizo-sama very much. In the back of the Stone I planted a weeping willow.

Gassho

Jirai

Click here for Shunryu Suzuki Photo Archive images and links to all cuke.com pages on .

Shunko's funeral

This afternoon (2-08-16) we brought Shunko's body from the police to Fukujoji and the people from the undertakers prepared him for the funeral.

The schedule is:

Tomorrow, Tuesday 9th 6.00pm [Japan time] we will do the Tsuya (wake). On Wednesday 10th at 11.00 am we will do the funeral ceremony. Around 12.00 we will then drive to the crematorium. There will be a last chanting before the body gets cremated. That will take about 2 hours and we will go in that time somewhere for a late lunch. Probably around 3.00 pm we will pick up the ashes and drive back to Fukujoji. There we will perform another short ceremony for him.

Gassho, Jirai

[photo Barbara Wenger]

Postnote: Hoitsu and Chitose Suzuki are in Kyoto for Shunko's wake and funeral.

---

---

2-20-16 - I started this week with the weekly ceremonies for Shunko here in Fukujoji. I plan to do it always on Wednesday morning at 10.00 am and it will last about 30 minutes. March 16th is the 49th day and will have the final ceremony. I send you also a picture of the setting of his ashes on the altar. - Gassho, Jirai

---

1-31-16 - Just received the most sad new in an email that Shunko Mike Jamvold has died of pneumonia in Kyoto. The email came from Jirai Reinhard Mehl, a German monk with whom Shunko has been living in a small temple in Kyoto - just the two of them I believe. Katrinka and I visited with Shunko a few times in May and June of 2014 in Kyoto and we've had some email back and forth. Known him since the early seventies at the SFZC. He was Kelly's constant caretaker when Kelly was a baby at Tassajara - spent a lot of time walking around with Kelly in a snuggly. Kelly wrote, "I have fond memories of him and bow to his departure." Wish I'd known he was ill. Farewell dear friend. - DC

Email from Jirai Reinhard Mehr announcing Shunko's death (below)

2-04-16 - There will be a memorial service on Friday, February 5, at 6:40 pm at Issanji Temple on Hartford Street in San Francisco.

2-2-16 An email from Jirai about the funeral

I just talked with Shunko's sister Betty and she wants us to do the funeral here in Fukujoji [in Kyoto where Shunko lived]. But some formal things have to be done before it can happen. So I hope but don't know whether it will this week or not.


---
---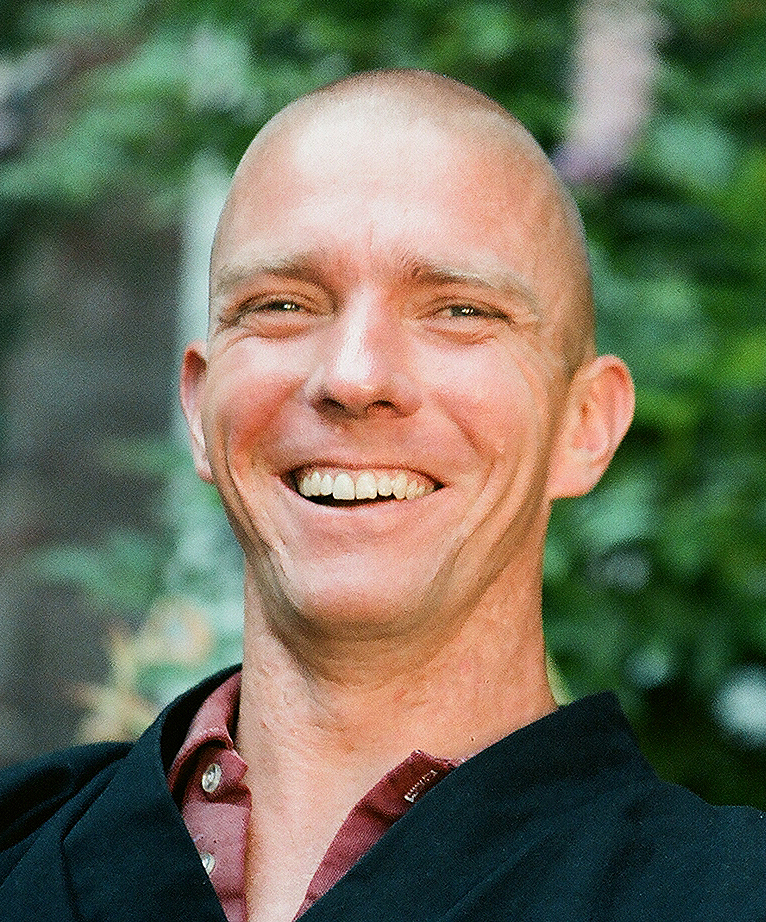 photo by Barbara Wenger
---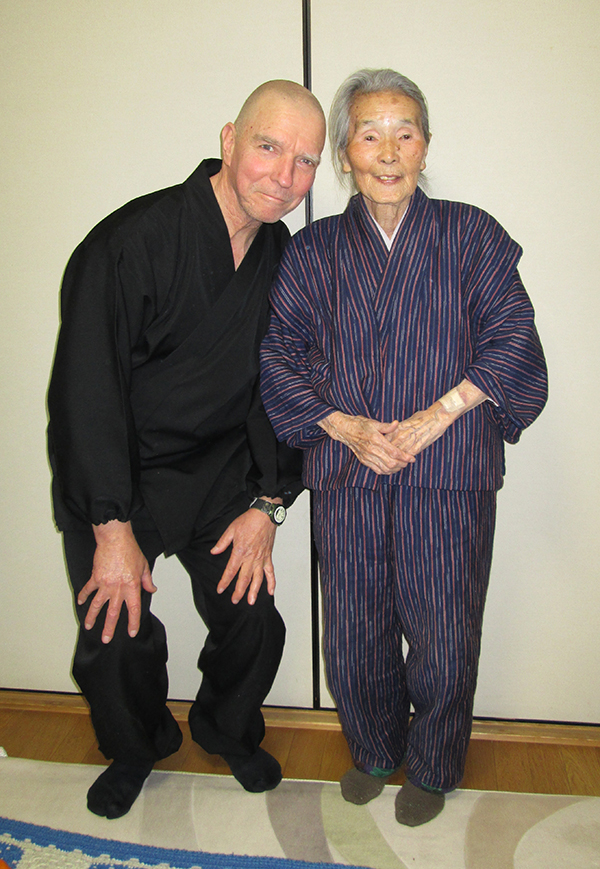 Shunko with Mitsu Suzuki - Fall 2015?
---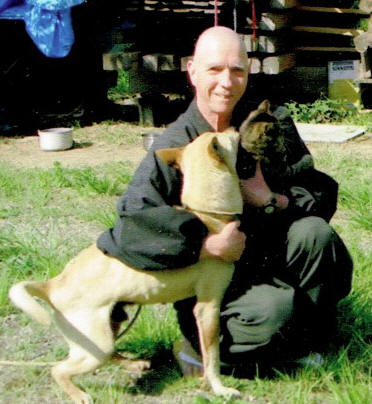 thanks Jirai Reinhard Mehl
---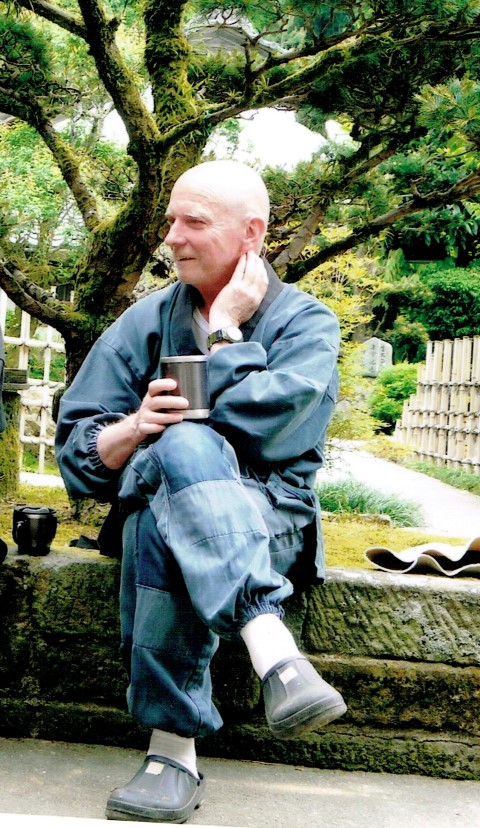 Shunko at Bukkoku-ji
thanks Jirai Reinhard Mehl
---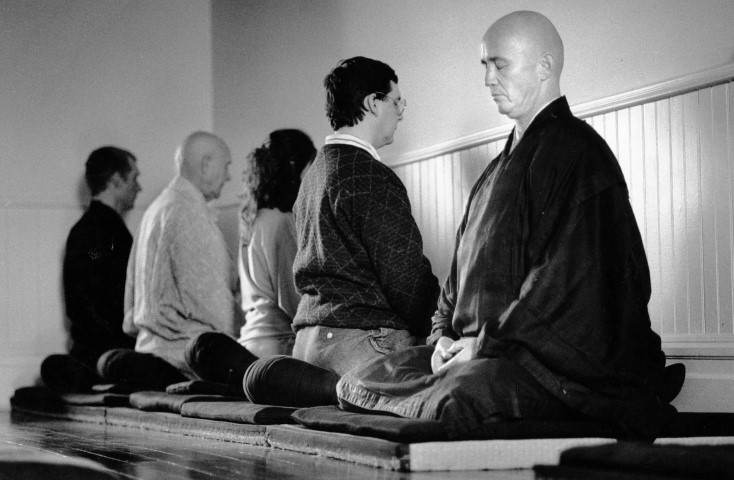 (L to R) David Bullock, Del Carlson, Angelique Farrow, Steve Allen, Issan Dorsey
photo above and names from this page - except Shunko was incorrectly identified as on the far left - but that's the gang Shunko hung with so am leaving it. The photo was a part of a SF Chronicle article about Hartford Street Zen Center and Issan Tommy. - Thanks Daishin Sunseri for clarification. - dc
Maybe around 1988 at Harford St. ZC? - DC
photo file name /shunko/jaffe-maisner-30th-chapple-hill
---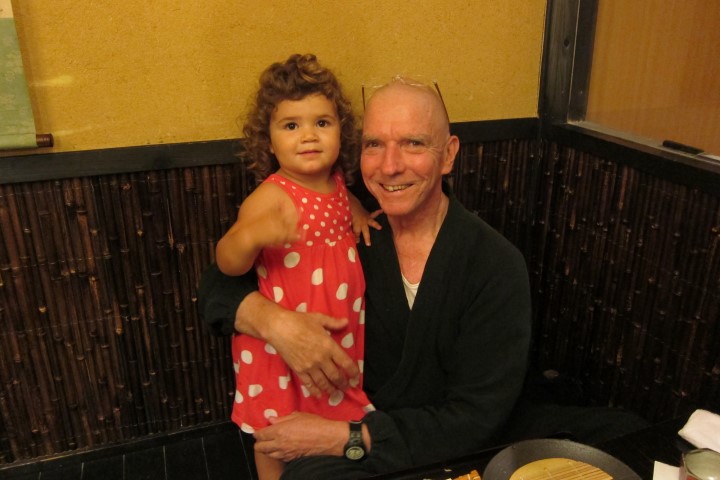 Above (with daughter of friend) and below (September 2014)
sent by Luke Thompson
who knew Shunko at Sogenji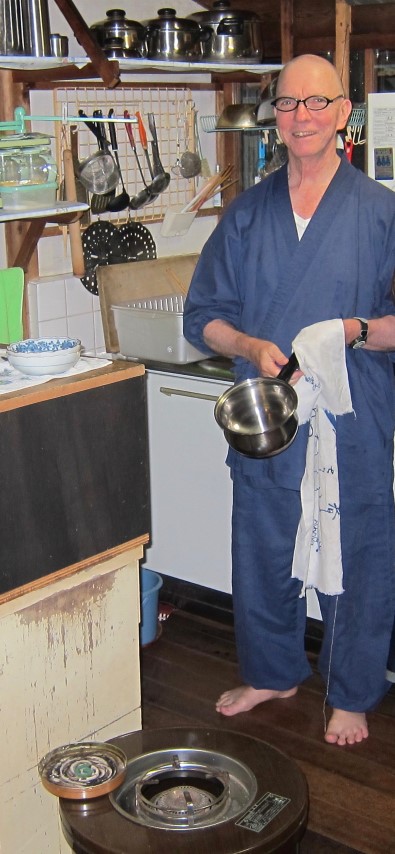 ---
Photos sent by Michael's Kyoto Japanese Class friend from China,
Ms. Weiwei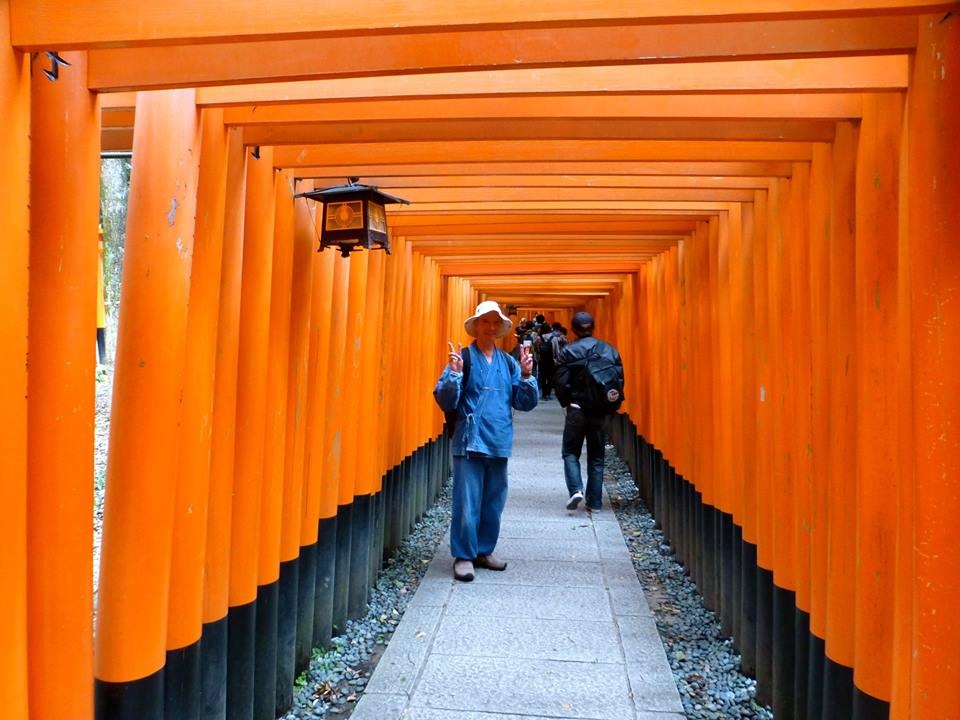 2014, September. Fushimi-inari Shrine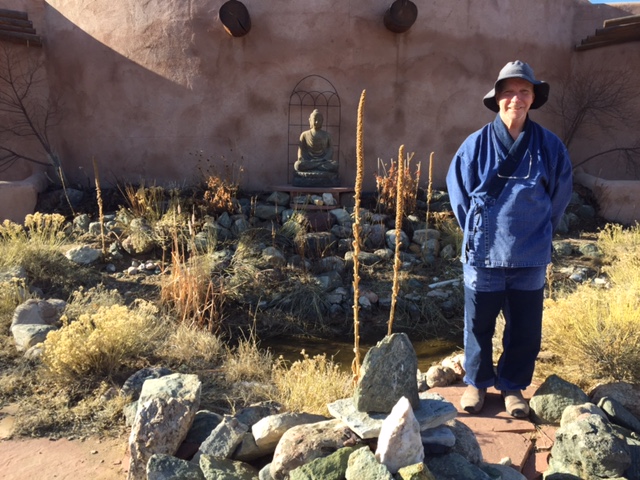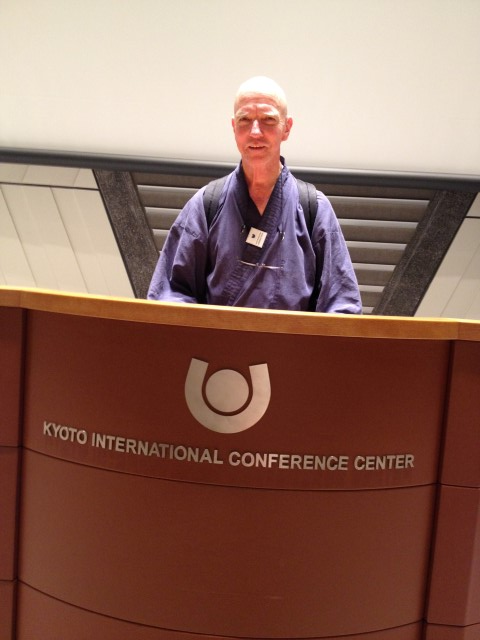 2015, Autumn, we went to visit KICC.
[Don't understand why this is sideways and distorted
Am looking into it. - DC]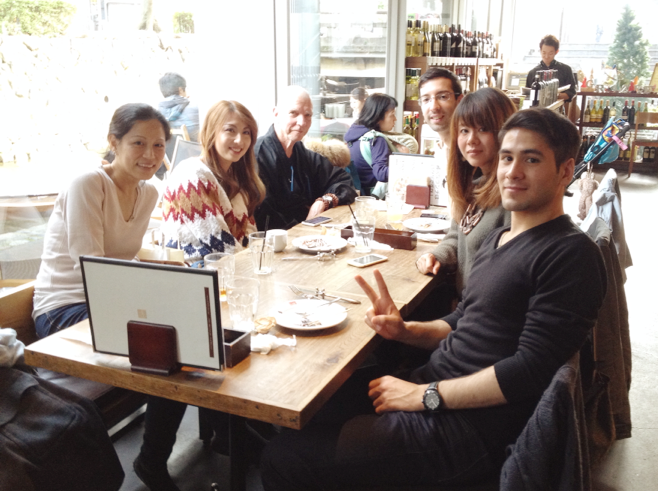 03/12/2015, We celebrate my Birthday 
in our favorite Pizza Restaurant.
[above and below]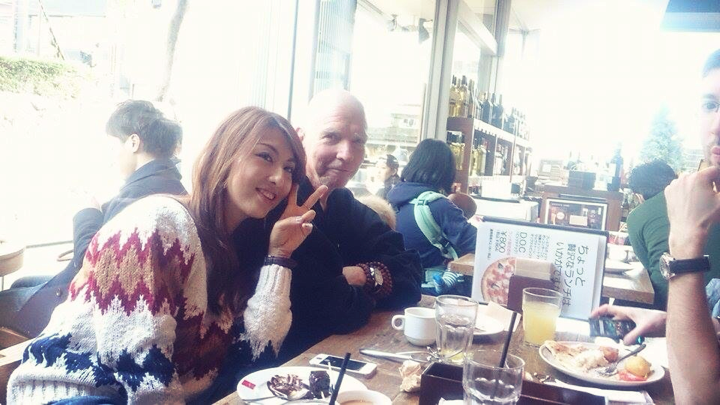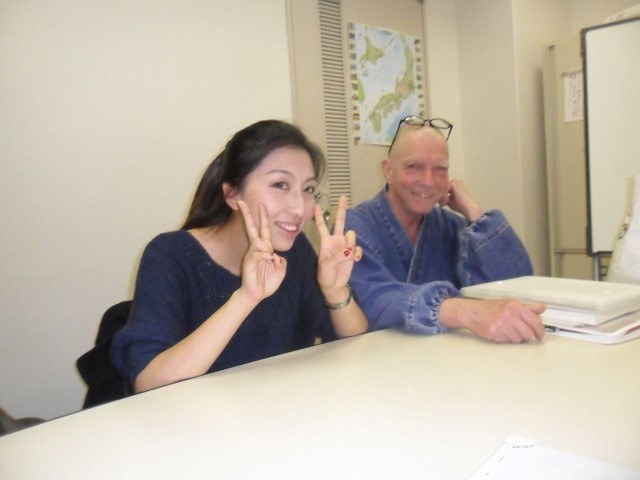 2014/04/09, in Japanese class. 
He tried to study more Japanese.
---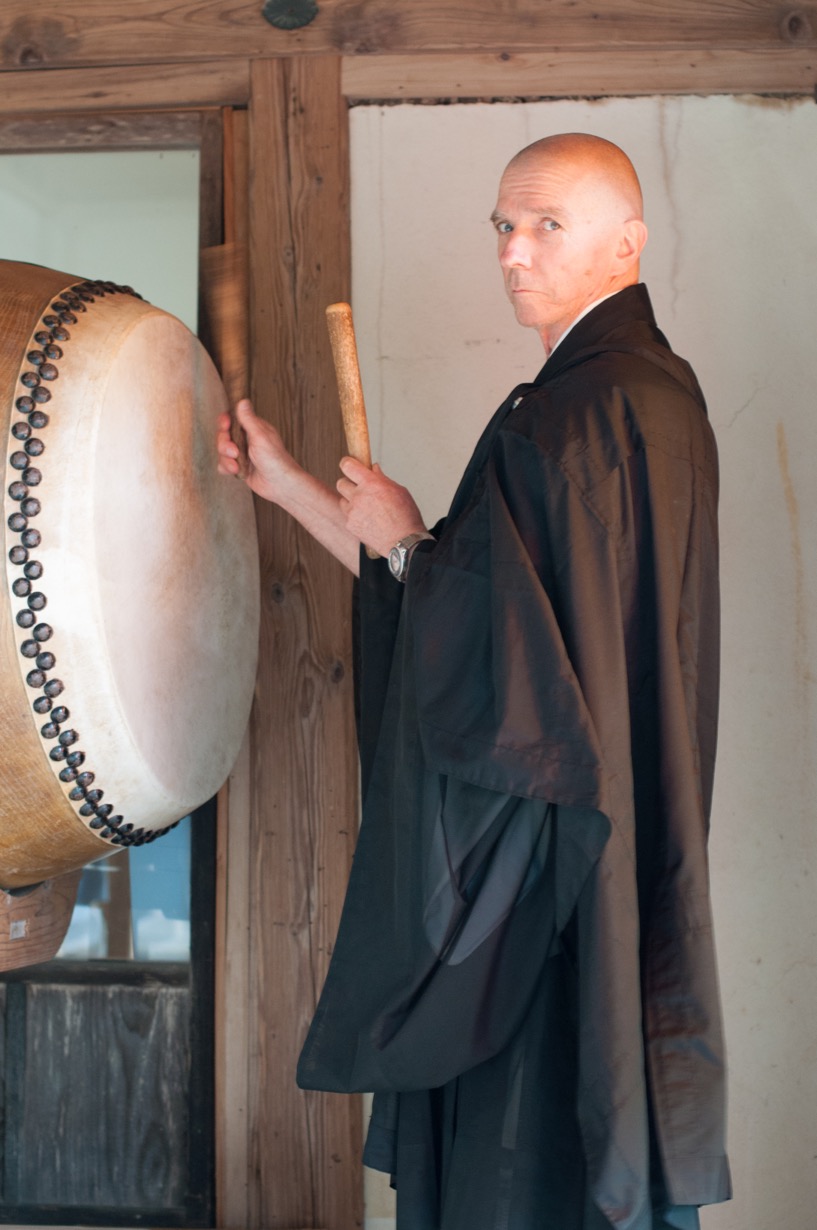 Shunko at Chokokuji Bell Tower Dedication - sent by David Grant
---
1-31-16 Email from Jirai Reinhard Mehl announcing Shunko's passing.
Dear friends of Shunko,


I am very sorry that I have to tell you that Shunko suddenly died.

He had caught a seriously cold in December and went therefore to the doctor here in Kyoto for some medicine.

Although the cold was still not healed he flew on 9th of January to US because he booked long ago this flight.


In America his condition became worse and he went in San Franscisco to a doctor who told him that he had got a pneumonia and gave him penicillin.

Shunko return on 26th of January to Kyoto and we went together the next day to a hospital here because his condition was still not good. They made a lot of examination and found that the pneumonia was still virulent. So they gave him more medicine and another appointment for the following week.

The next morning he was in a bad shape, probably because he had not eaten the night before. I cooked some o-kayu which he ate with great appetite and he felt much better.

The problem was that I had to leave then for 3 days for my regular work in Shinshoji/Fukuyama. I asked him whether he thinks that he can handle the 3 days without me or whether it would be better to bring him to the hospital for that time. He thought for a moment and decided to stay here since he felt much better after eating. I prepared more food for him and left then Kyoto.

On Saturdaynight I came back and found him dead in his bed. He must have died quite some time ago because the body was already cold and his arm could not be moved anymore.

It looked as if he had layed down just for a rest and then it became the eternal rest. His face looked all in all relaxed so that I think that he had a sudden but peaceful death.

The police came together with the ambulance and they took the body for further examinations. They will also inform his sister and brother since I have no address or phonenumber of them. I don't know how the procedure will be from now on, it will depend on his sister's decision where the funeral is going to happen.

This is in the moment everything I can tell you, it is still unreal for me. If I get new information I will send it to you.

Gassho

Jirai
[January 31, 2016]
---
---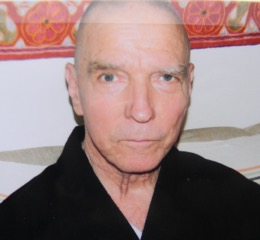 We put Shunko to rest in proper Japanese monk style today. I'm sure he would be pleased. Ever since a long time ago, he has come to Hiroshima to do takuhatsu and stayed with me. He left here on January 2nd very tired with a bad cough. Here is the photo I took of him that morning. - Ron Klein
---
From Andrew Atkeison
Feb. 10, 2016
Today I went to the funeral of Shunko Mike Jamvold. It was a trip, definitely a spiritual experience and I met some wonderful and very interesting people too … Fukojoji is a distance from where I live in Kyoto so I left fairly early in the morning. I had to take the train and then a taxi but I still arrived with a few minutes to spare. The head priest of the temple, Jirai Rinehart Mehl is a Rinzai Roshi and an amazing man. He met me at the doorway and since I was early we had a little time to chat.
During the course of the day, I met several other very interesting and accomplished people. One older American guy named Ron Klein, a German fellow named David Grant, an Italian named Avi Lugasi and one lovely Japanese woman whose name is Naho Inada. I have their cards.
But the most serendipitous thing was … at the temple when all the chanting finally wound down … after taking my turn to offer incense … I rotated to the back of the room and sat down next to this sweet looking older Japanese woman, about my age, wearing a blue Rakusu … I noticed that she looked really familiar … like I knew her from somewhere ... but I couldn't remember where ... I was thinking … hmmm maybe I knew her from the overnight training I did at Sojiji last October. We sat there for a while and then after the service was finally over … this kindly old Roshi started walking in our direction and he held out his hand … WOW ... O.M.G. .... it was Hoitsu Suzuki Roshi ... and the sweet lady I thought I knew was Chitosi san! ... We all three of us just couldn't believe it … we were so happy to see each other … then everyone gathered outside.
I had gone to the toilet and almost missed my ride to the crematorium … by total chance I was ushered into the very last car that had already begun driving off … but someone halted it … and I got into the front seat. It had tinted windows so I didn't pay any attention to who was in the back seat … we drove along for a while and I was lost very deep in my thoughts … kind of half way listening to them converse in Japanese … they were saying something about Shunko had been married twice … finally I turned around in my seat … and it was Hoitsu and Chitosi in the back seat. Because of the distance they were heading back to Yaizu but Chitosi said I could visit any time ... "Any time OK"... so I plan to stop by Rinsoin in March on my rail pass towards the end of my stay here.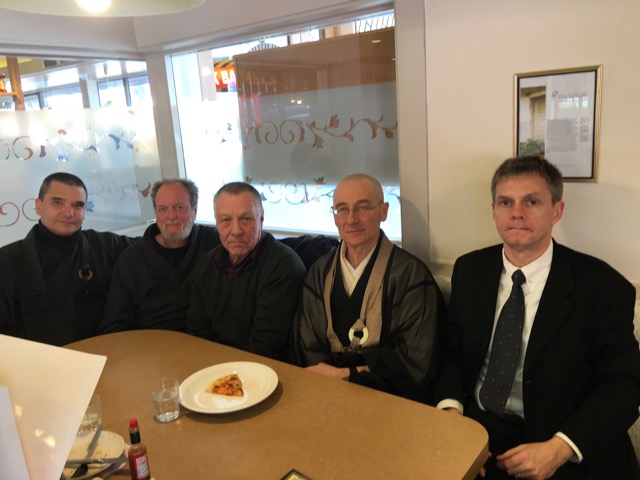 Andrew Atkeison in the middle. Jirai Reinhard Mehr 2nd from right.
The rest of us continued on to the crematorium … After we did the last little ceremony there in a small chapel room, the box containing Shunko was automatically … mechanically … slid off the gurney into the oven … then, in order to wait to pick up the ashes, the group of us, maybe 10 people … went out and had lunch together … Over lunch I heard several interesting and funny stories about Shunko. And I learned a sobering fact, that he was 66 when he passed away and would have been 67 in April. That is exactly my age and I will be 67 in April. Jirai told me to "be careful". When you pick up the ashes here in Japan … the entire cremated remains are laid out on a gurney … each one us took turns with long bamboo chopsticks picking out a few small pieces of bone and placing them in the urn. It was a most surreal day.
Below, I am attaching a photograph … of the memorial lunch with a plate set containing a slice of pizza for Shunko (his favorite food).
---
We at the LA One Drop Zendo chanted the Heart Sutra for Shunko on Saturday.
Shunko was one of a kind and remains so in my mind!
Lot's of love,
Taigan
---
Report on ceremonies from Jirai Reinhard Mehl
The funeral for Shunko is done.
The doctor said that he died already on January 29th.
The formal name for him on the ihai (memorial plate on the altar) is Shunkō Enjō Jōza.
On Monday night Kōgaku Oshō (vice abbott of Bukokuji) came and performed alone a memorial service for him.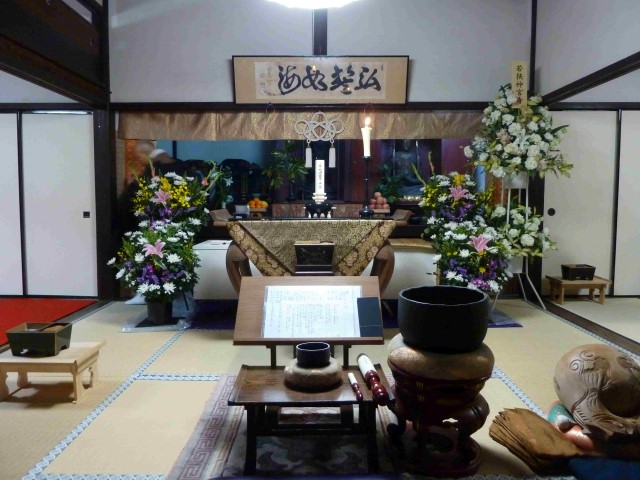 The wake was on Tuesday night, 9th of February. We were 14 people at the ceremony, among them 7 priests:
Suzuki Hōitsu Rōshi from Rinsōin, who had come with his wife
Kobayashi Gentetsu Oshō from Chōkokuji, where Shunko lived before he moved to Fukujōji
Hōryū Oshō and Dōgo Oshō, who had trained with him in Bukkokuji
Empukuji Oshō and Jisenji Oshō, priests of 2 temples nearby, who knew him from Fukujōji
Shaka Yūhō Kirschner, who knew him from the beginning of his time in Japan.
The funeral was on Wednesday, 10th of February, and we were about 15 people, this time 5 priests were attending the ceremony:
Dōmae Jimyō Rōshi from Eigenji, together with 2 monks from there
Suzuki Hōitsu Rōshi
Kobayashi Gentetsu Oshō
Genryū Oshō from Gokokuji in Kōchi
Hōryū Oshō
Besides them came friends from older and newer times, many of them from far away places like Hiroshima, Kōchi, Kōbe.
After the funeral ceremony we drove with 9 people to the crematorium, chanted a last time and gave then the body into the fire. After 2 hours we picked up a part of the bones and brought them back to Fukujōji and celebrated the first of the weekly ceremonies.
Many people were surprised about how peaceful he looked as if he were just sleeping.
I send also 3 photos from the wake ceremony.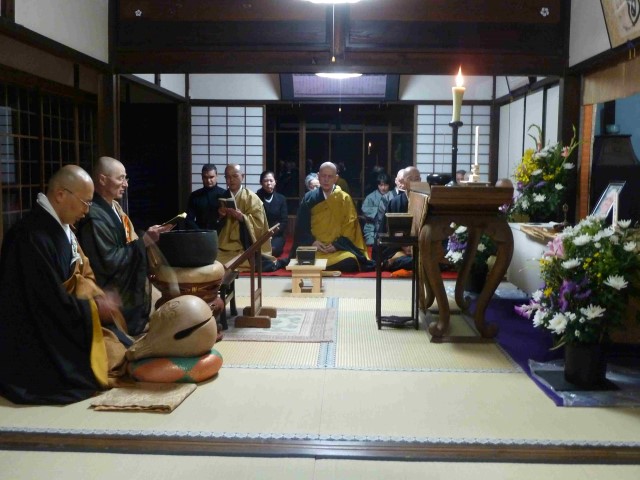 ---
From Patrick McMahon
Just want to add my memory of Mike as a fairly abrasive, but in that memorable character. He once told me what no one had ever said, although I imagine often thought, that I took an inordinate number of words to phrase Dharma questions at talks at SFZC. Maybe I took that to heart, plus a number of other hints, and have limited my words at least in that particular sphere.
---
1-31-18 - Shunko's Three Year Memorial Service
sent by Jirai Reinhard Mehl
On January 28th we did the 3 year ceremony for Shunko. We were all together 5 people, who chanted first in the Hondo of Fukujoji and moved then to his grave for another chant. I reformed the grave a little bit, because I got from a friend some months ago a stone of the same kind of the grave stone. It has nearly the same shape, but is much smaller. I put it at the left side in the back of the grave and planted a bonsai pine tree in between. I send some pictures from the ceremony and the grave.
Gassho
Jirai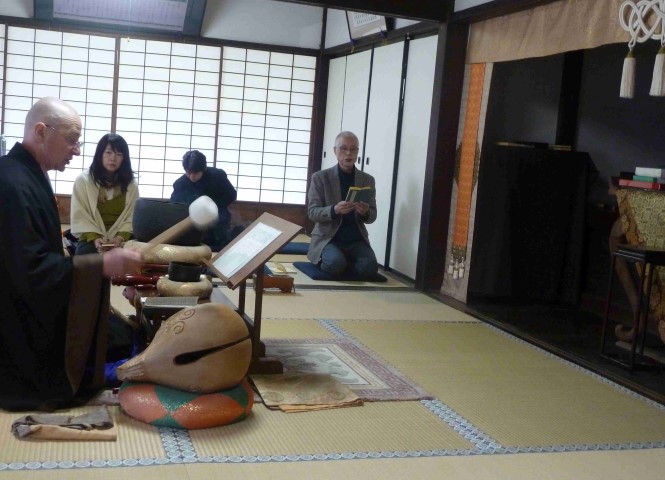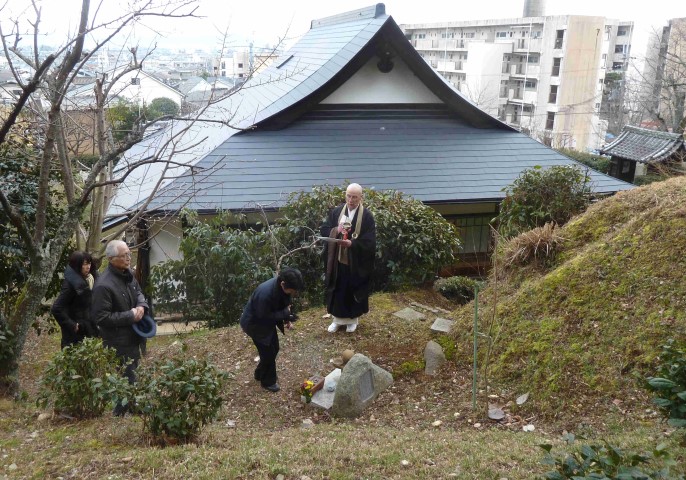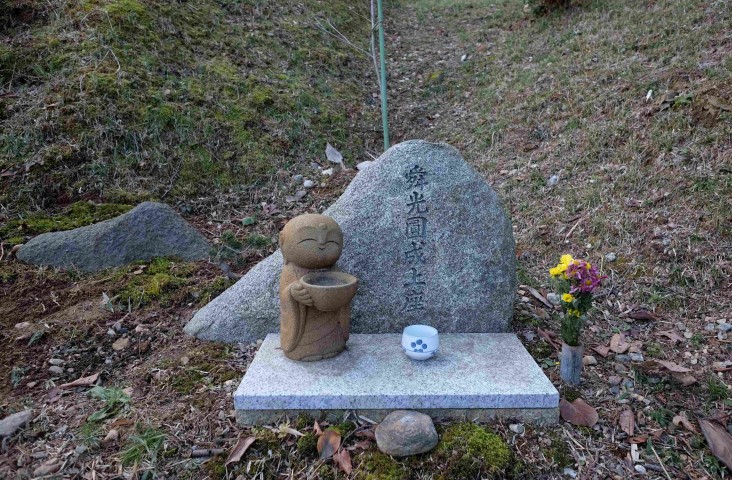 ---