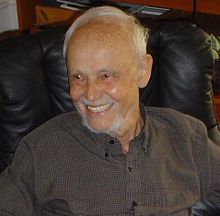 1-03-17 -
On December 30th at 97! The Dean of world religion writers and teachers, dear friend and friend to all, a gentle man who came humbly with wisdom to Tassajara and the City Center in the sixties.
- just learned thanks to Steve Tipton
---
11-25-16 - From Huston Smith dot net - Huston's Health: His condition is very weak. He is in hospice care, awake briefly, unable to read, recognizes family and a few others with whom he has been close and whom he sees frequently.
Brief Cuke Interview with Huston done in 1995

Huston's preface to Zen Mind, Beginner's Mind
Tons of stuff on Huston on the Internet like this brief bio of him from the Council on Spiritual Practices.
Huston's blurb for Crooked Cucumber as used on Jacket of book: "Shunryu Suzuki comes to life through these pages to a degree I would not have thought possible. Chadwick has produced a remarkable biography of a truly remarkable man."- Huston Smith, author of The World's Religions
Another blurb Huston sent: This was so kind of him. He sent this one later in case the other wasn't good enough. "Chadwick laces the facts of Suzuki's life with relevant fragments from his teachings, but the genius of his book lies in the way in which at every point he lets revealing anecdotes carry the story line. The result is a biography that brings his wise and lovable teacher to life to an extent I would not have believed the printed word could. Chadwick has produced a remarkable biography of a truly remarkable man."
Huston Smith's letter of support for the Cucumber Project
Huston is the senior advisor for the Zen Allumbrella
11-21-06 - Today's quote is from Huston Smith's The Soul of Christianity: Restoring the Great Tradition:

My neighbors, how can I tell you about Essence when you do not even understand stories. If you only knew how great the sweetness, the expanse, and the strength are when one reaches the bottom of all the stories - there where the stories begin and where they end; there, where the tongue is silent and where everything is told at once. How boring all the lengthy and tedious stories of creatures then become! Truly, they become just as boring as it is for one who is accustomed to seeing lightning to hear stories about lightning.
- Saint Nikolai Velimirovich
---
Here's Amazon.com's Books by Huston Smith page.
---
10-19-11 - Yesterday Katrinka and I paid a visit to Huston Smith who's doing great. She said he's gotten cherubic. His ear operation (which his doctor was worried he wouldn't survive but he said he had to be able to hear so the heck with it) was a success. Made a big difference. Brought up Elsie Mitchell who is not doing so well, and we agreed to send her greetings though she might not remember us. He said it was she who got him into Zen. He helped her to found the Cambridge Buddhist Association in 1955. [It turned out that Elsie had died the day before. ] When we arrived Huston's minister was there. When I said that now this is about as long as he likes people to stay, he said with charming humor, yes, it's important to know when to say that for me. Now go, it's time for you to go. And he shooed us out. - dc
---
11-22-09 - Huston Smith's autobiography, Tales of Wonder and Huston Smith's painful spiritual odyssey By John Blake, CNN - thanks MK
---
4-09-08 - Visiting Huston Smith from dchad misc
---
Huston Smith's painful spiritual odyssey - CNN (2009)
---
National Center for Science Education - Includes Huston on evolution and creationism. More on this later based on conversations between us. - dc