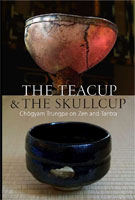 1-05-12 - Introduction to The Teacup and the Skullcap: Chögyam Trungpa on Zen and Tantra by David Schneider - which draws on Trungpa's relationship with Shunryu Suzuki, Kobun Chino, Edo Tai Shimano, and Bill Kwong.
Trungpa on Suzuki from Born in Tibet
Read Trungpa on Suzuki at the Chronicles of CTR site with photos and an interview with Richard and Alice Haspray
Trungpa in Crooked Cucumber
Trungpa Vices in Crooked Cucumber Errata
Laura Kwong on Trungpa and Suzuki
Henry Schaeffer on Suzuki and Trungpa
Solitary Rock calligraphy by Trungpa
DC remembers Suzuki and Trungpa saying "Don't go on trips."
10-02-12 - Chronicles Project - Talks by Chogyam Trungpa Rinpoche on Zen and Tantra - video and audioOn the same talks, read David Schneider's The Teacup and the Skullcap - here's the introduction
10-24-12 - MK noticed in the Trungpa Rinpoche lecture on Zen linked to on October 2nd that Trungpa said Zen was like a Heath Robinson Pancake Machine. Here's a Heath Robinson page with the pancake machine being three down and 4th down the OK Go video for "This too shall pass." - thanks Michael Katz
---
---
There are many other mentions of Trungpa on cuke.com. Just go to the home page and use the site search feature.