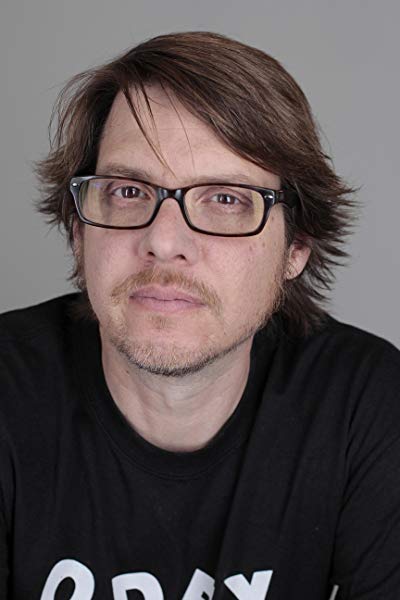 I first knew of Brad and posted about him on Cuke a couple of decades ago, before he was involved with the SFZC. He lived in Japan a long time. Brad's Wikipedia page has a good bio. He's done a lot of cool stuff. Zen-wise from it we learn "He began practicing Zen Buddhism under his first teacher, Tim McCarthy. Warner later studied with Gyomay Kubose." and then "While in Japan, he met and trained with Gudo Wafu Nishijima, a student of Rempo Niwa Zenji, who ordained him as a priest and named him as his dharma heir in 2000." Nishijima's teacher Niwa was close to Shunryu Suzuki and presided over his funeral at Zen Center. [Niwa's cuke page] so we're sort of Zen cousins. He's fun too. When I was in his hometown of Akron, Ohio, for a family reunion, we spent a good part of a day together. He interviewed me for his blog while we drove and said silly things. He took me to Kent State where he went to school and showed me where the protesting students were killed by the National Guard there. That was touching. I remember a pretty solid metal something - like a sign or something - with the bullet holes through it showing that they were using serious strong bullets, like armor piercing bullets. Brad's got many books out and lots of videos and blogs. He's refreshing and has a lot of followers. - DC
Brad's Twitter which he's quite active on (@BradWarner) has this brief description: Monk. Punk. Author of Letters to a Dead Friend About Zen, It Came From Beyond Zen, Don't Be a Jerk, Hardcore Zen, Sit Down & Shut Up and more! Bass for 0DFx
Brad's Hardcore Zen Facebook page
Wow - he's got a page on Upaya. Must teach there too in Santa Fe. Good for you Joan Halifax.
Brad on Cuke
August 23, 2019 posted on What's New a plug for a particular video on his YouTube video page. Michael Katz had alerted me to it.
Then I posted this profound comment riffing off Brad's video.
Here's a June, 2013 plug for Brad's book There is no God and He is Always with You. With an interview about the book.
Brad Warner did a video interview with me while I was with him in Akron 9-13-11. Here it is on YouTube.
On Oct. 4, 2010, my son Kelly's birthday, plugged Brad's Sex, Sin, and Zen: A Buddhist Exploration of Sex from Celibacy to Polyamory and Everything in Between Amazon link - from another of those old pages, Cuke the Arts/Writing.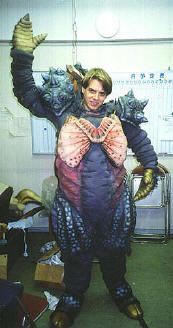 December 28, 2005 - posted this excellent photo of Brad in What's New 2005 - it's the first post from the top of that page. It was sent by a cuke follower to alert me to the presence of this Zen person in LA. I was intrigued. There are dead links there to his Doubt Boy and a video. Brad - are they lost forever? I also point out on that post that a post done two days later right above his on a book on Trungpa has a photo of Trungpa waving just like Brad is and I wrote:
Incidentally, the parallel images of Trungpa and Warner is purely coincidental and is not intended to convey anything deeply significant - though this may be a sign.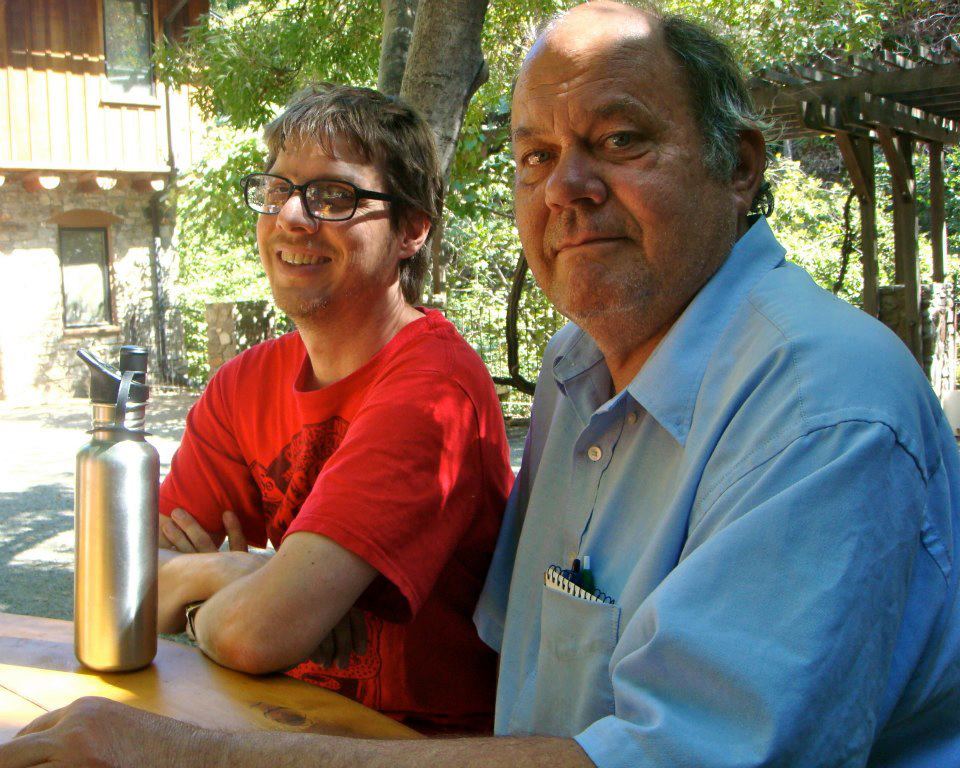 Brad and DC at Tassajara 2012?