Click
here
for Shunryu Suzuki Photo Archive images
and links to all
cuke.com
pages on .
With Shunryu Suzuki and his son, Gengo in City Center courtyard. c.1970
Links to more photos at the bottom
In the West people try to alter circumstances to fit their mind. In the East people alter their minds to fit their circumstances. - Ryogen Yoshimura quoted in Tassajara Calendar, Herbal and Bestiary - 1969 - PDF - WB 70-02.
***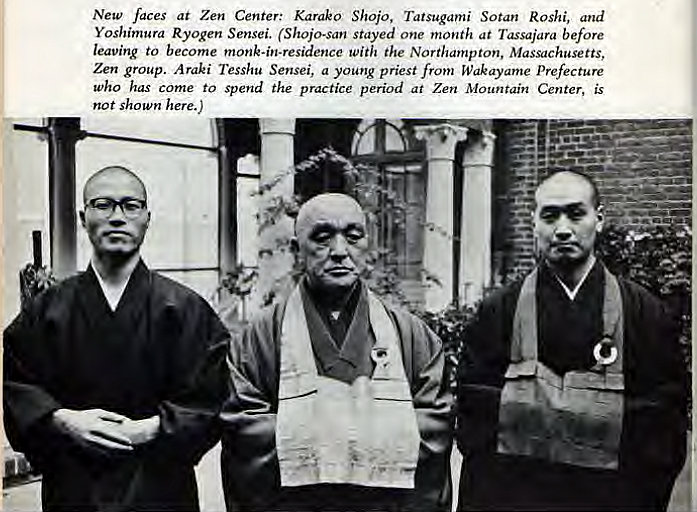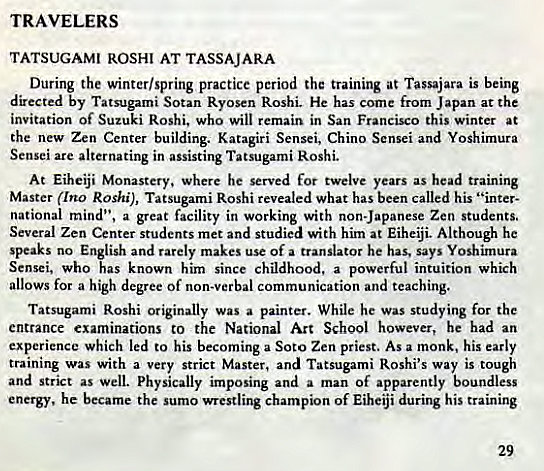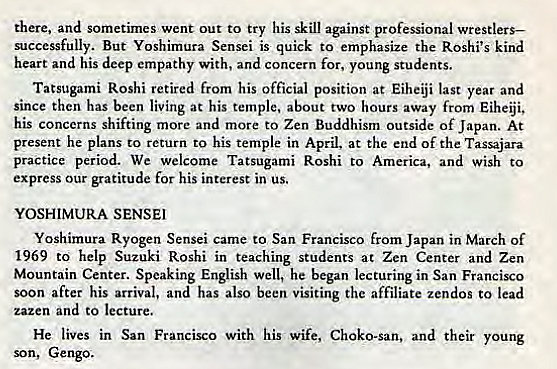 ***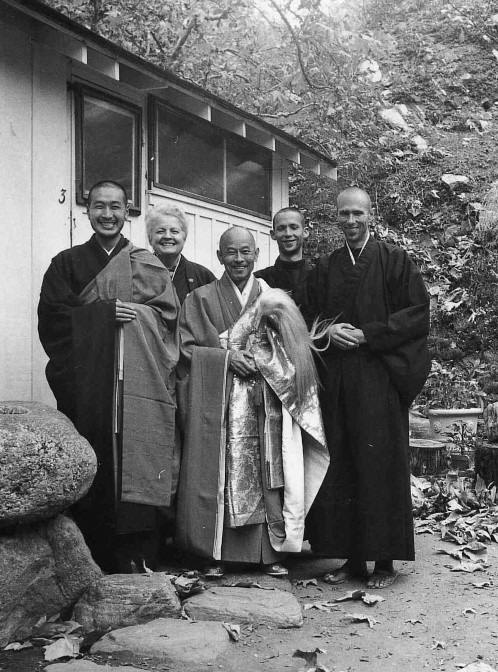 (from l to r) Ryogen Yoshimura, Jean Ross, Shunryu Suzuki, Dan Welch, Peter Schneider at Tassajara outside of Suzuki's cabin (For Jean's head monk ceremony in December, 1969). Photo by Alan Marlow. More from this series listed below - the top five.
DC: I was asking Ryogen Yoshimura about transmission when he was at Tassajara and he told me that there were ten steps of the yellow robe and that one usually skipped up them. He skipped them all he said and started off right at the top with a brown robe - there are three or so steps there - you have to have it to lead a practice period, have shusos and give dokusan. He showed me his brown okesa taking it from a drawer at Tassajara and said he doesn't wear it because it doesn't mean anything - it was just a formality given to him by the abbot of Eiheiji who was a friend of his father's. (taken from interview with Peter Schneider)
***
Kanji for DC's Eko, Genjo Koan, and Fukanzazengi study books by Ryogen Yoshimura.
Eko Study Book made in 1970 while Shunryu Suzuki lectured on these merit dedicating chants recited at end of sutra.
Genjo Koan study book - Did this when I was director at Tassajara - summer of 1974 through summer of 75.
Next time in the States will look for Fukanzazengi study book. Thanks Trudy Hartman for all the typing.
***
Rick Levine wrote:
Tassajara sesshin lectures by Yoshimura 9/70. "There were a lot of schools in those days and they laid their trips on each other. And Buddha, practicing with the ascetics, tried to get high and probably did get high."
"Like my robes for example. If I took them off you'd say, 'Hey, Jap!' even if you don't think so."
"I find tonight that my head doesn't work right, sitting sesshin. So tonight I'll sing a song. Mostly geisha girls sing it today, though it's 200 years old. I don't play with geisha girls lots but a roshi at Eiheiji who taught it to me I think does. On the 4th night of Sesshin there, like tonight, he took me to his room and sang it saying it would make the pain go away."
"Good and Evil is preceded by a decision. If you decide to play tennis, play tennis, and believe in tennis. You will be far out right on, no more goof-off." - from his Crooked Cucumber errata letter.
***
Henry Schaeffer (from his interview)
Yoshimura was so wonderful and elegant and handsome - when he died it was a true tragedy. He was a handsome man open to men and women both. And his good looking wife and children. She didn't like the Western world - she wanted to go back to Japan. She kept telling him that. She was frightened about all the crime. He was a Japanese Siddhartha. His teacher called him back to Japan. He said he didn't want to stay in Japan and would try to find a way to come back to the States. He'd read Siddhartha by Herman Hesse and he said the essence of it was that Siddhartha said, "I can wait, I can think..." three things - I can act? It was the essence to me of being a real person. And he said that when Siddhartha came out of the woods and decided to stop fasting that the first thing he drank was fermented milk that a maiden gave him - it was alcoholic. I met Yoshimura and his family when they first came. I was walking up the street to Bill Ham's on the South side of Bush Street by the live fish store and it was raining hard and they were living cattycorner from ZC and were on the landing without umbrellas wondering what to do and they paused at the top of the stairs and I still had my long hair and beard and motioned to them and went over and helped them cross. We connected then and I was close to him from then on.
***
I went to Mexico.
Yoshimura got invited there and he was a friendly man and I spoke some Spanish and we went to Mexico City and he gave some lectures to some psychiatrists - we were invited by a patient, a very wealthy fellow, a psychiatrist down there who was a student of Eric Fromm who lived near Mexico City in Cuernavaca. Yoshimura Sensei gave a lecture there and at the University at a growth center called El Centro de Desaroyo de Tarango that was run by a psychiatrist by the name of Jorge Derbez. Everybody liked Ryogen's lecture. It went like this.
In India when you eat food you must eat with your right hand, because Indian people do not use eating utensils - they use their hands. When you do that the food goes down a little tube and comes out the other end and you must use your left hand for that - it's very important. They all spoke English. One of them was the Minister of Telecommunications, Carlos Nun~as. And Ryogen said it's kind of a waste of time and as a matter of fact your life is a waste of time. These were fairly self-important people. Then he showed them how to sit using me as a model - I don't have the best posture in the world. And afterwards they asked him if he'd stay and teach them Zen but he said he had to go back to his home temple and take it over at the request of his father. But you can have Stanley, he said. So I wound up in Mexico City for three years.
***
from Jonathan Altman's interview
Yoshimura, the priest who was a baseball player
***
Suzuki Roshi said I'm not so Japanese anymore. Yoshimura is and more so Katagiri. They are typically Japanese whereas Chino sensei is more like you - a real unusual type.
***
from Wind Bell 70-71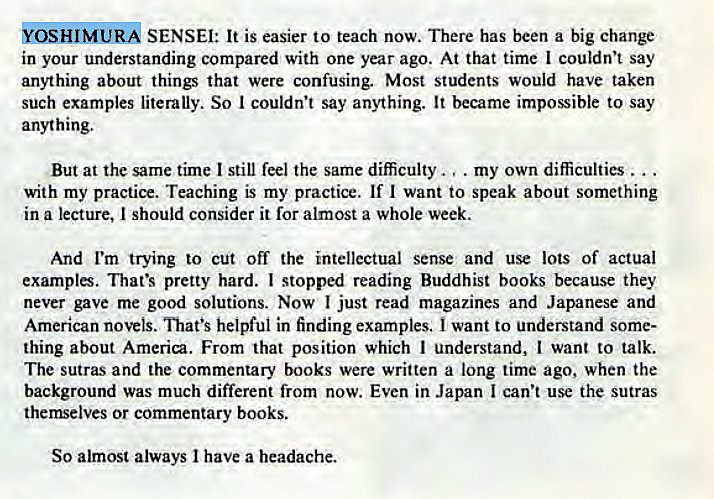 ***
---
In the summer of 1990, Elin, Kelly and I spent a couple of days at Yoshimura's temple in Hokkaido with his widow and four children where we'd shipped our bicycles from Takikawa, Okayama. We paid our respects at the home shrine and made a wonderful video called Roach Hotel with our bike helmets holding whatever we used for antennae - we were the roaches. Okusan (wife) was in it too - catching and disposing of us. The video was erased, filmed over by a student filmmaker who stayed in our home when we went to America in the fall. It was most disappointing to loose it.
***
Here's an email exchange with Ryogen's daughter from 2008.
On Tue 29/07/08 10:36 AM , "sakurako yoshimura" sakusaku009@space.ocn.ne.jp sent:

Hello.
Please permit a sudden mail.
My name is Sakurako Yoshimura.
A daughter of [Ryogen Yoshimura].Do you remember him?
Your home page is found, the past is remembered and a mail is sent by chance.

It'll be before a long time, and you have come to my home with your wife and Mr. Kelly.
I remember that case clearly. It was very fun time.
How is Mr. Kelly?
Please tell me.

By the way a picture of my fatherhood was on your home page, and it was affected.

So I have one favor to ask.

When there are other father's pictures, could you send to me by all means?
It has passed in already 30 since my father passed away.
I was 4 years old at the time, so I remember almost no him. So even now, the father's image is being asked.
When there are material about him as well as a picture, could you send?

Only by a favor, I'm sorry.
And please permit unskillful English.
-----
Sent: Wednesday, July 30, 2008 2:48 AM
Subject: Re: A daughter of [Ryogen Yoshimura].

Hi Sakurako.

So good to hear from you.

Call me David.

I'll keep you in mind in case I find photos of Ryuho. I'll contact some friends about finding some for you.

You remember Kelly. Wonderful. Where and when did we meet? How old are you now.

Write me anytime.

You're in Tokyo now it seems.

I want to visit with you and your mother the next time I go to Japan.

Take care.

David
-------
Thank you very much for your mail .
Father's picture was printed out and it was mailed to my mother (Shouko).
The telephone came from her a short while ago, and it was affected very much.
And she said "Thank you very much ,David !!,"
Now, I live in Tokyo by myself now.
It'll be 34 years old this year.
I'm being a high school teacher and am teaching a Japanese literature.
And coaching [Kendo] at club activities.
By the way I think it's when I'm probably a high school student, that I met you.
Kelly has came to Hokkaido with you and your wife (I'm sorry, I forgot her name.), right? I was probably 16 years old, so it's about 18 years before.
Purpose of travel was a cycling, wasn't it? You were bringing a bicycle.
It's remembered that you stayed at my home for about 10 days.
The name of eldest son is Gengo (He lived in San Francisco with my parents then.), and name of eldest daughter is Tohko (She was born in San Francisco.) and the second son is Shingo, and I.
Gengo was 40 years old this year.
My father died of 42 years old. He catches up to the age of my father in 2 years more.
There are many thing that I'd like to speak to you.
But I'm poor at English, so I can't tell to think.
I'm sorry.
I'll appreciate your kindness sincerely.
It may be difficult to read, but can I send a mail again?
Thank you.
Sakurako
***
Yoshimura is in the Shunryu Suzuki SFZC Photo Archive
SR0098 Shunryu Suzuki with whisk: Jean Ross shuso + Ryogen Yoshimura @ Cabin 3, Tassajara; by AM

SR0103 Shunryu Suzuki with whisk: Jean Ross shuso + Ryogen Yoshimura @ Cabin 3, Tassajara; by AM

SR0107 Shunryu Suzuki with whisk: Jean Ross shuso + Ryogen Yoshimura + Dan Welch + Peter Schneider @ Cabin 3, Tassajara; by AM

SR0108 Shunryu Suzuki with whisk: Jean Ross shuso + Ryogen Yoshimura + Dan Welch + Peter Schneider @ Cabin 3, Tassajara; by AM

SR0111 Shunryu Suzuki with whisk: Jean Ross shuso + Ryogen Yoshimura + Dan Welch + Peter Schneider @ Cabin 3, Tassajara; by AM
SR0133 Tassajara teachers and officers L to R: Paul Discoe, Jane Westberg (Schneider), Shunryu Suzuki, Peter Schneider, Sotan Tatsugam, Dan Welch, Ryogen Yoshimura, Francis Thompson, Niels Holm, Margret Kress.
SR0188 At outdoor ceremony in Japantown at Peace Pagoda L to R: Phillip Wilson, Shunryu Suzuki, Dainin Katagiri, Ryogen Yoshimura See SRC0061
SRC0034 Sokoji zazen Shunryu Suzuki sittin on altar on right. Priest on L is Ryogen Yoshimura. That's Reb Anderson 2nd from R and he looks so young and new I dated this 68 when he arrived.
SRC0054 Lay Ordination Shunryu Suzuki, Jack Elias - Page St. City Center zendo - priest on left Yoshimura?
SRC0059 On way to ceremony at the SF Peace Pagoda R to L: Shunryu Suzuki, Sokoji member, Bill Kwong, Ryogen Yoshimura on way to ceremony - SF, but where, when?

SRC0060 SF Japantown Peace Pagoda ceremony L to R: Phillip Wilson, Shunryu Suzuki, Dainin Katagiri, Ryogen Yoshimura

SRC0061 SF Japantown Peace Pagoda ceremony L to R: Phillip Wilson, Shunryu Suzuki, Dainin Katagiri, Ryogen Yoshimura
SRC0083 Shunryu with Ryogen Yoshimura at City Center courtyard. Surely Yoshimura's son. [featured up top]